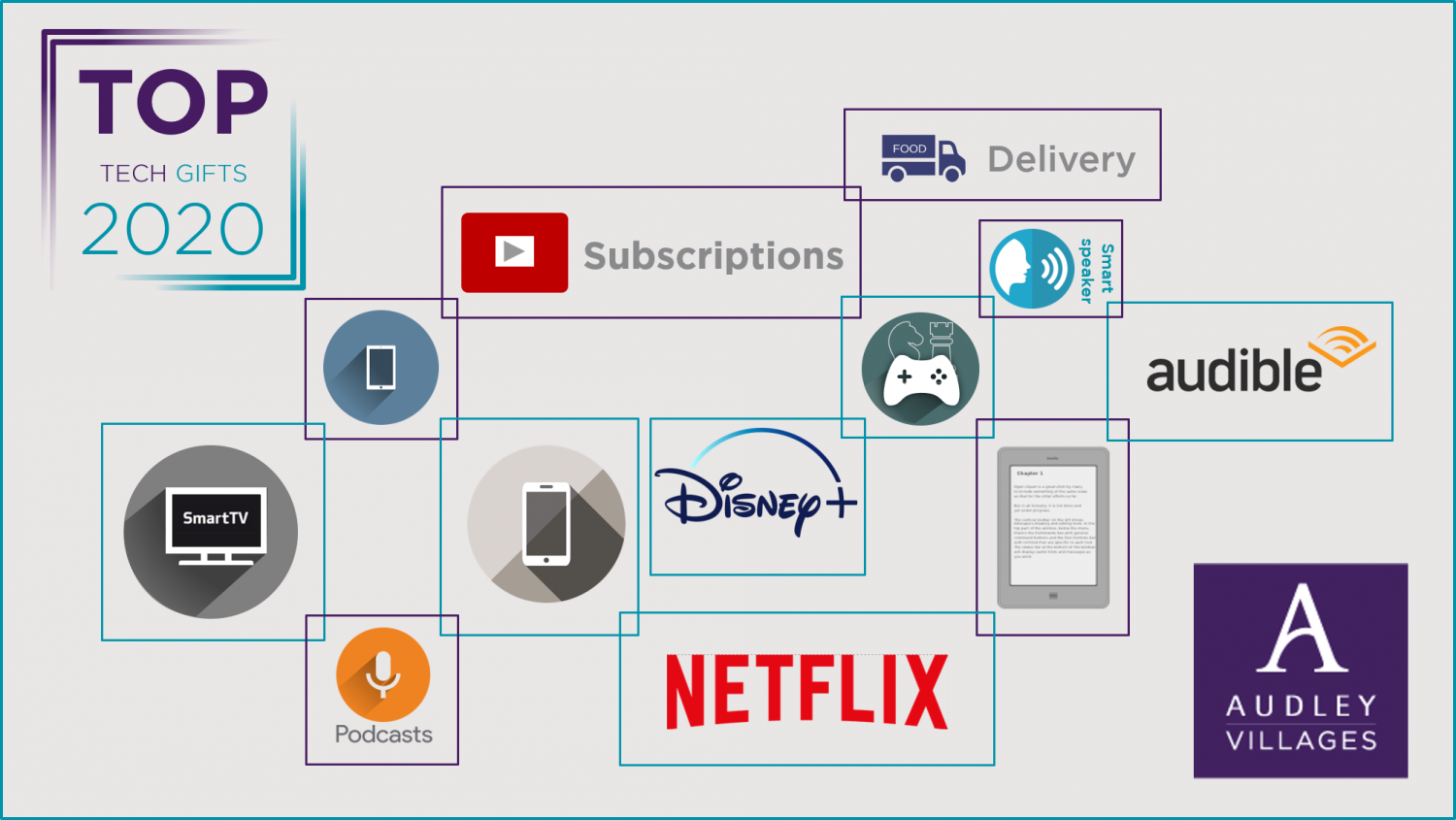 The world is a very different place this Easter to the family-get-togethers, local events and group Easter egg hunts many of us were expecting. Rather than chocolate eggs or flowers (both still great options of course!), I recommend giving the gift of technology this Easter.
Top tech gifts
A Netflix or Disney+ subscription
A Podcast subscription
An Audible trial
Amazon Alexa
A new phone or tablet
A Kindle or e-Reader
A smart TV
Invitation to play online games
A food delivery
For some older people in particular, using any of the rapidly emerging new technologies can be a daunting prospect, but it doesn't need to be. Technology can help us, especially right now, to stay connected, to keep us working and learning from home, to keep our mind and body healthy and even to keep us fed.
1. A Netflix or Disney+ subscription
The new Disney+ subscription is also £5.99 a month, with a 7 day free trial. Home to all the Disney and Pixar animated classics, plus Marvel, Star Wars, and Disney family favourites, it's great value for money. You can even watch National Geographic! As with Netflix, you can watch Disney+ on an app on your phone, tablet or your smart TV. All you need is an internet connection. 
There's also Amazon Prime (the advantage here is priority shopping delivery and Amazon music).
These three TV streaming apps each have their own unique selling point and are better for different types of TV viewing. In my opinion, Netflix takes some beating for box sets!
2. A podcast subscription
Podcasts are taking the world by storm, now more than ever. There is a whole host of topics to choose from, with lots of celebrities, comedians and just 'very interesting people' now jumping on the Podcast bandwagon. Some are more interesting than others! There are retirement Podcasts and those spanning a multitude of genres. If you're an iPhone or iPad user, there is a default Podcast player on your device. For Android devices, the lucky recipient of your Podcast gift will need to choose an app/player to use on Google Play.
I only recently discovered podcasts on my commute to the office (that certainly feels a distant memory now). I am therefore a little late to the podcast party, the beauty of which means there is already an extensive list of episodes available on almost any given subject. My personal favourites are comedy podcasts. I can feel my mood lifting as I listen.
3. An Audible trial
If you, or someone you want to treat to a tech gift, love reading but find that there are other things to be getting on with,
Audible is a wonderful way to combine the intense sensation of being lost in a good book with getting those jobs done.
You could even listen to a book on Audible whilst drawing, sewing, putting the washing on...! There is currently a 30 day free Audible trial, and it's £7.99 a month thereafter. Audible is an Amazon company, so once again if you have any other Amazon subscriptions or devices, it's all done through your Amazon account on the app or website.
4. Amazon Alexa
If the intended recipient of your gift has Wi-Fi and a smartphone, then a smart device like Amazon Alexa will be a sure hit! The Amazon Echo Dot is now only £24.99 to buy. I have an Amazon Echo at home (3 actually!) and I love the ease of playing music, the weather, or the news, handsfree. I have an Amazon Prime account and love to have Amazon music playing while I'm washing up (which is far too frequently I hasten to add!). It's worth noting that you can still use Amazon devices without an Amazon Prime account - there is just less choice of music and 'Alexa skills'.
"Alexa, what's the weather like today?", "Alexa, tell me the news.", "Alexa, play country music" (nothing wrong with that!), "Alexa, set a reminder", "Alexa, add bread to my shopping list". 
It really is that simple. My grandma can use it (once I had set it all up).
You or the lucky recipient can easily connect your smartphone to an Amazon Echo device using Bluetooth, so it works like a speaker. You can choose your favourite playlist on YouTube, your current Audible book, or even a podcast episode and play the sound through your Echo device. Once you have been through the initial set up, just say "Alexa, connect my phone".
If your recipient already has the above covered, you can even buy smart light bulbs, smart plugs and other gadgets to be able to control household tech from your smartphone while you're not even at home. Ring doorbell is another great piece of technology from Amazon.
I sound like the Amazon fanclub here, but I do feel that if you start with an Amazon product or device like I did, it is so easy to stay with them for consistency. Google Home and other smart devices work in a very similar way.
5. A new phone or tablet
If you feel like splashing out on a rather 'Eggstravagent' gift, and the lucky recipient doesn't yet have a smartphone, now is surely the time to get one.
Video calling, social media, taking and sharing photos, online games and trivia, watching TV on the go... it's all made possible with a smartphone.
If your loved one, particularly if they are older and living alone, doesn't have broadband or Wi-Fi, then rest assured there are still some very reasonably priced smartphone contracts with a high enough data allowance.
This gift requires some very thorough research to find the plan that's right for them but, as a starting point check out Vodafone's unlimited data plans. If you already have a phone contract with data, then it's worth checking with your provider to see whether you can add a relative to your plan. If so, all bills are then paid out of your bank account, and you stay in control of the usage on your family plan. You can even give other people on your account more or less data at the swipe of a button.
6. A Kindle or e-Reader
Know someone who loves a good book and appreciates reading the words on a page? A Kindle or e-reader makes this possible, and pretty instant, without even visiting a bookshop. The recipient can search online to find a book they love and then it downloads to their new e-reader at the touch of a button (payment is taken from the payment card you set up at the time of registering. eBooks can be purchased and downloaded from Amazon, with Kindle Unlimited, and from various other sources. 
Ok, it's not the same as a book but it comes pretty close. My Kindle takes up less space than a book, it's waterproof so great for holidays, it can handle a breeze (no pages blowing everywhere), you can download multiple books to the one device, the battery lasts weeks on one full charge, and eBooks are generally cheaper than actual books. The other advantage is that it's instant, so if I hear a glowing 'couldn't-put-it-down' testimonial from my friend, I don't need to find the book online and wait 3-7 days for delivery. I can start reading it tonight! Top tip, go for an e-reader with a front light, for more comfortable bedtime reading.
Most paperbacks you buy online now have the option of downloading the digital version, and sometimes even for free.
Here are some of the top e-readers of 2020, rated by The Independent.
7. A smart TV
Most televisions manufactured in the last few years are 'smart'. The 'smart' part just means that the TV can stream content from the internet (rather than an aerial) and gives access to apps like YouTube, Netflix, Prime Video and more, directly from the TV. So, your lucky loved one can watch their favourite YouTube funny cat videos or Fortnite gameplay on the big screen.
Pick up a new smart TV from John Lewis from £149 for a 24" model. They come with built-in Freeview and apps like YouTube to make the set up as easy as possible.
8. Invitation to play online games
Words with friends, Trivia with friends, Candy Crush, Scrabble, Chess... there are lots of apps out there which enable traditional games to be played on a smartphone.
Read our guide to online gaming
9. A food delivery
(I'll explain why this is 'tech', sort of)
For someone who has never used an online food delivery service before, you placing an online food shop on their behalf can be a step towards breaking down a barrier that was never really there, particularly if the recipient is much older and has little to no experience with smartphones and the internet. You may find that they continue to use the service long after they receive their first order. And no-one can place an online food shop without a device and an internet connection so hence I'm classing it as tech!
Read our advice on which companies are still offering a local or national food delivery service during lockdown.
'How to' guides
Some Audley owners are embracing technology in retirement for the first time and marvel at how it is keeping them connected to their loved ones. They are using video calling apps and websites, gaming apps and podcasts. You could do the same.
Top non-tech gifts
If your loved one already has the above tech covered, or perhaps it all just seems a little too much right now, read our list of traditional 'indoor' alternatives to a tech gift.
Read about the ways people living in Audley villages are staying connected.