From our experience at TechSilver in working alongside those new to technology, many people are reluctant to embrace gadgets over concerns about online safety. I will guide you through a few simple tips that mitigate risk and let you persevere with your tech-adventures, worry-free.
Shopping Online
Online shopping is booming, though unfortunately some sceptics are not yet enjoying its benefits.
Paying online uses 'encryption'; think a digital jigsaw that thieves would be unable to piece back together.
You can check your connection is securely encrypted by looking for a padlock to the left of the address (URL) bar at the top of your internet browser (e.g. Google Chrome).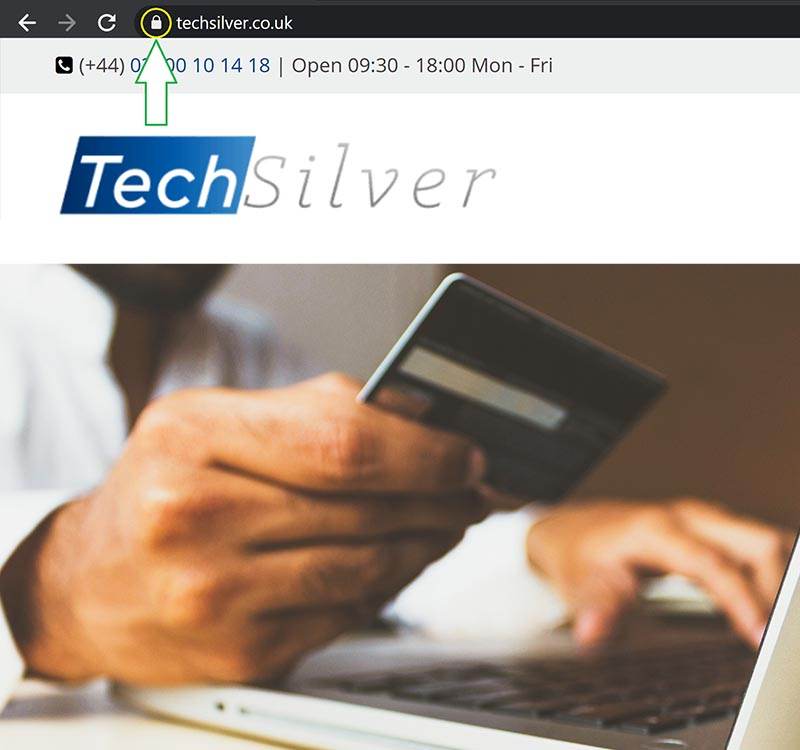 If you are unsure of a company's legitimacy, try searching for their reviews and see what other people have said, e.g. search 'TechSilver Reviews'.
Free payment methods like 'PayPal' not only offer convenience by securely saving your card details and speeding up ordering but offer protection if your goods don't show up or are not as described.
Avoiding Viruses
Many companies play on our paranoia, driving us to pay monthly fees for anti-virus programs that slow our computers and aren't always necessary. Free solutions like Avast (.com) offer protection against viruses, whilst 'Malwarebytes' is useful if your computer is already infected.
Downloading Apps
Apps offer solutions from navigation to translation but can be a security risk. If in the official app market (e.g. 'Play Store' or 'App Store'), it's a good sign of legitimacy, as they are regularly vetted.
When installing, it will display the permissions the app is asking for (eg: access to your camera). Although this may seem risky, apps often require these in order to function. For example, if you are installing a 'Boot Sale' app that lets you sell things online, it requires access to your camera so you can take pictures of the things you're selling.
Email Scams
Phishing (without a rod) is a common method for online criminals, sending emails posing as companies like your bank, requesting information. The first way to spot them is legitimate emails will always use your real name.
The 'from' address should not have numbers to replace letters (eg: '@natwe5t.com') and should replicate their official website address. Scammers often get you to act quickly in order to circumnavigate natural suspicions, take a moment to ponder legitimacy and if in doubt, call the company they're claiming to be on their real number.
COVID19 Scams
Unfortunately, there are people in society willing to capitalise on difficult situations such as the Coronavirus, here's the top scams to be aware of when online.
Online shopping scams where people order protective face masks, hand sanitiser, fake testing kits, bogus virus cures... that are never delivered.
Targeting of people who may be vulnerable or increasingly isolated at home by leaving cards through their doors pretending to be from organisations such as the Red Cross offering services for payment.
The sending of investment and trading advice in an attempt to convince readers to take advantage economic impact of the coronavirus The targeting people on benefits by offering to 'help' them apply for interest-free government loans - once they have the victim's personal details they use them to apply for an advance loan of Universal Credit which the scammers take, causing the victim's normal benefit payments to stop and leaving them with large loans to repay.
Don't let security concerns get in the way of enjoying technology.
Use your common sense and follow the advice above; the chances are you'll be worry free. If it sounds too good to be true, it probably is… So, unless you recently entered the Zambian lottery, the chances are you haven't won!
'GrandPad' has been designed to be as simple as possible for non-techies. It includes unlimited mobile internet access (ideal for use out and about and no faffing with WiFi), as well unlimited phone and video calls, unlimited music listening (streaming), games and much more.
Also included for the subscription is 24/7 telephone support from people with English as their first language (Ireland or the U.S.A.). One of the great things about the GrandPad is that it is only callable by contacts who have been set up on the system, stopping bogus calls.
Loved ones can call the GrandPad using their computer or smart phone. Other features include games (like scrabble-word and patience), articles of interest (19 categories including antiques, crafts, health, NASA photos, nature, pet-of-the-day, recipes, radio, weather, etc.), dictionary/encyclopaedia, camera, magnifier, emailing and more.
TechSilver also offer exclusive discounts for Audley owners. They are at the end of a phone for support.