As the country moves to online shopping for food, clothes and other products in ways that we haven't before, here are some companies that are delivering across the country. 
We deliver local
An online delivery site that works with Beelivery app. A vast range of items are available, you put in your postcode, select the items you want and Beelivery will pick the items from a selection of local shops and deliver to you in one delivery. You can order most items that you would expect from a major supermarket including fruit, vegetables, dairy, bread, meat, pet food, frozen food, household cleaners and health and beauty items.
Cook
If you are self-isolating then Cook is keeping delivery slots available to you. Their concept is simple: they cook the meals and freeze them. You then cook them straight from frozen and get to enjoy the taste of home cooking. The selection of meals is vast including being able to select from portion size (e.g. for one person, two people etc), type (e.g. vegetarian or a particular meat) or cuisine (e.g. Thai, Italian, Indian etc). There is also a fabulous selection of puddings, cakes and ice cream for dessert.
Deliveroo
The takeaway delivery service runs in major towns and cities. Drivers collect food from local restaurants and take away shops and bring your meal to your door. Depending on where you live, options can include Italian, Indian, good old British fish and chips and more. You can either order through the Deliveroo website or order through the app. Friday and Saturday nights are very popular in the current climate so we recommend ordering early to make sure you don't have a long wait for your food.
If you've not ordered from them before, then you will need to log in as a new user.
Ebay
Post Offices are still open and couriers are still delivering which means ebay is a great place to buy clothes, fitness equipment, furniture and soft furnishings, cooking equipment, home entertainment and more. The site started as an online auction so many items you will need to bid on, however some sellers are willing to skip the auction and offer a 'buy now' price so that you can secure your new purchase.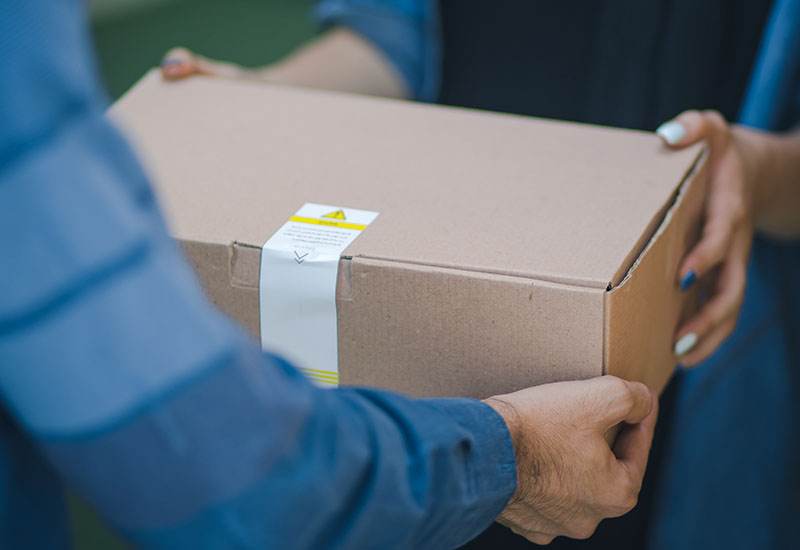 Argos
Known for its outside furniture, home furnishings and electrics, Argos has also expanded its range to include Tu Clothing (following its Sainsburys buy-out), arts and crafts, games and more. Argos is still delivering although the slots are more popular in some areas.
Amazon
The well-known go-to website for arts and crafts, books, household appliances, furniture, toys and anything else that you're not quite sure where to find it. Amazon also sells clothes, jewellery and, if you're lucky, you might be able to get some groceries with Amazon Fresh – although those items are currently harder to come by. Before you pay we recommend checking the delivery date because the times range from next day to over a month away. If the item you want can't be delivered in the timescale you want then it's worth looking at Amazon Marketplace where a different seller might be able to get it to you sooner.
For Audley owners
At Audley Villages we're offering new food delivery services to owners living in our retirement villages.
Audley Pantry
It would be remiss of us not to mention that every Audley retirement village now has the Audley Pantry where owners can buy a selection of fresh fruit and vegetables, milk, bread and cupboard essentials such as tinned goods, sugar and cereal. It's regularly restocked so that Audley owners can get what you need, when you need it.
Audley takeaway menu
The Audley restaurants might have had to close their doors during this period but if you live in a village, you can still take advantage of our takeaway menu. From quick bites like soup and sandwiches to hot dishes, pies and jacket potatoes if you would like something more substantial; the menu will change regularly during this time.
If you are an Audley owner you can view the menu anytime in the Audley app.
Local businesses near to Audley Villages
With supermarket delivery slots being booked up several weeks ahead and the Government social distancing restrictions, many local independent restaurants and businesses are now changing how they operate.
If you would like to order local produce while continuing to support your community we have listed some businesses which are currently accepting new customers. If you know of any companies who should be added to this list, please email us.
A delivery local to Bristol, Audley Redwood
Good Sixty
Good Sixty works with local independent retailers and artisan producers in the Bristol and Bath area to bring you the usual fruit and veg staples along with treats including a delicious selection of cheese and decadent chocolate.
If you are moving to Nightingale Place, Clapham then Good Sixty can bring you food from the various stallholders at Borough Market in London Bridge.
Matlock, Derbyshire, Audley St Elphin's Park
Jackson's Fresh Fruit and Veg
Your local fresh fruit and veg stall is offering home deliveries, sometimes same day depending on the time you contact them. They update their Facebook page daily with what's available and the prices so you know you're getting the most up to date information. You can order through Facebook or call 01629 583 743.
John Palin
Wholesaler John Palin offers a variety of boxes including salad, fruit and veg, and grocery boxes. You can also add additional items including meat, cans, cereal and bread to name a few. If you're over 70 or self-isolating they are offering free delivery.
Derwent Valley Butchery
The bespoke, family run butchery stocks native breeds, along with condiments and sauces to compliment your order. They are currently offering delivery on Thursday and Friday, with a minimum spend of £20, to those who require it. More information about their offering is available on the Derwent Valley Butchery website, although their Facebook page is updated with regular information. Alternatively, you can call 01629 760 363.
Ilkley, Yorkshire, Audley Clevedon
Ilkley to You
A hub for all local businesses who are currently offering home delivery. The Ilkley to you site includes local grocery favourites such as Wharfedale Fine Cheeses, J B Wilkinsons Butchers and Broadleys, along with take away options including The Ilkley Cow, La Casita Tapas and Bettys.
Leamington Spa, Audley Binswood
The Farm Shop
The family run food hall and restaurant is now bringing The Farm Shop to you. This local business is offering free, local home delivery Monday – Friday. Options include The Essential Box, Treat Yourself and seasonal fruit and veg boxes to name a few. More options and delivery details are available on their website.
Royal Tunbridge Wells, Audley Willicombe Park
If you are self-isolating in Tunbridge Wells, there are many local companies who will help you:
A La Clark Catering
Usually catering for large scale events, A La Clark has now turned its hand to offer an essentials box of supplies along with prepared meals. Their website and Facebook page has more information or you can call 07816 966372.
Zorba Meze Grill Restaurant
This popular Turkish restaurant is offering 15% off all food and drink, along with free delivery. You can view their menu and order online or by calling 01892 530051.
Thackeray's
Describing themselves as modern cuisine with creative flair, Thackeray's is now offering its home delivery service 'Thackeray's to you'. All dishes will be fully cooked and delivered to you in sealed bags or oven proof containers; you simply follow the instructions included. If you are over 70 and living along then they are giving you 25% discount. Order online or call 01892 511921.
Kai's Kitchen
If you fancy a Thai take away, then Kai's Kitchen can fulfil that desire. It is offering free delivery for orders over £20. Their menu can be found on their Facebook page and you can order over the phone by calling 01892 534497.
Framptons
This local, independent café bar is offering its baguettes, brioche buns and burgers as take away items, along with a market hamper which includes the essentials. The menu can be viewed online and their number to place an order is 01892 530819.
Italiart
This Italian is bringing its delicious pizzas and lasagnes to you. Simply call 01892 459219 to order and they will deliver. The full menu of what's available can be found on the Italiart website.
Larratt Butchers
Offering a free delivery service, Larratt Butchers will bring fresh meat, vegetables and fruit, eggs and cheese straight to your door step. You can order via email orders@larrattbutchers.co.uk or calling 01959 564539. If you email, make sure you tell them your postal address, name and full telephone number.