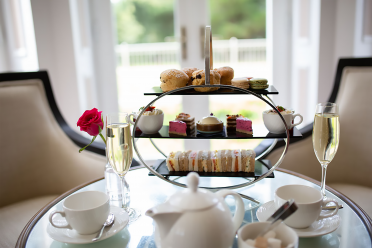 For the love of food, treat yourself to something delicious this Valentine's Day! You may love the excuse to get creative in the kitchen and book in a dinner date with a best friend, partner or perhaps even a group of friends. Or perhaps you'd rather get dolled up and head out for the evening… Let someone else cook for you! Whether you plan to dine in, dine out or order a takeaway this Valentine's Day, our expert Chefs have some inspiration for you.
1. Dine in
Our Audley Head Chefs are the masters of their craft. From creating the most exquisite original dishes, to their meticulous care in perfecting every step and presenting it beautifully on a plate.
Lots of people love to do just that in the kitchen at home, taking pride in every step.
A special event deserves a special menu and Valentine's Day is no different.
Beef Bourguignon
Rich, indulgent and full of flavour. It can be prepared in advance too, which makes it a popular favourite for dinner parties and social events. In fact, letting beef bourguignon rest overnight in the fridge actually helps the flavours to intensify so can make for a more flavoursome end result. Our recipe is fit for a dinner party or halve the ingredients for a large portion for two, with leftovers.
Top tip: Prepare the day before for a fuller flavour and easy reheating.
Wild Mushroom Risotto
Substantial, full of flavour but again low on preparation time so you can enjoy more time entertaining and less time cooking.
Top tip: It's easy to make vegan if you'd prefer.
Michelin-style recipes at home
If you want to push the boat out in terms of variety, but don't fancy the commute or expense of a Michelin-star restaurant, take a look at these Michelin-style recipes you can cook yourself at home.
Top tip: These recipes require more time in the kitchen so perhaps ideal for you and a friend or loved one who like to cook together this Valentine's Day.
Vegan Wild Mushroom Risotto
Skrei Cod With Potato Fondant, Brown Shrimp and Almond Butter
Kentish Spring Rump of Lamb, Potato Dauphinoise, Pea Puree, Asparagus Tips and Rosemary Red Wine Reduction
Seared Scallops, Miso Glaze, Sesame Puree, Turnip, and Verjus Cream Re-Make
Cider Braised Belly Pork and Haggis Bon-Bons
Honey and Szechuan Pepper Glaze Duck Breast with Sticky Coconut Rice, Broad Beans, and Stem Ginger
Chocolate Fondant
This rich and sweet, yet simple, dessert will make a real impression on your dinner guests. And it only uses 7 ingredients so won't require a full shop in preparation or make too much mess in the kitchen. Who gets to lick the spoon?
Top tip: Why not get creative with your presentation on a plate and drizzle with chocolate or caramel sauce to get that just-served-in-a-restaurant effect?
2. Dine out
If you're looking to dine out this Valentine's Day then a steak dinner always comes in top as the most popular choice and as a result most Valentine's Day set menus offer just that. Then there's the traditional Valentine's inspired afternoon tea – our Audley villages offer just that and it's delicious enjoyed with a friend, loved one or even enjoyed alone watching the world go by.
Another popular choice is a cheeseboard, baked camembert or a sharing platter. Still a treat, still indulgent but feels lighter and can be eaten delicately during conversation.
Other popular favourites include Coq Au Vin, salmon with asparagus, and an array of Italian dishes.
For daytime dining, the classic eggs dishes are always a popular choice – Eggs Benedict, Eggs Royale, scrambled or fried. Poached eggs on buttery toast with mashed avocado and black pepper is a simple but firm favourite. Great for a Valentine's Day brunch.
Top tip: Still in the mindset of a new year health kick? Don't worry, eating OUT doesn't have to mean eating BAD!
3. Takeaway
Of course, we all live busy lives and not everyone loves to cook (or perhaps you spend a lot of time in the kitchen and just fancy a night off!), in which case there is no shame in treating yourself to a takeaway. That could be one of the typical takeaway favourites… fish n chips, Chinese, Indian, Thai, fried chicken, pizza..! Or one of the easy supermarket alternatives.
Top tip: Often the supermarket 'Meals for two' are tastier, healthier and more affordable than the fast-food equivalent. Try the Tapas for two from Sainsbury's.
What drink to complement the evening?
Try our 10 champagne cocktail recipe ideas for starters.
Top tip: Experts recommend avoiding caffeine which can hinder a good mood and instead opt for fruit juices, water and iced drinks which are rich with antioxidant phytochemicals and stimulate the senses, keeping your mood happier for longer.
Superfoods for a super meal!
Top tip: Whichever you opt for, make a conscious effort to include some of these feel-good foods in your menu if you can.
Folic acid and B12 (did you know a burrito made with black beans and chicken is rich in both?)
Fruit and vegetables
Alittle dark chocolate (yes, strawberries dipped in dark chocolate does count as feel-good food in this instance!)
Any foods high in selenium are believed to help reduce feelings of depression in the elderly. Selenium-rich foods include beans and legumes, lean meat and poultry, low-fat dairy, nuts, seeds and seafood.
Whatever you do this Valentine's Day, celebrate your love of food!