Eating out can be the ultimate indulgence. No need to cook and no washing up. If you like to dine out on a regular basis, and are now starting to do so once more, here are a few tips to help you think smart about how to enjoy eating out without losing track of your nutritional guidelines.
Plan ahead
Drink plenty of water before you go, this will help you to start from a place of satiation before you even order.
If you are easily tempted then ask your dining companions to make a healthy choice with you. If they make nutritious choices, it's likely you will too.
Promise yourself, you will stop eating when you are full. Even if there are some scraps left on your plate.
Start with a broth soup or salad if you have a tendency to overdo it on the starter.
Bring a sweater. Yes, you eat less when you are hot than when you're cold. Wrap up to prevent a carb overload.
Choose well
Chew slowly. Really savour your food. There is no need to rush, so enjoy it!
Choose water or tea, don't risk the excess caloric intake on soft drinks that you're likely to not even notice with all the amazing food on offer.
If it's appropriate, use chopsticks to slow down how quickly you can eat overall.
Chew a piece of sugar free gum before committing to a dessert. Chewing gum can often have a suppressant effect on your appetite.
If you can't leave without a bit of sweetness, try a bowl full of fresh fruit and skip the custard.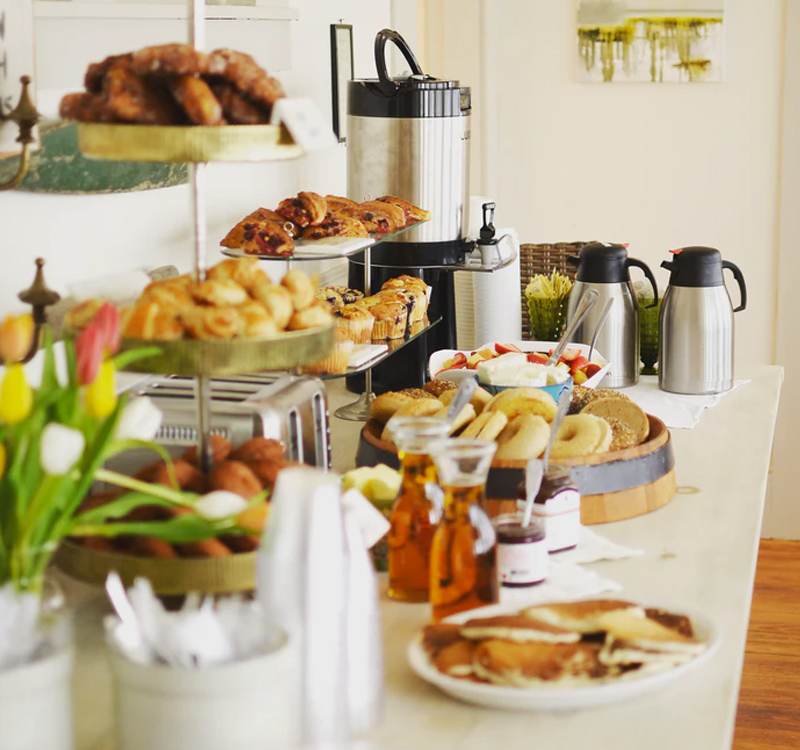 Tips for 'all you can eat' buffets
Sit facing away from the spread or slightly to the side. When you stare straight on into all that delicious food, you'll find yourself tempted to eat more.
Choose high-ticket items like seafood or steak to get high levels of protein and great value for money.
Create a plate that is 50% vegetables, feel free to mix and match.
The other half of your plate should be whole grains and protein, one quarter each.
Use the smallest plates and bowls they have on offer and do not pile food on top of each other.
Wait 20 minutes before you even think about going back for seconds. That's about how long it takes for the 'full' signals to reach your brain.
If you're not sure about a food item, take a very small portion or skip it all together. This will help eliminate excess calories and food waste.
If you're at a breakfast buffet, go for the omelette if your diet allows. It's low calorie, packed with nutrients and takes up so much room on your plate, you'll struggle to overeat unintentionally.
Of course, 'everything in moderation' as they say. Wherever you dine, whomever you dine with, and whatever you select from the menu, take the time to savour it. After favourite passtimes have been limited for so long, the time is now yours to enjoy more of the things you love with the ones you love.
Many restaurants still encourage the wearing of masks when moving around the restaurant, to help others diners feel relaxed and safe. At all 13 Audley restaurants we politely ask the same. We hope to welcome you to one of our 13 restaurants soon - View a sample menu here.
Find more healthy eating tips (and recipes for a few treats too) on Audley Stories.