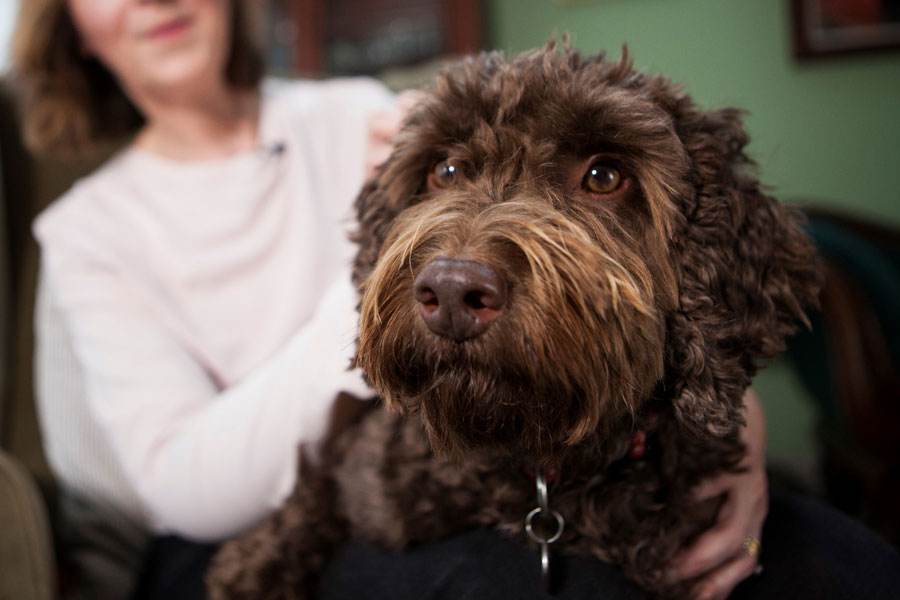 According to mental health charity Mind, about 1 in 4 people in the UK will experience a mental health problem this year. In England, 1 in 6 people per week will experience a common mental health problem such as anxiety or depression.
While there is medication available that can help with this, there are other more holistic solutions. Under the spotlight of late have been the benefits of dog ownership, with studies showing consistent benefits – from improved rate of recovery to supporting dementia care.
In fact, Harvard Medical School reports that even stroking a dog can reduce blood pressure and the heart rate in the owner. Dog ownership can also make you feel less isolated, calmer and more mindful.
What is a therapy dog?
While even owning a dog seems to bring many therapeutic benefits to their owners, therapy dogs bring benefits to others, and often visit hospitals, schools and nursing homes to bring comfort and engagement. They support people suffering from mental health issues by providing attention and instilling confidence.
While dogs have been our companions for tens of thousands of years, the medical and healing use of dogs goes back at least to Ancient Greece, where they were used to lick wounds of injured patients. In the 1700s, Quakers brought dogs to comfort patients at early mental health treatment centres. Famous nurse Florence Nightingale acknowledged the remarkable power of animals to heal.
In the USA, there are currently 50,000 therapy dogs, with other countries following suit. While therapy dogs do not receive quite the same legal recognition in the UK as they have in America, the instances of therapy dogs have been on the rise – whether that's to alleviate mental health problems in the UK's prison population or to comfort students during stressful exam periods.
What kind of dogs can be therapy dogs?
Since the most important characteristic of a therapy dog is a good temperament, almost any breed could potentially take on the job. That said, golden retrievers, Labradors and St Bernard's are popular choices. Where space is an issue (a hospital visit, for example) Pomeranians or Poodles can be a better option.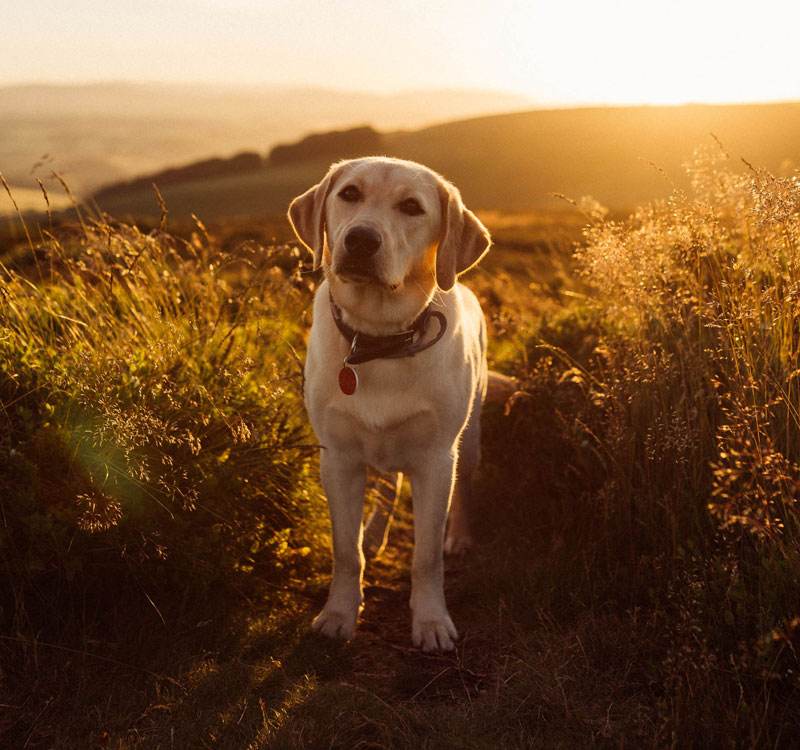 Therapy dogs are often selected where the dog shows a tolerance for responding to stimuli, such as loud or confusing noises and suddenly being grabbed. Other important characteristics for therapy dogs include friendliness, enjoying human contact and patience. As such, breeds that traditionally display these traits are prized for the role.
Best dog breeds for therapy dogs
King Charles Spaniel:
Origin: England
King Charles II was so taken with this breed of affectionate lapdogs (AKA the Love Sponge) that he named the breed after himself.
Labrador:
Origin: Newfoundland, Canada
These energetic dogs encourage an active lifestyle, which is a great way of tackling depression.
Poodle:
Origin: France/Germany
Both people-pleasing and intelligent, poodles typically have long life spans, adapt easily to their surroundings.
Golden Retriever:
Origin: Scotland
As well as being energetic and playful, these dogs are famously well behaved – even winning the first ever American Kennel Club Obedience Trials.
Yorkshire Terrier
Origin: Yorkshire, England
The strong bond Yorkies form with their owners make them loyal, loving and trainable. One Yorkshire Terrier, Smoky, was one of the first ever therapy dogs – visiting wounded American soldiers in the jungles of New Guinea during WW2.
How one rescue dog has given so much back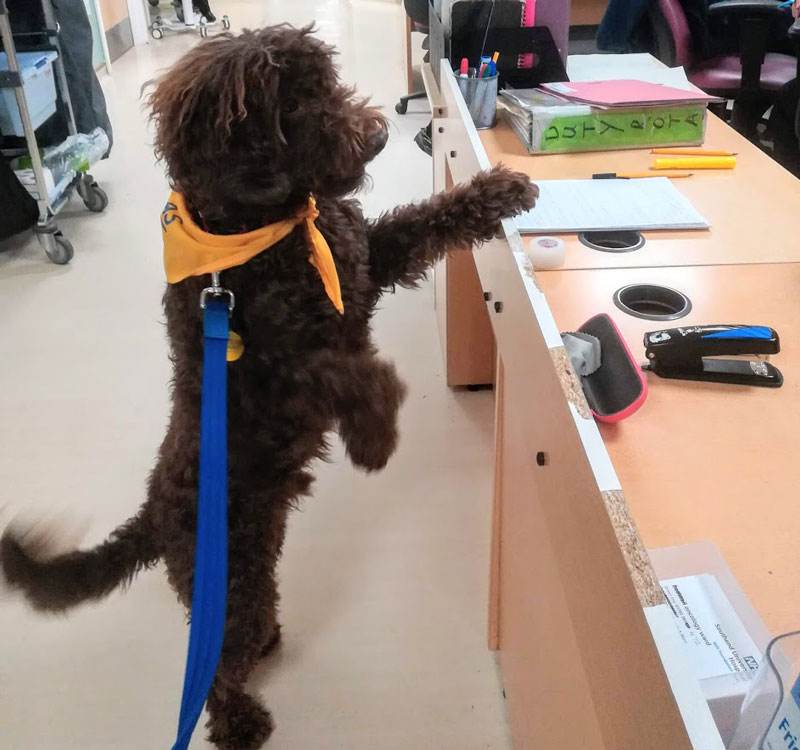 Rolo is a rescue dog turned TV star who brings joy to hospital wards. Rescued from an Essex puppy farm by the RSPCA, Rolo, a five-year-old chocolate springerpoo, has since starred in Channel 5's The Dog Rescuers and appeared on The Wright Stuff.
As part of charity Pets As Therapy's scheme, Rolo visits Southend University Hospital on a weekly basis. His owner, Claire Dean, says:
"Rolo and I are the first and only partnership allowed into the children's ward which is incredibly humbling. We also visit the Stroke Unit (where Rolo was filmed for The Dog Rescuers) and the cancer wards. We'll also visit specific patients whose family or friends ask us to see them. We are there to provide therapy for everyone in the hospital – visitors and staff as well as patients. It's amazing to be there with him and see how much happiness and comfort he can bring to people, some of whom are facing life's biggest challenges. He also helps with rehabilitation, including speech and language therapy."
Rolo has proved a great distraction for patients, especially where needles are concerned. He also convinced a patient, who was refusing to eat, to manage four mouthfuls of food! Claire dispels the idea that Therapy Dogs need to always be calm or placid.
"Rolo knows how to behave, depending where he is… On a free run, many people say, 'You've got a lively one!' I then tell them about how calm he is when he is working."
Rolo and Claire were also involved with the Read2Dogs scheme, which allows children to read to dogs at school. This is based on research that shows that children can find reading out loud to a group a stressful experience but become less self-conscious when a Pets As Therapy dog is present.
A particular highlight for Rolo and Claire was when a selective mute eventually started to read. Claire has since learned that this young pupil's confidence has continued to grow and she now chats away happily.
For more on Rolo, catch up with his adventures on Instagram at @pat.rolo, Facebook @Rolotherescuetherapydog, Twitter @PAT_Rolo7
How can I arrange a visit from a Therapy Dog?
Pets As Therapy arrange visits to establishments from schools to hospitals. They can also help get therapy dogs certified. Request a visit here.
TheraPaws is a London-based charity where you can either request a visit from a therapy dog or volunteer to assist.
How can I adopt a rescue dog?
If you're inspired by Rolo's story or simply have been thinking about dog ownership, why not consider rescuing a dog? As a firm advocated of rescue dogs, Claire Dean points out that
"most dogs are not in rescue because they are problem dogs. It's generally due to a change in circumstances of their owners that have nothing to do with the dogs."
So where can you find your very own Rolo?
While you could simply head for your nearest animal shelter, the RSPCA have an online Find a pet tool that will track down your new four-legged friend and help you through the adoption process.
If you're based in London, you could try Battersea Dogs and Cats Home's Rehoming Gallery.
Audley Villages is a special place to live. To search for Audley retirement properties for sale across the country, use our property finder.