Owning a pet has always provided a sense of comfort and companionship, though now more than ever, in the days of self isolation and the absence of daily socialising, it's seemingly become a much greater luxury to have a four legged friend by your side.
With National Pet Month underway, we asked some of our owners at Audley Chalfont Dene about what it has been like having a pet at their home in the village and particularly during this isolation period.
Mr and Mrs Rutherford and their mini dachshund, Mala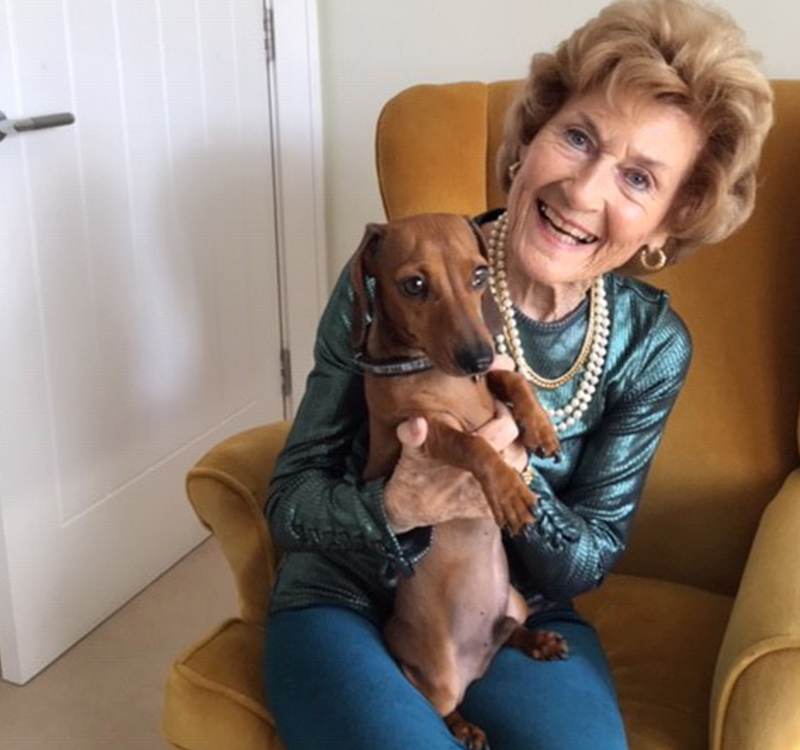 Meet Mala
Mala was only two years old when her humans moved to Audley Chalfont Dene. He loves the open space and the other owners love him.
Our lives would be empty without him.
Did you move into Audley Chalfont Dene with your pet? What was that like?
Any move is traumatic and we had left a very large house with big grounds in which our dogs always ran free. Mala was only two years old at the time and quickly settled into a routine. We often take him out every day by car to nearby wonderful woods (Chalfont St Giles), only a few miles by car and magnificent ancient woodland in which to run free.
We also went to the golf course at Denham Village, the woods around Gerrards Cross, the river and so on. Now, of course out of bounds but wonderfully close to here in happier times.
Very important and closer still, of course, are the 'dog walking fields' adjoining our own properties.
See more attractions local to Chalfont Dene.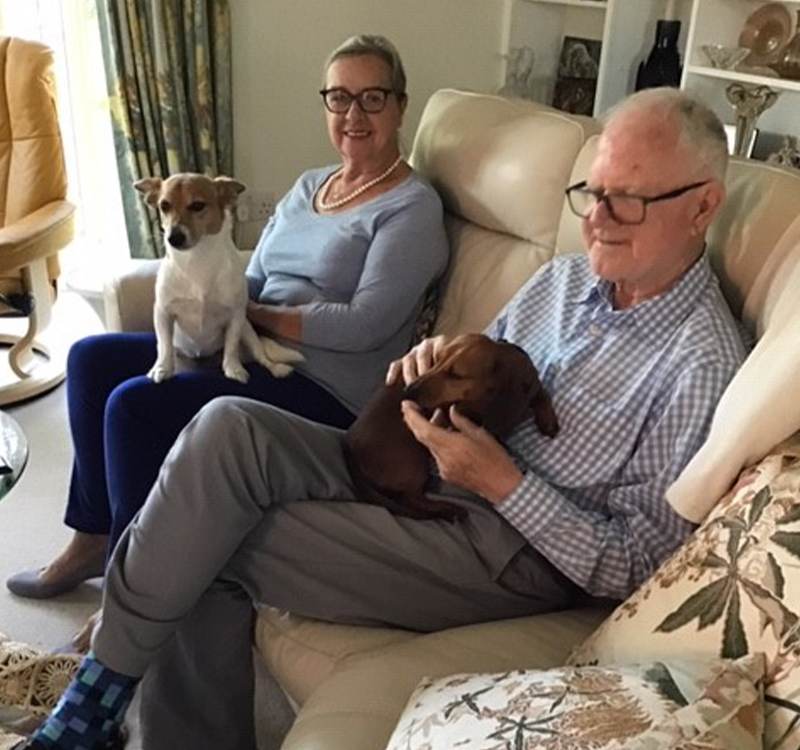 Is there a pet community at your village?
Yes. Mala is extremely happy here and much loved. There were several, elderly people who took huge pleasure in stroking him, touching him, being greeted, etc. There was one gentleman whose life, I truly believe, was saved by the ecstatic welcome Mala always accorded him. Now, alas, all that is temporarily changed, but hopefully happier times will prevail. The enormous benefit dogs can bring to elderly, lonely people is incalculable.
What has it been like having a pet during isolation?
Times have changed dramatically, and such is the incredible intuitive gifts our dogs have that they can sense our anxieties, worries and fears. Mala, on the occasions I weep (and who does not?) snuggles up to either of us. Mala will behave utterly differently when he feels our sorrows or frustrations or even anger. The wonderful feeling of being so deeply, uncritically loved by such trusting creatures is humbling. A pearl beyond price.
As to Mala, words can never begin to express our love and gratitude to this wonderful, exceptionally clever and sensitive friend. Our lives would be empty without him.
Mr Bruce and Mrs Verena Closs and their cocker spaniels Bubbles and Darcey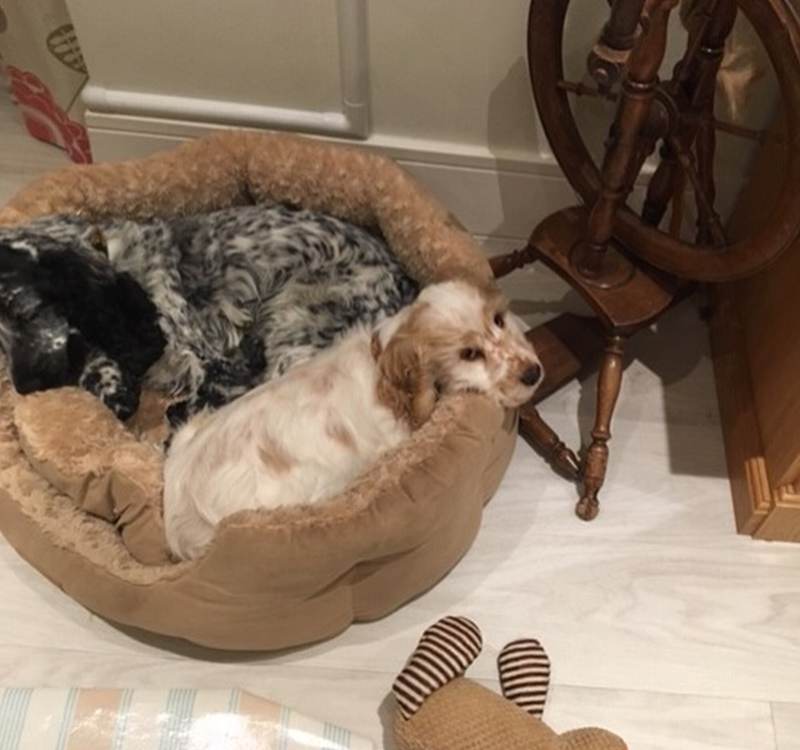 Meet Bubbles and Darcey
These two happy cocker spaniels love their time at Audley Chalfont Dene, where they are welcomed by other owners, just as they are at their holiday home in Switzerland (where they are currently staying during this isolation period).
Did you move in to Audley with your pets? What was that like?
In 2015, we saw the new Audley advert with the strapline "...and the dog comes too" and as you know we now have quite a few dogs in the village. We all have fences which keep them safe. I think Audley made a good decision, and we did too!
Have your pets adjusted to life at Audley?
They love Chalfont Dene and seem to be liked by most of the owners and staff. They love their walks through the gate and off the lead into the fields surrounding.
Is there a pet community at your village?
As we are in Switzerland at the moment I will give both perspectives, being in a holiday home as we currently are and also at Chalfont Dene. Swiss people are very fond of dogs and are great walkers so we always meet people with dogs. Swiss restaurants and hotels are the same - we often meet friends for lunch and have always been able to take dogs with us. This makes life much easier as we don't have the facilities up here for someone to look after Bubbles and Darcey.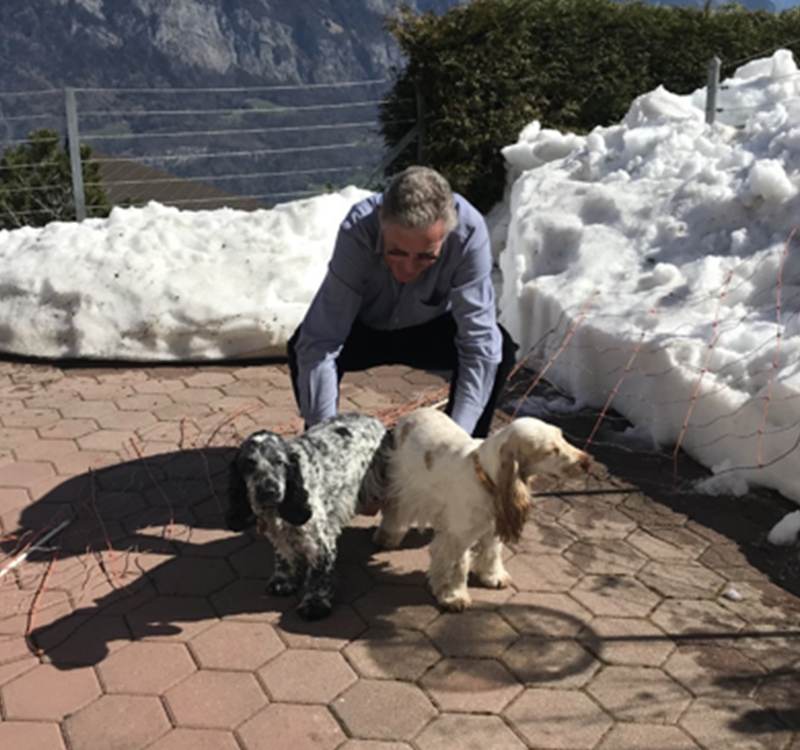 At our home in Chalfont Dene, there is also a dog community there. I think we have about 10 dogs in the village now and most of them are well behaved and loved by most owners. Animals are so important, especially for older people who may have lost a partner and feel lonely.
What has it been like having a pet during isolation?
It has been absolutely great and comforting. Pets are therapeutic and it also gives you responsibilities and a purpose to make sure they are well looked after. They give you cuddles and make you go out for walks.
As far as our dogs are concerned the isolation period could happily be extended as they get even more attention than they normally do!
Though not all of us are naturally pet lovers, it's nice to know that those who are have found much joy and satisfaction in having a pet to depend on or to help ease the stress of daily life.
Cheers to all the pets across the country who are keeping us company in not only these troubling times, but every day of the year.
Whilst all dogs bring many therapeutic benefits to their owners, therapy dogs support people suffering from mental health issues by providing attention and instilling confidence.
All makes us think of the wonderfully loyal and famous dog Greyfriars Bobby, whose remarkable story from the 1800's stretched beyond Scotland to across the globe. In light of it being National Pet Month, we recommend you read Bobby's classic story!
To get more of an insight into life at an Audley village, why not take a look at some more stories from our owners?