Laura Selby is the Care Branch Manager at Audley St George's Place retirement village in Edgbaston, and for her, VE Day has a very personal significance. Her grandfather Albert Selby was a soldier in the British Army, who fought across Europe during WWII before sustaining a serious injury in battle, which led to a medical discharge.
75 years after the VE Day street parties and celebrations, we take a look at Albert Selby's wartime experiences and the events which led to his granddaughter Laura taking up a different kind of heroic role as a home carer.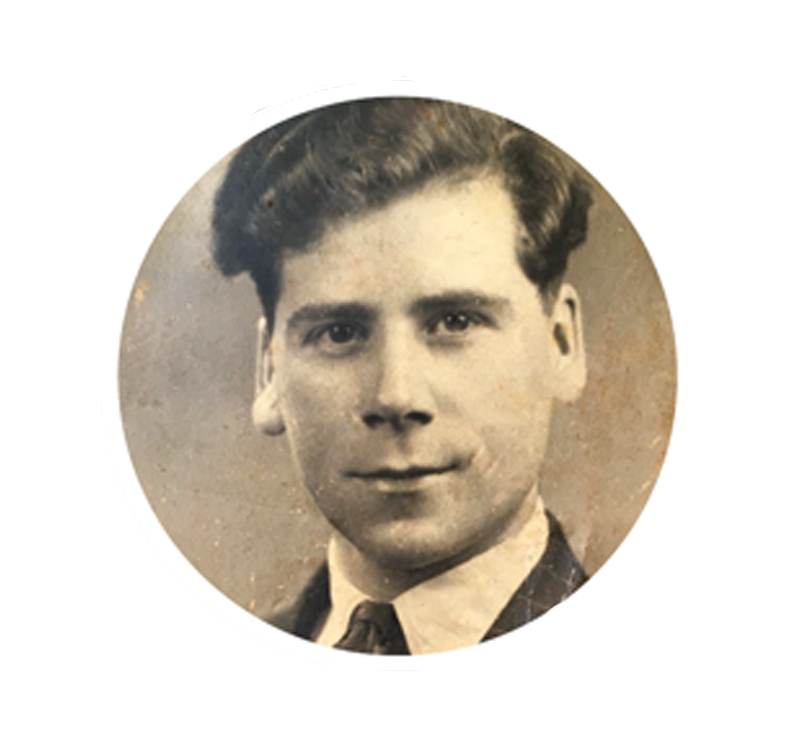 Albert's story
Birmingham was Britain's third most bombed city after London and Liverpool, with 1,852 tons of bombs dropped on the city from 1940 onwards. After surviving the Birmingham Blitz with his family, Albert Selby was conscripted into the British Army in 1942 at the age of 18. His extensive seasickness during amphibious training led him to thank his lucky stars he didn't join the Navy!
Albert's 1st Battalion, Suffolk regiment trained in Scotland, practicing landing on small islands, before travelling down to Havant and boarding barges headed for France, where it formed part of the first infantry wave to land on Sword Beach for the Normandy landings on 6 June 1944. Albert remembers the journey across the Channel vividly:
"We played cards on the ship and oddly, I wasn't seasick. I probably didn't know what was coming! I saw one of our ships sink about half a mile from the beach, then another barge behind us got hit. I don't know how many were killed or injured but we were as much concerned about safety as well as getting to the objective and carrying on."
After the catastrophic losses of D-Day, the Suffolks advanced inland and found themselves under enemy fire.
"I dived down because I thought I'd got hit. The shrapnel had actually hit my helmet but I dived to the floor anyway."
The Suffolks were also involved in the Battle of Caen before moving through France and Belgium into the Netherlands, where Albert remembers some brighter times during the darkness of war. When they arrived in Weert, local kids would come to play football with the troops.
"There was a nunnery across the canal and the nuns came out and sang to us. That was bloody marvellous!"
Albert's regiment then moved to Nijmegen, where the American-led forces had captured a strategically vital bridge. It was here that Albert lost a friend of his, Lance Corporal Reginald Cooksey.
"He was killed by the side of me and there was nothing you could do. He was a likeable guy and had three children. It's who they leave behind that I think about, it's terrible."
Albert was seriously wounded in Nijmegen when he ran into a house for safety and was hit by a blast. He was treated in Brussels before being flown back to the UK and subsequently medically discharged.
On 8 May 1945, Albert celebrated VE Day with his neighbours in Balsall Heath. He remembers feeling mostly relieved and enjoying the celebrations:
"Everybody was happy and some people were climbing up lampposts. I was dancing myself outside somebody's house but I'd got two left feet!"
"My main memory I have of VE Day is that I was glad there would be no more bombing during the day or night. From where I lived in Balsall Heath, you could see where every bomb was being dropped in the city centre during the blitz."
Albert Selby received the Légion d'Honneur from the French government for his part in the liberation of France, but he has never forgotten the cost of the war to his closest friends.
"I never tried to get the medal and it's hard to put into words really. I was happy to receive it but sad about the soldiers who were left behind. My friends in the regiment were great. You worked with them for years and you miss them. I always think about those they left behind."
Generations of heroes
Albert's heroic actions have been celebrated by the Selby family for years, and his granddaughter Laura has undertaken a different kind of heroism by becoming an Audley carer.
Laura's story
Laura Selby is the Care Branch Manager at Audley St George's Place in Edgbaston.
"I started with Audley in January 2016. I was excited about the prospect of flexible working, weekends off, and a new village to put my stamp on things."
"Once the village opened, I started as a Personal Care Assistant (PCA) officially in June 2016, where I was working with a handful of clients. I got to help owners move in, and ensured I was on hand when needed. I thoroughly enjoyed my role as a PCA - I was even lucky enough to be recognised in January 2018 as the 'Care Star of the Year' and my progression continued.
I had the opportunity to become a Senior PCA, working on more administration and helping the office team with the day to day running of the business. In October of 2018, I then was able to branch out to become the Quality Care Supervisor, where I moved out of my normal comfort zone in the field and worked solely on the competencies of the staff, supervisions, care certificates, and updating training. I assisted with new packages and started getting more of an understanding of the 'business' side of operations.
Finally, in May 2019, my manager then got given an opportunity to move into the village operations, which allowed room for me to grow, and I was able to become a 'Care Branch Manager in Training'. This has allowed me to have more control of what the branch does day to day, it has given me opportunities to go to many large events, to be able to care and also ensure the staff I have work to the Audley visions and values. Within each role, I still manage to see my clients. I get to visit them on and off site, I try and be as involved as I was when I was completing their care. I have strong bonds with my clients and they are able to rely on me for any need. I will always be a carer at heart, and within my new manager role, I still aim every day to show care, compassion, and empathy."
Find out more about our care team on the Audley Care page, including details of the services they can provide.
The Audley family of owners and staff has some amazing tales to tell and some fascinating history.