Audley Stanbridge Earls in the heart of Hampshire, is steeped in vast history and old folklore. Today, property owners who live there walk many of the same sites as some of England's most famous historical figures.
The main house in Audley Stanbridge Earls is a Grade II* listed centrepiece building. It boasts an impressive history dating back to Saxon royalty, with links to King Alfred the Great and the founder of modern nursing, Florence Nightingale.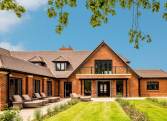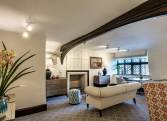 Set in 32 acres of woodland, meadows and lakes
Situated just minutes from the charming market town of Romsey, the main building lies within 32 acres of natural woodland, open meadows and ornamental lakes. Its origins date back to the year 858, with the site said to be the original burial place of King Ethelwulf of Wessex, the esteemed King of the Saxons and father of Alfred the Great. King Ethelwulf spent much of his reign combating the invading Vikings, whilst also doing a significant amount to improve the suffering of the poor in Kent.
From 1066, numerous families went on to own the estate. It was known in the area for possessing the fishing rights in the River Test, offering arable land suitable for growing crops and being home to a wealth of orchards and woodland. However, under ownership by John Fifield in the late 18th century, it fell into decay and became ruinous as he viewed maintenance to the house as "a useless extravagance".
At the end of the 18th century, Florence Nightingale's father, William Nightingale, bought Stanbridge Earls. While being passed down through relatives, new wings were added to the property and it began to transform into the Tudor manor house it is today.
A scenic area at the south of the building was created as an exotic selection of plants were introduced into the gardens, later serving as a rest and relaxation home to American Air Force officers during World War II.
In the mid-20th century, the estate became an independent boarding school, requiring new buildings and features. The extraordinary layout of the grounds was maintained and the main building still today remains a centrepiece at the heart of the Stanbridge Earls retirement village.
Audley Stanbridge Earls today
Today, this beautiful listed building and 32 acre site is Audley Stanbridge Earls, a luxury retirement village where village owners get the chance to live amongst a great wealth of English history. The Romsey retirement village is home to an owner's lounge, a library, the Montfort fine dining restaurant and bistro, the Audley Club with swimming pool, spa and fitness facility, and 155 luxury cottages and apartments.
Find out more about owning your own beautiful property at Audley Stanbridge Earls or another of our luxury retirement villages.