Owners art exhibition Audley Binswood
Audley Artists at Binswood held an exhibition of their work over the past 12 months. The class is run fortnightly by a club member for owners and club members alike. The art class is free to attend.
Here are some photos of the wonderful artwork.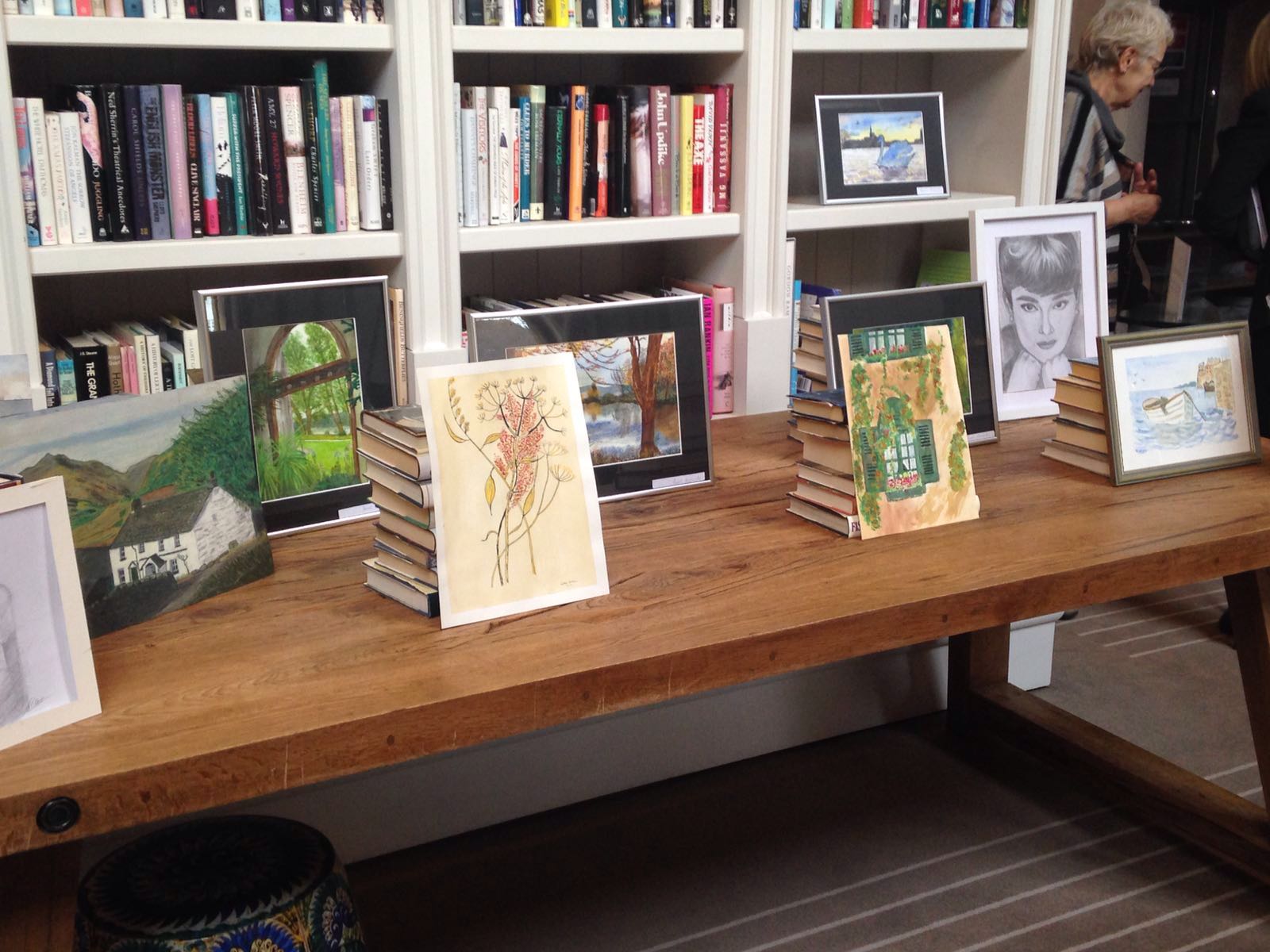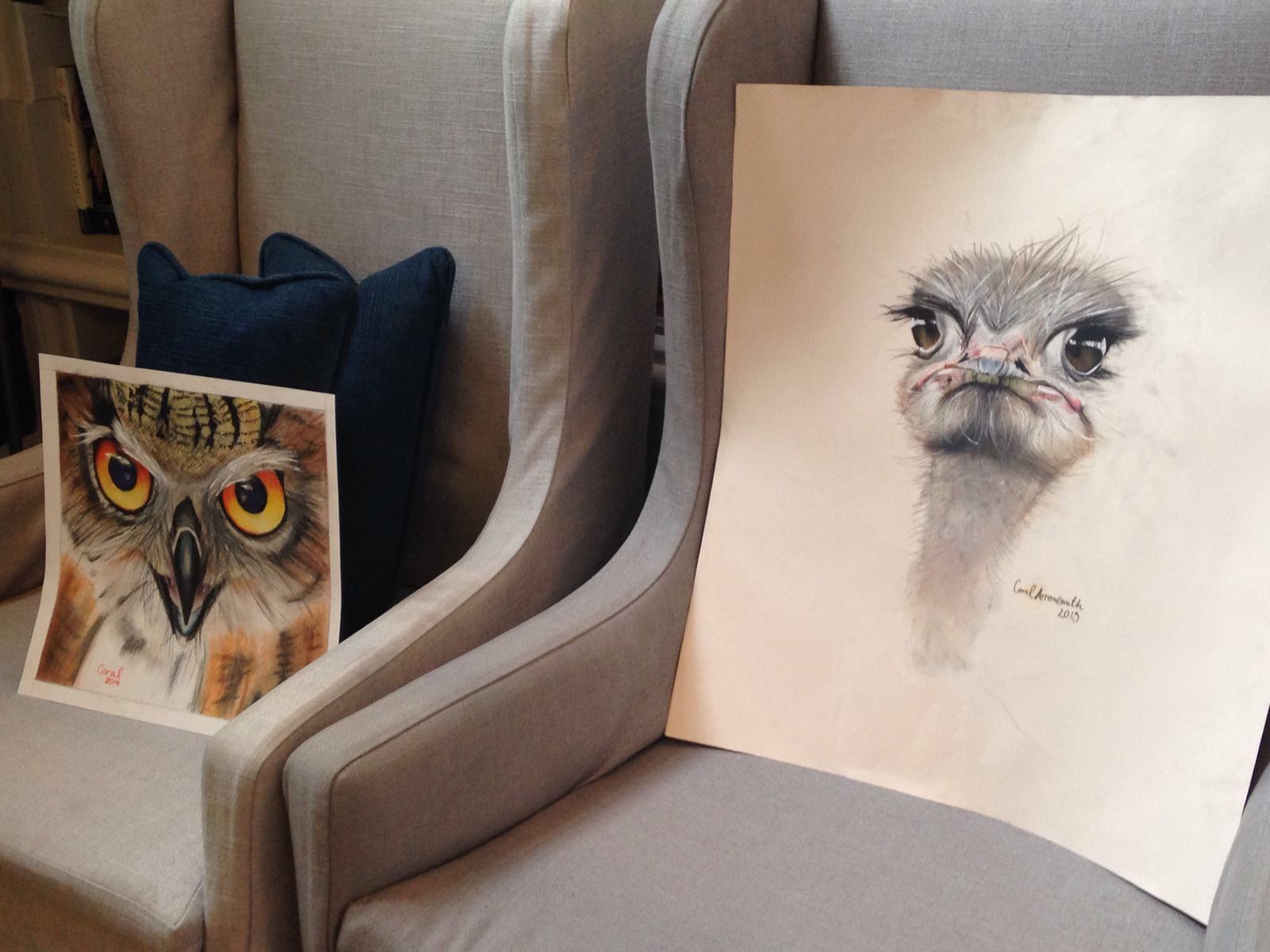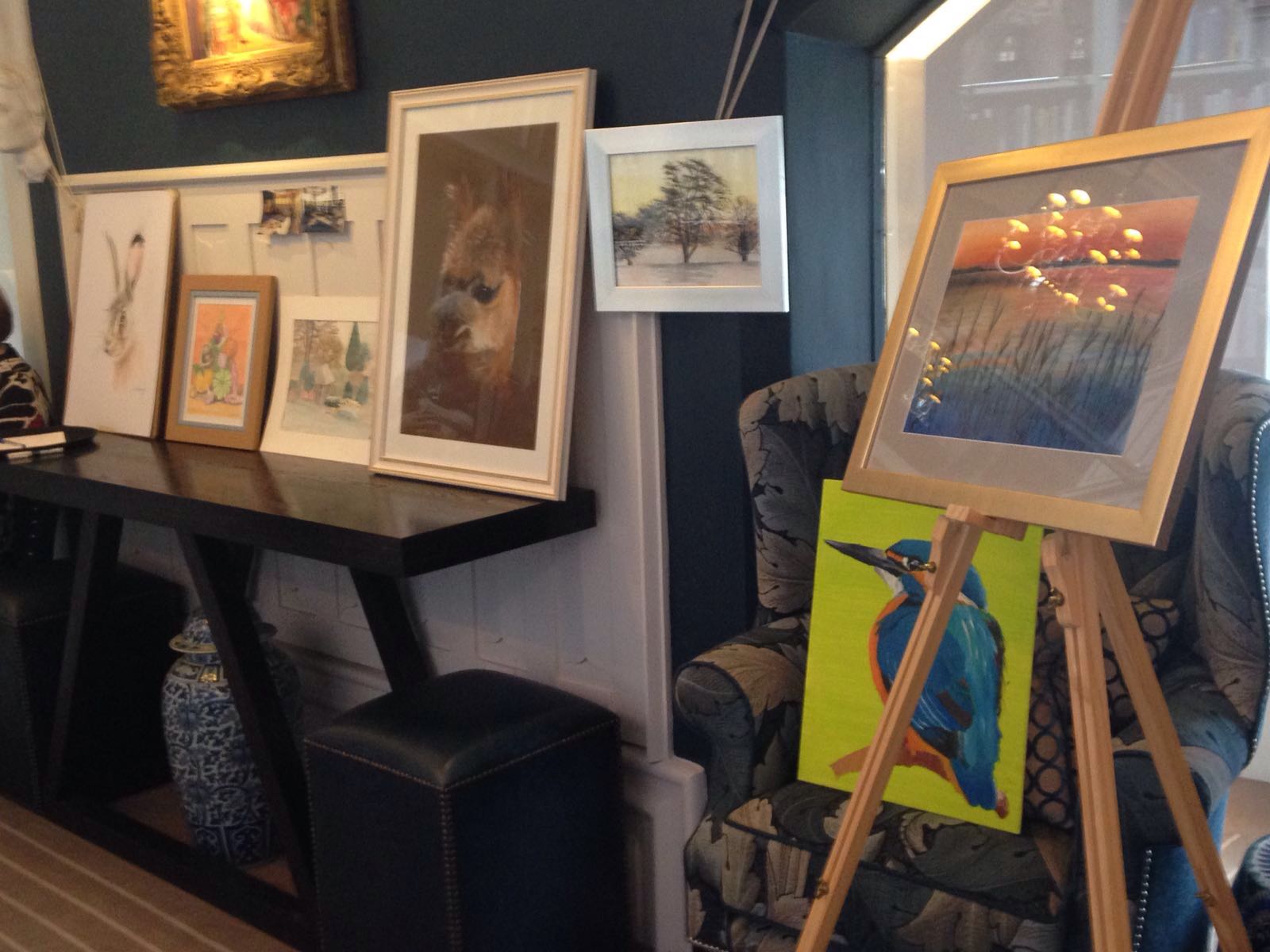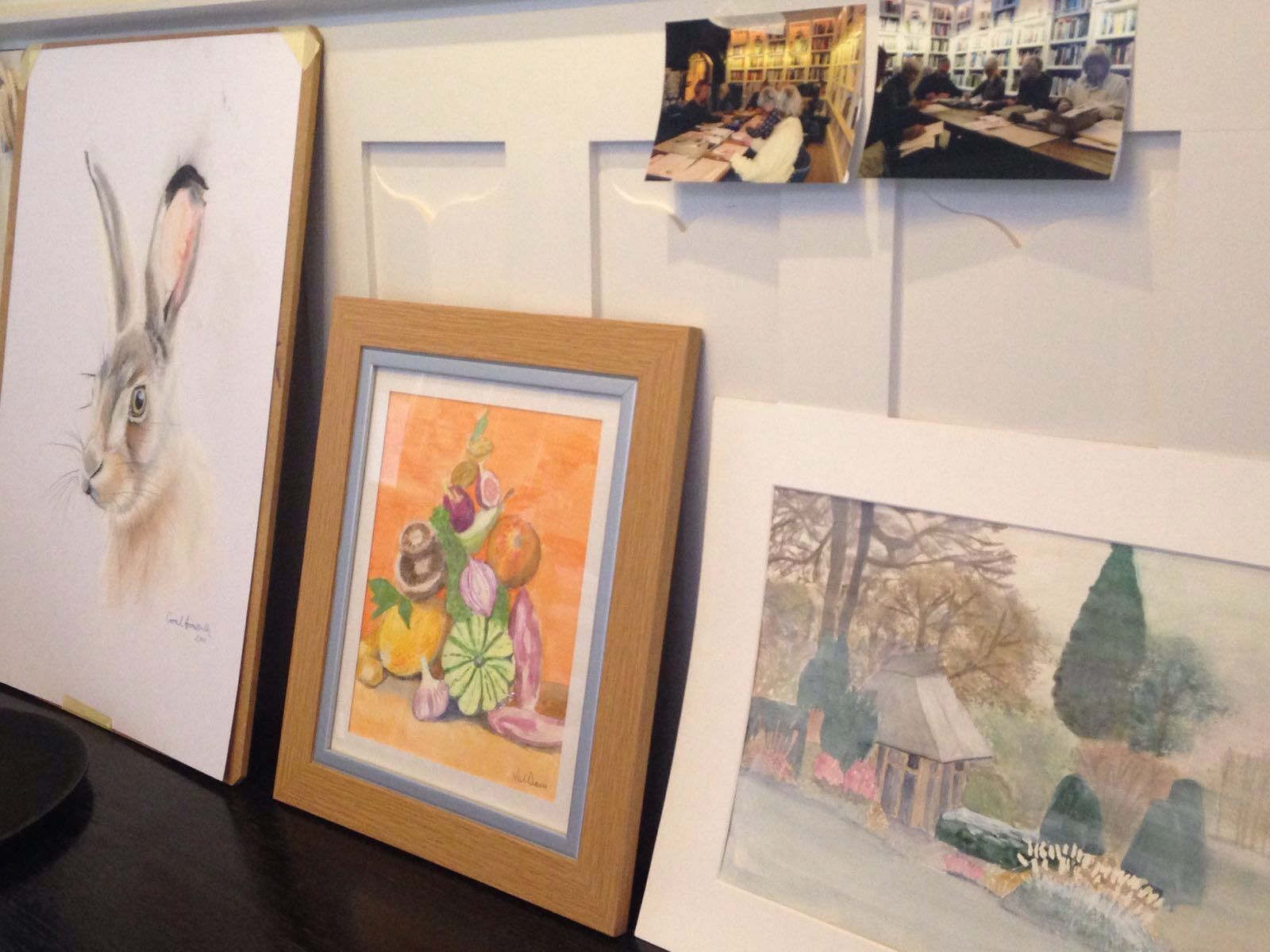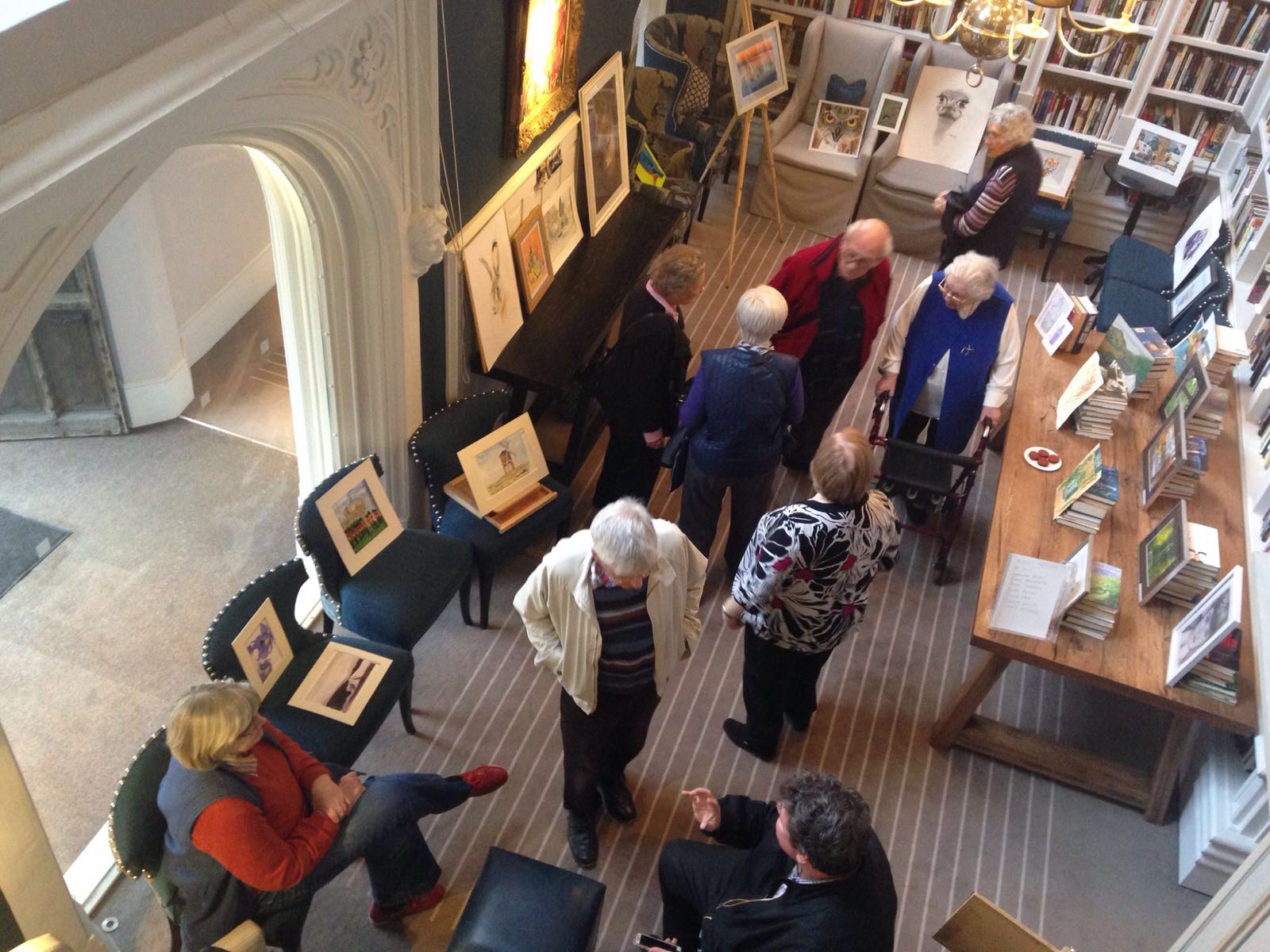 2 hours 15 min ago

We're excited to share a behind the scenes preview of Audley Sunningdale Park during its construction phase and als… https://t.co/jWyqUcoI4G

1 day 2 hours ago

Burns Night at Audley Villages. Haggises were addressed, drams of whisky raised and a great time was had by all. A… https://t.co/XtRYCmBPTr

2 weeks 4 hours ago

Flowers are guaranteed to brighten up any home, but there's a change in the air with 'faux' flowers set to replace… https://t.co/gU2Gu9lQaU

2 weeks 6 days ago

Has a soup ever looked more inviting on a rainy January afternoon? 📸from our AA Rosette awarded restaurant, Blandy… https://t.co/xQK7MoBffE

3 weeks 5 days ago

As we draw closer to the end of 2021, we'd like to wish you and your loved ones a happy New Year! 🥂 2022 is set to… https://t.co/1pZKT7HmFN

4 weeks 15 min ago

2021 – a year in numbers. It's been a busy year across Audley Villages. Discover what some of our property owners… https://t.co/4SOLgAv4P6

1 month 2 days ago

1 month 3 days ago

You may not be spending Christmas how you originally planned but we hope whatever your plans may be that your day i… https://t.co/RXeAY9cZyY

1 month 4 days ago

Santa's helpers have been busy handing out some festive gifts to our property owners! 🎅 The gifts were gratefully… https://t.co/R3D28XbgBf

1 month 4 days ago

1 month 1 week ago

1 month 1 week ago

Notice: It is with regret that we have taken the difficult decision to cancel Audley Nightingale Place's Christmas… https://t.co/p3r4qZcpSb

1 month 2 weeks ago

Christmas jumper day! Today a number of our team members and property owners are wearing their Christmas finery to… https://t.co/nLXt38Kw13

1 month 2 weeks ago

Get into the festive spirit this weekend by baking some delicious gingerbread! Scott, Head Chef at The Orangery at… https://t.co/oddZaAXDkX

1 month 2 weeks ago

December marks the month of Christmas jumpers, festive spirit and of course our ever popular Christmas fairs!… https://t.co/I5DlvBaKjv

1 month 2 weeks ago

1 month 3 weeks ago

With Christmas fast approaching, we've pulled together a list of activities that you can do on the run-up to the bi… https://t.co/VihscdRyqT

2 months 3 days ago

2 months 5 days ago

2 months 1 week ago

2 months 1 week ago

2 months 1 week ago

Well done to everyone at Blandy's at Inglewood for being awarded a Rosette in the AA Restaurant Guide for 2022! Ou… https://t.co/ejrPjVzmBT

2 months 2 weeks ago

They shall grow not old, as we that are left grow old: Age shall not weary them, nor the years condemn. We will rem… https://t.co/1XULoF66EC

2 months 2 weeks ago

Today we'll be taking a moment to remember all of the brave men and women who have paid the ultimate sacrifice in t… https://t.co/pEdpu4kT22

2 months 2 weeks ago

@NSPCC A lovely time was had by all who attended!

2 months 2 weeks ago

2 months 2 weeks ago

Remember, remember the 5th of November! Property owners across our villages have been recently treated to some mag… https://t.co/BWvGwPsGEH

2 months 3 weeks ago

2 months 3 weeks ago

2 months 3 weeks ago

📸 from Audley St Elphin's Park Halloween party over the weekend! 🎃🦇 A spooktacular time was had by all at our Derb… https://t.co/32shUc4Umg

2 months 3 weeks ago

2 months 3 weeks ago

@Twinkatwinks1 Really sorry to hear you had a bad experience. If you pop us over a message we can investigate this further for you.

3 months 3 days ago

Jen Bernard, Interior Designer, shares her top 5 trends for home decor this autumn and winter! Head over to our w… https://t.co/jA8PRvtdPE

3 months 4 days ago

Pumpkin cheesecake recipe! Bruce, Head Chef at Audley Clevedon, shares with us his favourite Halloween-inspired de… https://t.co/bzsxINUNDT

3 months 1 week ago

Autumn on a plate at The Montfort at Stanbridge Earls! 🍂🍁 📸 Venison tartare with beetroot, egg yolk and sourdough,… https://t.co/5mgp9yLloa

3 months 1 week ago

Thank you to all of our property owners at Audley Redwood who supported the village's annual RNLI fish supper event… https://t.co/B9M78VldaN

3 months 1 week ago

The Great Binswood Bake Off! Well done to all of the property owners and team members at Audley Binswood for enter… https://t.co/xHdB6HT0Qs

3 months 1 week ago

When a 3 course meal just isn't quite enough… 📸s from Audley Cooper's Hill 6 course tasting menu over the weekend!… https://t.co/9x01DCbzku

3 months 2 weeks ago

With house prices on the rise and reaching record levels, now could be a better time than ever to consider downsizi… https://t.co/EgHo52ohvr

3 months 2 weeks ago

3 months 2 weeks ago

Getting back into the swim of things! 🏊 Kevin, Leisure Club Manager at St George's Place, shares why swimming is a… https://t.co/zQuKLNKTxD

3 months 3 weeks ago

Discover your dream home at an Audley village and bring your furry friends with you! 📸 of Mrs Windsor, property ow… https://t.co/C9g1JhEwrR

3 months 3 weeks ago

3 months 3 weeks ago

Purchase a beautiful new property and live management fee free for two years! Reserve a new Audley property by th… https://t.co/Fc9jyElutG

3 months 4 weeks ago

4 months 1 week ago

Well done to all of the Audley Ellerslie property owners who walked 18km over the Malvern Hills in support of Help… https://t.co/oMIIDD2NqJ

4 months 1 week ago

Introducing Audley St Elphin's Park croquet club! We're coming towards the end of the season now, but we're lookin… https://t.co/RuP9lJ8CYE

4 months 1 week ago

Tips on staying healthy when eating out! We've pulled together some tips to help you think smart about how to enjo… https://t.co/5oopcssfKQ

4 months 1 week ago

4 months 1 week ago

Earlier this week, our property owners at Audley Binswood were treated to a delicious Chinese menu! Thank you to e… https://t.co/vyMxvHH8qj

4 months 2 weeks ago

Brits become at-home interior designers with 42% overhauling their homes over the pandemic! Head over to our webpa… https://t.co/bN7SMz6Crg

4 months 2 weeks ago

We're all looking for ways to stay healthier for longer, especially as we age. One way to do that is to support you… https://t.co/aHlrbOPkyI

4 months 2 weeks ago

4 months 2 weeks ago

Audley St Elphin's Park looked absolutely beautiful in yesterday's late summer sunshine! Head over to our website… https://t.co/lzZ0mhe5Cv

4 months 3 weeks ago

4 months 3 weeks ago

Audley Nightingale Place hosted their first market earlier this week and welcomed a variety of stalls from local cr… https://t.co/E4wy2g3hHz

4 months 3 weeks ago

A lovely neighbour of Audley Inglewood recently surprised us with some spectacular images of Inglewood House. One… https://t.co/F6cMnGD7at

4 months 3 weeks ago

Bank holiday dog show at Audley Redwood! Well done to all of our entrants and thanks to our property owners who a… https://t.co/40ScLhTdBk

4 months 4 weeks ago

Stamp duty paid when you exchange contracts before 30th September! Exchange contracts on your new Audley property… https://t.co/lUy1Tgf3vh

5 months 3 days ago

Market Day at Audley Ellerslie! 🙌 If you could only choose one item, which one would you choose? We're finding i… https://t.co/5Juqpuqblc

5 months 4 days ago

5 months 6 days ago

At all Audley village restaurants, we're proud to now serve coffee certified by the Rainforest Alliance! Head over… https://t.co/QW21R7b58q

5 months 1 week ago

Over the weekend Audley Chalfont Dene hosted their second annual Allotment Show. A variety of freshly picked produ… https://t.co/Ih1faAnGJR

5 months 1 week ago

Kevin, Club Manager at Audley St George's Place, explains how incorporating resistance training into your exercise… https://t.co/7y9917pYbg

5 months 1 week ago

Last week Sky TV aired the first ever Audley Villages TV campaign; a milestone which celebrates the growth in Audle… https://t.co/2GdUwLLwU1

5 months 1 week ago

5 months 1 week ago

Our summer fairs are proving to be very popular with property owners and members of the local community alike! Las… https://t.co/H3z3npIvTK

5 months 2 weeks ago

As National Allotment Week comes to an end, hopefully you've felt inspired to create your own allotment and to grow… https://t.co/cZ0V6T6nk0

5 months 2 weeks ago

Due to unforeseen circumstances we've had to cancel the Chalfont Dene Summer Fair which was due to take place on Sa… https://t.co/TtiWmdCARb

5 months 2 weeks ago

5 months 2 weeks ago

This week we are celebrating National Allotment Week! Our allotments provide our property owners with a place to g… https://t.co/Q4Bzr5pDhf

5 months 2 weeks ago

Join us for a fun filled day at one of our summer fairs throughout August. We'll have a number of stalls showcas… https://t.co/NvocnUiMH1

5 months 2 weeks ago

Construction is continuing to progress well at Audley Wycliffe Park in Buckinghamshire and we're really excited to… https://t.co/vyGen6fbXU

5 months 2 weeks ago

Chalfont Dene hosted their first event in their new village hall over the weekend with a 1940s inspired evening! O… https://t.co/bbuIGmWn4t

5 months 3 weeks ago

5 months 3 weeks ago

5 months 3 weeks ago

To celebrate National Afternoon Tea Week between the 9th – 15th August our restaurants will be offering 25% off Spa… https://t.co/ZAyYqaUkdQ

5 months 3 weeks ago

Audley property owners appreciation post! Last week our owners at Willicombe Park organised a beautiful event to t… https://t.co/sPXEk2tKB6

5 months 4 weeks ago

6 months 2 days ago

We spoke to three couples about their personal experiences of moving to a luxury retirement property and living at… https://t.co/iajb4MdN4h

6 months 3 days ago

6 months 4 days ago

@rclaw88 Hi Rob, thanks for your message. Membership to Audley Health Clubs is open to people aged 55 and over. We hope this helps.

6 months 5 days ago

Can anyone guess the name of this beautiful plant at Audley Clevedon? A few photos below to show the plant from bl… https://t.co/ympiLLVoi0

6 months 1 week ago

6 months 1 week ago

"It took only one month back in the gym to reverse the effects of 14 months of lockdown!" Visit our website to lea… https://t.co/Albhw8RQrX

6 months 2 weeks ago

To celebrate Bastille Day yesterday, our property owners at Audley Binswood were treated to an exceptional French i… https://t.co/ftpJtJCJHg

6 months 2 weeks ago

6 months 2 weeks ago

6 months 2 weeks ago

Audley Club Open Days 🤸 Join us at one of our upcoming Audley Club Open Days on the 29th & 31st July to see our be… https://t.co/bpAQWjXq3b

6 months 3 weeks ago

Many of our villages are getting ready to show the match this evening. Looking forward to some healthy competition… https://t.co/l5oBKoPtvJ

6 months 4 weeks ago

As Wimbledon fever continues to spread across the country, the team at Audley St George's Place have treated their… https://t.co/ft5hjRV0OV

7 months 4 hours ago

7 months 1 day ago

7 months 2 days ago

7 months 5 days ago

7 months 5 days ago

With National BBQ Week just around the corner, we spoke to Alex our Head Chef at Langton's at Cooper's Hill to get… https://t.co/DJ0B6lMANj

7 months 6 days ago

7 months 1 week ago

7 months 1 week ago

7 months 1 week ago

7 months 1 week ago

Father's Day at Audley Villages. Our owners were delighted to receive a mid-afternoon tipple yesterday to celebrat… https://t.co/wYCah8IY4k

7 months 1 week ago

7 months 1 week ago

7 months 1 week ago

Anyone for a gin masterclass? 🙋🙋‍♂️ 📸 from Audley Redwood's expertly hosted gin masterclass earlier this week.… https://t.co/YLJF9ktp9D

7 months 2 weeks ago

We're delighted to announce that the Audley Academy has been shortlisted for 'Best apprenticeship scheme' by the Ch… https://t.co/Pqc4JQnj3V

7 months 3 weeks ago

7 months 3 weeks ago

7 months 3 weeks ago

@Chillidreams Hi Dave, if you pop us over a direct message we can look into this further for you.

7 months 3 weeks ago

To get into the spirit of English Wine Week later this month and to hone their taste bud's ahead of the festivities… https://t.co/UZ5hDO78SW

7 months 4 weeks ago

Is there a more exciting midweek meal than a freshly made pizza from an outdoor pizza oven? 🍕 By the look of the s… https://t.co/o0Pa4QxtPT

7 months 4 weeks ago

8 months 1 hour ago

8 months 2 days ago

Bank holiday weekend brunches don't get much better than at No3 Restaurant & Bistro at Audley Nightingale Place in… https://t.co/6W96RYoP8B

8 months 6 days ago

8 months 1 week ago

Jumping into the new week like... 📸 of some young Canada goslings at Audley Stanbridge Earls going for their morni… https://t.co/uu5mr3rUps

8 months 1 week ago

With government guidance around hugs recently changing, we thought that we would take a look into the health benefi… https://t.co/kATg8vRnFk

8 months 1 week ago

8 months 1 week ago

Audley Inglewood certainly knows how to celebrate in style! 🍾 It was lovely to see the team at Inglewood rolling o… https://t.co/D7kUHk6tWu

8 months 2 weeks ago

To celebrate today's 'unlocking' of the latest government safety restrictions, the team at Audley Ellerslie have gi… https://t.co/Oap36gVWCI

8 months 2 weeks ago

The team at St Elphin's Park have been busy teasing us with their incredible looking food ahead of their reopening… https://t.co/IvGBGwTuZs

8 months 2 weeks ago

8 months 2 weeks ago

OUR RESTAURANTS ARE REOPENING! With necessary safety restrictions in place, we're pleased to announce that from th… https://t.co/BihafRkl77

8 months 3 weeks ago

8 months 3 weeks ago

To celebrate Cinco de Mayo earlier this week, the team at Audley Cooper's Hill created a Mexican inspired menu that… https://t.co/EUaI0NbMa6

8 months 3 weeks ago

9 months 3 hours ago

Have you ever seen a better looking pork crackling than this from Alex, our Head Chef at Cooper's Hill?… https://t.co/ag95RRDO4L

9 months 1 day ago

Gill, our gardener at Audley St Elphin's Park has recently run two potted plan talks to help our property owners gr… https://t.co/tKqanlx5oR

9 months 2 days ago

Emma our Head Gardener at Audley Ellerslie shares her top tips to keep your garden looking blooming marvellous thro… https://t.co/M3fogUqyYA

9 months 4 days ago

This week Audley Springtime is focusing on 'Creepy Crawlies' and the team at St George's Place have created a drawi… https://t.co/QkBwkvIdJs

9 months 5 days ago

9 months 1 week ago

We are delighted to officially announce the 'Audley Bug Hotel' at St Elphin's Park open! 🐞🐝 Well done to all of th… https://t.co/sFwHzc3Rla

9 months 1 week ago

Congratulations to Tanya, our fabulous General Manager at Audley St George's Place who is celebrating 5 years of wo… https://t.co/ocZYdB0G1G

9 months 1 week ago

A new study from Audley Villages has identified some interesting statistics when it comes to retirement around the… https://t.co/eCgmhyMfgi

9 months 1 week ago

We were thrilled to reopen our outdoor dining areas exclusively for our owners last week and launch our new al fres… https://t.co/3YcTz7xV70

9 months 2 weeks ago

We are proud to present the Audley Virtual Choir and their rendition of the 'Skye Boat Song'! Head over to our web… https://t.co/Z1XTJPqJvv

9 months 2 weeks ago

To celebrate National Gardening Day earlier this week, the Grounds Team at Audley Ellerslie spent an afternoon shar… https://t.co/s9lWhGqV1L

9 months 2 weeks ago

Laura from Audley St George's Place shares an insightful view into the life of a Care Branch Manager. Visit our we… https://t.co/b1YCT0sgMW

9 months 2 weeks ago

Reserve an Audley property before 31st May 2021 and exchange by 31st July 2021 and we will pay your monthly managem… https://t.co/2rtyv905bt

9 months 3 weeks ago

Now that for some of us our alarm clocks are being replaced by the sound of singing birds in the morning, we though… https://t.co/rfnUdzieiT

9 months 3 weeks ago

Audley Redwood recently brought a taste of the Mediterranean to their owners who're missing their exotic holidays w… https://t.co/rF9ld6wzUk

9 months 3 weeks ago

We are deeply saddened to hear of the passing of His Royal Highness The Prince Philip, Duke of Edinburgh. Our tho… https://t.co/PFyoEmHloi

9 months 3 weeks ago

Getting back on the exercise train 🚂 If you're considering reigniting your fitness regime after a few weeks (or mo… https://t.co/pOT9xXreTJ

9 months 3 weeks ago

Construction is continuing to progress well at Audley Wycliffe Park in Buckinghamshire, the setting for our 20th re… https://t.co/8HKBgpfewq

9 months 4 weeks ago

Happy Easter from everyone at Audley Villages. We hope that you have a lovely day that is full of chocolate! 📸 b… https://t.co/SxZ7ACeM62

9 months 4 weeks ago

Is there anything better than the smell of freshly baked bread in the morning? Well… Yes! Try the smell of freshl… https://t.co/ZrJoKmn6og

10 months 3 days ago

10 months 3 days ago

Well done to everyone at Audley St Elphin's Park who helped to raise £675.00 for the NHS & Key Workers Day. 📸 of a… https://t.co/WCpjJ2sMTN

10 months 1 week ago

10 months 1 week ago

Beautiful scenes at Audley Chalfont Dene earlier this week to mark the National Day of Reflection. Thank you to ev… https://t.co/uOr3XMDJoP

10 months 1 week ago

Going once, going twice….sold! Well done to everyone at Audley Ellerslie who helped to raise £1107 for Red Nose Da… https://t.co/G0LtnuV87w

10 months 1 week ago

Mr Hacker, property owner at Audley Cooper's Hill shares with us an insight into life at our Runnymede village and… https://t.co/YpENTMT1DL

10 months 1 week ago

A word of advice on capturing the essence of Springtime in your photography from Dr Towler, property owner at Audle… https://t.co/n7RPR1cMNz

10 months 2 weeks ago

10 months 2 weeks ago

Mother's Day at Audley Villages. Our owners were thrilled to receive a special Mother's Day treat yesterday and… https://t.co/CfMxVxNC2N

10 months 2 weeks ago

We hope whether your making socially distanced door stop visits, having a zoom dinner or spending the day with the… https://t.co/jFVzyO36hg

10 months 3 weeks ago

Preparations are well underway at St Elphin's Park to celebrate the first NHS & Key Workers Awareness Day on the 25… https://t.co/tIoj4Hqgdm

10 months 3 weeks ago

When chocolate brownies look almost too good to eat… we did say 'almost' 😉 📸 from the team at Binswood.… https://t.co/ebBzhdcdW0

10 months 3 weeks ago

With the government's stamp duty initiative extended to 30th June 2021, you could save up to £15,000 on the purchas… https://t.co/O7rnl0zcQX

10 months 3 weeks ago

Looking for a delicious dish to cook over the weekend? Then look no further than our Beef Bourguignon recipe from… https://t.co/FFYE4bQl40

11 months 2 days ago

Happy St David's Day to everyone celebrating in Wales and around the world! We're celebrating today at Audley Elle… https://t.co/CO9iPcs4OP

11 months 6 days ago

We've now completed on the purchase of land for Audley Scarcroft Park, West Yorkshire. This will be our fourth vill… https://t.co/OuY96O7mPJ

11 months 1 week ago

11 months 1 week ago

One of Audley Ellerslie's newest owners, Mr Kelly, shares with us his experiences of moving during lockdown. We l… https://t.co/YpDWq5WB93

11 months 1 week ago

A new Audley Villages study reveals which destinations and attractions are on our bucket lists, and exactly how muc… https://t.co/3hXbMSG1do

11 months 1 week ago

Expert moving package To help you secure your move to an Audley village in 2021, we are excited to share details o… https://t.co/4C7Jua7pa9

11 months 1 week ago

11 months 2 weeks ago

With pancake day upon us, we spoke to Mark, Head Chef at Blandy's restaurant at Audley Inglewood, to get his recipe… https://t.co/bIOWdNyQDw

11 months 2 weeks ago

Happy Chinese New Year! The owners of Audley Ellerslie are being treated today to a delicious Chinese menu that th… https://t.co/tkfmWa7EkD

11 months 3 weeks ago

11 months 3 weeks ago

11 months 3 weeks ago

With the help of the Cunliffe-Owen family, we've unravelled the fascinating past of the Sunningdale Park estate, th… https://t.co/4gHfMFNJwK

11 months 3 weeks ago

Martella from Audley Care Redwood shares an insight into the life of a carer during a pandemic.… https://t.co/4NCAqaA81m

11 months 3 weeks ago

February marks the start of our 'For The Love Of Food' celebration, which is our twist on Valentines Day and while… https://t.co/nF6YW3qm3U

11 months 4 weeks ago

If there is a better Monday treat than a macaron we certainly haven't come across it. The owners of Audley Inglew… https://t.co/MfRExlwt9o

1 year 1 day ago

1 year 2 days ago

Audley Clevedon certainly knows how to celebrate National Pie Day in style! 🥧 Over the weekend, owners at Clevedo… https://t.co/iZ2q0sluS7

1 year 4 days ago

With Burns Night fast approaching and the prospect of a very different occasion this year, we've pulled together so… https://t.co/MgQkdHHHZh

1 year 5 days ago

1 year 1 week ago

1 year 1 week ago

1 year 1 week ago

1 year 2 weeks ago

1 year 2 weeks ago

Prepare to feel hungry! Although our restaurants may be currently operating a bit differently, one thing hasn't ch… https://t.co/0mrm4JJi8n

1 year 4 weeks ago

The owners of Audley Redwood were delighted to receive a surprise visit from a special guest on Christmas Eve who h… https://t.co/mu8j70mBxM

1 year 1 month ago

Looking for a perfect Boxing Day dish to use up all of those delicious Christmas leftovers? Then look no further th… https://t.co/srU8NL70ON

1 year 1 month ago

Just like many other special occasions this year, today might not be spent how we originally planned but we hope th… https://t.co/Nhz4joal3b

1 year 1 month ago

1 year 1 month ago

1 year 1 month ago

Have you got a few minutes to spare this morning? You do? Then grab yourself a mince pie (or two) and test your Chr… https://t.co/qx3aKZgzYZ

1 year 1 month ago

Mulled wine is definitely acceptable at midday on a Saturday in December, isn't it… We've added a classic mulled wi… https://t.co/LnBVWDCul3

1 year 1 month ago

We are delighted to present the Audley virtual choir and their rendition of 'O Come, All Ye Faithful'.… https://t.co/cEjfxpW0qR

1 year 1 month ago

It's all about the quizzes this week. Owners enjoyed a quiz hosted by Audley Directors last night, with some fabulo… https://t.co/DDLTUfncWo

1 year 1 month ago

1 year 1 month ago

Christmas this year will undoubtedly be different than previous years, so we thought we would share with you our to… https://t.co/6N83TLE9w3

1 year 1 month ago

A delightful wild mushroom risotto for you to try this weekend from Bruce, our head chef at The Clevedon. We wou… https://t.co/MXDXIGGmaY

1 year 1 month ago

Choosing a Christmas present for a grandchild can be a difficult task and with the Christmas shopping experience li… https://t.co/kbo2agDBRD

1 year 1 month ago

1 year 1 month ago

A new study by Audley Villages has revealed the best locations in the UK to live at every stage of life by analysin… https://t.co/6UUKTK2gBj

1 year 1 month ago

We're delighted to announce that we have completed at 131 Fairmile Lane, Cobham. Audley Fairmile will be our secon… https://t.co/xn2eQExxNX

1 year 2 months ago

Looking to get yourself into the festive spirit this weekend? Then have a go at making our delicious Christmas pud… https://t.co/r8G0A1uahv

1 year 2 months ago

cont... the hard work from the design team and construction teams at Audley and Balfour Beatty has been very litera… https://t.co/ypr5JwvJNK

1 year 2 months ago

Congratulations to Audley Cooper's Hill for winning Gold, and to Audley Stanbridge Earls for winning Silver, in the… https://t.co/5OBehcz3S9

1 year 2 months ago

It looks like Christmas has already landed at Audley Ellerslie 🎄 Their chef, John guided the owners through a Zoom… https://t.co/63yh7qYgwH

1 year 2 months ago

1 year 2 months ago

Kevin Shaw, Managing Director shares 5 crucial factors to consider when downsizing during the Covid-19 crisis, to h… https://t.co/92vSF5UzBH

1 year 2 months ago

1 year 2 months ago

1 year 2 months ago

📷 Autumnal photographs taken by head gardener at Audley Stanbridge Earls. What a beautiful place to live.… https://t.co/PF4qWRV607

1 year 2 months ago

We're still open. Book an appointment to visit an Audley village, safely and at your convenience. In line with gove… https://t.co/FmYxjGAcKH

1 year 2 months ago

1 year 2 months ago

Since the temporary stamp duty reduction was announced by Chancellor Rishi Sunak on the 8th July, the UK property m… https://t.co/y5Z4x2rIYM

1 year 2 months ago

1 year 2 months ago

1 year 2 months ago

1 year 2 months ago

1 year 2 months ago

1 year 3 months ago

Our annual owners survey offers invaluable insight into daily life at Audley. It tells us how happy our owners are,… https://t.co/wndxSgfSkP

1 year 3 months ago

1 year 3 months ago

@412isit Hi Tim, send us a direct message and we can get you removed from our mailing list!

1 year 3 months ago

We're kicking off National baking week with a delicious caramel apple tarte tatin, the perfect autumnal dessert. 🍂… https://t.co/OuoPEzeM93

1 year 3 months ago

We're kicking off National baking week with a delicious caramel apple tarte tatin, the perfect autumnal dessert. 🍂… https://t.co/Ewi58Mt84I

1 year 3 months ago

1 year 3 months ago

1 year 3 months ago

1 year 3 months ago

1 year 3 months ago

1 year 3 months ago

1 year 3 months ago

2/2 This year, we can demonstrate our commitment through the publication of our first CSR Report… https://t.co/qdhPurcKL6

1 year 3 months ago

As a leading provider in the retirement living sector, we are increasingly aware of the importance of the Environme… https://t.co/DNrNlRMsK5

1 year 3 months ago

It's World Animal Day and we're reflecting on just one of the many ways animals add value to our everyday lives....… https://t.co/hvBcgCa1kg

1 year 3 months ago

More stunning view from our villages. This was captured by Thomas, GM at Audley Cooper's Hill, Englefield Green 📸 https://t.co/2GmKz0GJkK

1 year 3 months ago

Battle of the views at Audley Clevedon and Audley Ellerslie this morning. Which one is your favourite?… https://t.co/uwVXf52U0s

1 year 4 months ago

1 year 4 months ago

A highly insightful webinar including Harriet Dunstan Head of Marketing at Audley Group discussing our proposition… https://t.co/9FS7GrLHCR

1 year 4 months ago

1 year 4 months ago

1 year 4 months ago

Want to get paid £250 to redecorate your home? Share a revamp of your home interior influenced by your favourite ho… https://t.co/UtIeQKNQCd

1 year 4 months ago

@MattBanksUK Hi Matthew, sorry for any inconvenience caused. If you pop us over a private message we can remove you from our mailing list.

1 year 4 months ago

1 year 4 months ago

1 year 4 months ago

1 year 4 months ago

1 year 4 months ago

1 year 5 months ago

1 year 5 months ago

Introducing our newest village Audley Wycliffe Park. The planned 25-acre retirement village at Horsleys Green, betw… https://t.co/zqPNnqOXAh

1 year 5 months ago

1 year 5 months ago

1 year 5 months ago

1 year 5 months ago

1 year 5 months ago

1 year 5 months ago

1 year 5 months ago

1 year 5 months ago

1 year 5 months ago

1 year 5 months ago

1 year 6 months ago

1 year 6 months ago

1 year 6 months ago

Head over to our blog to find out how you can win a portrait of your pet by the extremely talented Jane Disney whil… https://t.co/hTY8UfoNgm

1 year 6 months ago

This drone footage of Audley Sunningdale Park, shows our new Berkshire retirement village before the building's res… https://t.co/sa6hmemltu

1 year 6 months ago

1 year 6 months ago

We are delighted to open our bistro at No3 Nightingale Place, Clapham Common. We're offering 20% off your total dri… https://t.co/WHDL4JjJiD

1 year 6 months ago

1 year 6 months ago

Now that the government has announced the temporary holiday on stamp duty on the first £500,000 of all property sal… https://t.co/oPb7KcixsL

1 year 6 months ago

Boost your energy with our fresh and fruity smoothie recipe over on our Audley Stories blog.… https://t.co/UJxDlNbqlL

1 year 6 months ago

Sunday calls for delicious cake and cups of tea. Why not give our 5 ingredient Victoria sponge cake a try 🍰… https://t.co/bmohhQuuhg

1 year 6 months ago

The sun might have disappeared for a while but that doesn't mean you can't enjoy a summery cocktail, try our Englis… https://t.co/lvTTxxeEZu

1 year 6 months ago

1 year 6 months ago

1 year 7 months ago

1 year 7 months ago

Whether you are a budding photographer or have taken up a new hobby in lockdown, with wildlife making more of an ap… https://t.co/alSAz2GLTx

1 year 7 months ago

1 year 7 months ago

As things are increasingly becoming more 'digital' we've pulled together our top tips on how to keep you safe onlin… https://t.co/6oOydW3t6P

1 year 7 months ago

1 year 7 months ago

1 year 7 months ago

1 year 7 months ago

1 year 7 months ago

Happy Father's Day to all the dads, grandads and grandpa's. However you're spending the day we hope it's filled wi… https://t.co/vzNsLhMWka

1 year 7 months ago

We're incredibly proud to share these heartwarming comments from our owners about living in an Audley Village durin… https://t.co/Qp3lHO6FmK

1 year 7 months ago

We might not be able to go on holiday at the moment, but that doesn't stop us dreaming about our next adventure. We… https://t.co/tTPTup3TKE

1 year 7 months ago

We're pleased to share with you some sneak peek photos of the stunning new interiors at Audley Nightingale Place by… https://t.co/F9GlUVBv46

1 year 7 months ago

1 year 7 months ago

1 year 7 months ago

Another virtual day at Audley Stanbridge Earls. Who knew flower demonstrations over zoom could be so much fun? A… https://t.co/Lr2XnWOuy3

1 year 7 months ago

Chalfont Dene owner, Mrs Marland, may be 90 years old but is currently cycling 1.5 miles almost every day exclusive… https://t.co/bgUUga9od1

1 year 7 months ago

1 year 7 months ago

1 year 7 months ago

1 year 7 months ago

1 year 7 months ago

1 year 7 months ago

1 year 7 months ago

A vehicle left unused can develop problems. Here are some top tips to ensure good vehicle health. https://t.co/Fhc2C44jJC

1 year 7 months ago

A warm sunny afternoon calls for freshly baked scones and a refreshing Pimm's delivered straight to your door. Deli… https://t.co/Mb38xH6QKl

1 year 8 months ago

1 year 8 months ago

1 year 8 months ago

1 year 8 months ago

👏 We're clapping again this week for our Audley Carers, the NHS and all the amazing key workers.

1 year 8 months ago

1 year 8 months ago

1 year 8 months ago

1 year 8 months ago

1 year 8 months ago

It's okay to not start a new hobby or learn a new skill and just take this time to breathe and relax. Our mental he… https://t.co/cvMR0GdhzY

1 year 8 months ago

1 year 8 months ago

St Elphin's Park pop up bakery is all ready for their owners! What delicious treat would you pick? https://t.co/aarBHsYJiy

1 year 8 months ago

A delicious potato pancake recipe is now up on our YouTube channel by Bruce the Head Chef at Audley Clevedon.… https://t.co/w0oa6ywsWr

1 year 8 months ago

1 year 8 months ago

1 year 8 months ago

1 year 8 months ago

1 year 8 months ago

Want to get paid £250 to cook from home? Share your best recreation of one of our michelin-style recipes and includ… https://t.co/imdmIh2h6B

1 year 8 months ago

With hair salons not due to open until July, we've asked Claire Pinder a hairdresser with over 10 years experience… https://t.co/prYbv69u94

1 year 8 months ago

1 year 8 months ago

Dive into the Great Barrier Reef with David Attenborough, or spend the morning exploring the surface of Mars with t… https://t.co/B6xzqTGXQ5

1 year 8 months ago

1 year 8 months ago

1 year 8 months ago

1 year 8 months ago

1 year 8 months ago

1 year 8 months ago

Start your Sunday off with a relaxing neck and shoulder stretch with Willow from the Audley Club at Redwood over on… https://t.co/7Hky3aWbxO

1 year 8 months ago

1 year 8 months ago

To celebrate the 75th anniversary of VE Day, Audley owners are taking part in a stay at home street party, enjoying… https://t.co/wjFFRz1EJk

1 year 8 months ago

1 year 8 months ago

1 year 8 months ago

1 year 8 months ago

1 year 8 months ago

1 year 8 months ago

1 year 8 months ago

1 year 8 months ago

1 year 8 months ago

1 year 8 months ago

1 year 9 months ago

Look for your next baking idea? Then why not try the banana bread recipe by our chef at Audley Cooper's Hill. Follo… https://t.co/IMtZxNbuc5

1 year 9 months ago

1 year 9 months ago

1 year 9 months ago

1 year 9 months ago

We may not be able to welcome you to a village right now, but we can certainly still talk you through the village a… https://t.co/Yh0cFMhOUN

1 year 9 months ago

1 year 9 months ago

If you had a few too many gin fizz's last night following on from our Youtube tutorial then you might need to start… https://t.co/Jp0phwtlDi

1 year 9 months ago

1 year 9 months ago

Start your weekend off with a delicious Gin Fizz tutorial prepared by the very talented Cooper's Hill bar staff.… https://t.co/XcEM1wPahJ

1 year 9 months ago

Did someone say "happy hour" yesterday Audley Redwood's team wowed their owners with their new bar on wheels, The L… https://t.co/XjH7bBA1gU

1 year 9 months ago

1 year 9 months ago

1 year 9 months ago

1 year 9 months ago

1 year 9 months ago

1 year 9 months ago

1 year 9 months ago

1 year 9 months ago

1 year 9 months ago

1 year 9 months ago

Audley Cooper's Hill - In the absence of the Gun salute for the Queen's birthday today we salute her with a cup of… https://t.co/ECuvrTXwiL

1 year 9 months ago

Each week our village teams are initiating a series of daily outdoor activities to ensure our owners stay in touch… https://t.co/z904qtJocT

1 year 9 months ago

1 year 9 months ago

Join the PAR-TEA this national tea day! Join us to raise the spirits of the nation with Britain's biggest ever virt… https://t.co/bI6auIpakz

1 year 9 months ago

We've got a bonus workout this week from our General Manager at Audley Redwood. Our owners joined in from their bal… https://t.co/tCxenQfV4g

1 year 9 months ago

We're pleased to announce that Emma Trinder has joined us as a Planning Director. In her new role Emma will lead th… https://t.co/CFz76fnJFy

1 year 9 months ago

1 year 9 months ago

1 year 9 months ago

1 year 9 months ago

1 year 9 months ago

1 year 9 months ago

1 year 9 months ago

1 year 9 months ago

1 year 9 months ago

Happy Easter from everyone here at Audley Villages! We know your plans might be a little bit different this year bu… https://t.co/hh3GIDyu0A

1 year 9 months ago

1 year 9 months ago

Following on from our hot cross bun recipe, use your left over buns (perhaps wishful thinking that theres any left!… https://t.co/fJWSlGQLXH

1 year 9 months ago

1 year 9 months ago

1 year 9 months ago

1 year 9 months ago

Staying positive can be one of those things that's easier said than done, that's why we've pulled together the bene… https://t.co/Em9Ya9VPtM

1 year 9 months ago

Fish & Chip Friday (We're not sure it's a thing but we're making it one!) Try our delicious recipe and let us know… https://t.co/1kiHlgnjvp

1 year 9 months ago

1 year 9 months ago

1 year 10 months ago

Reaching out to owners via our new YouTube channel, MD Paul Morgan 'shows us' in his own way what's going on in our… https://t.co/YckZQHVO3a

1 year 10 months ago

1 year 10 months ago

1 year 10 months ago

1 year 10 months ago

1 year 10 months ago

1 year 10 months ago

1 year 10 months ago

What does a frozen property market mean for retirement living? A new blog post by Kevin Shaw, Managing Director of… https://t.co/uidP90nbNS

1 year 10 months ago

Bay our leisure club manager has pulled together some basic moves you can do at home to keep active. Read his blog… https://t.co/m4bMDNcnsZ

1 year 10 months ago

1 year 10 months ago

We're in unprecedented times, but one thing we can be sure of is that the most vulnerable need our help & support m… https://t.co/AfL4xDVHHJ

1 year 10 months ago

1 year 10 months ago

And our new Instagram account! We will be sharing recipes, gardening tips, puzzles, blogs and much more. So make su… https://t.co/OAF8aMDH8N

1 year 10 months ago

1 year 10 months ago

We'd like to introduce two new channels & wealth of new content being uploaded in the coming days and weeks, it's a… https://t.co/OnIXeOUtnx

1 year 10 months ago

1 year 10 months ago

@IsabelTaylor63 Thank you for letting us know Isabel, we're so pleased the team at Chalfont Dene could make the day special for your mum!

1 year 10 months ago

Happy Mother's Day! This year we all may be celebrating a little differently, but don't let that get in the way of… https://t.co/ShrV0w9Egb

1 year 10 months ago

1 year 10 months ago

1 year 10 months ago

Read the full update here https://t.co/8sjDz7MtHy If you have any concerns about a loved one, please send us a message.

1 year 10 months ago

We will continue to communicate with our owners, customers and staff regularly and share our plans. A heartfelt tha… https://t.co/5EXnZX1Igz

1 year 10 months ago

1 year 10 months ago

1 year 10 months ago

1 year 10 months ago

1 year 10 months ago

"Women have empathy, resilience, multi-tasking, courage and tenacity. Culture and equality are key for success.…" R… https://t.co/OYj0IGpy8h

1 year 10 months ago

1 year 10 months ago

1 year 10 months ago

1 year 10 months ago

1 year 11 months ago

1 year 11 months ago

1 year 11 months ago

1 year 11 months ago

1 year 11 months ago

1 year 11 months ago

1 year 11 months ago

A brilliant article discussing how high-quality design can impact dementia care by Jen Bernard, found and managing… https://t.co/IqKr0yVOzQ

1 year 11 months ago

1 year 11 months ago

1 year 11 months ago

1 year 11 months ago

1 year 11 months ago

2 years 21 hours ago

Head over to Malvern Theatres on Instagram to be in for a chance of winning two tickets to see Blithe Spirit plus a… https://t.co/s2eYjk0jFQ

2 years 4 days ago

2 years 5 days ago

2 years 5 days ago

2 years 1 week ago

2 years 1 week ago

2 years 1 week ago

2 years 1 week ago

2 years 1 week ago

2 years 2 weeks ago

Did you know we are on LinkedIn? If you're interested in working for Audley Group then head over to our LinkedIn pr… https://t.co/Q1cLv19rSQ

2 years 2 weeks ago

Audley Inglewood's Winter Wonderland BBQ kicked their new year off in style, the weather was so beautiful they coul… https://t.co/XyHCvYp7FW

2 years 2 weeks ago

To help with your move in 2020 we would like to offer you a contribution towards your moving costs*. Follow the lin… https://t.co/TH78ESzDr2

2 years 2 weeks ago

We're extremely pleased to share we have signed a new joint venture agreement with Danish pension company, PFA, tha… https://t.co/lsFk1c1f4R

2 years 2 weeks ago

2 years 2 weeks ago

2 years 3 weeks ago

2 years 3 weeks ago

2 years 3 weeks ago

Here's to 2019! What a fantastic year it has been, with the opening of two new villages, multiple refurbishments, n… https://t.co/ojWttmythU

2 years 4 weeks ago

2 years 1 month ago

2 years 1 month ago

From everyone at Audley Villages, we wish you, your friends and family the most magical Christmas day filled with l… https://t.co/dD8itzwRLo

2 years 1 month ago

2 years 1 month ago

2 years 1 month ago

2 years 1 month ago

2 years 1 month ago

2 years 1 month ago

2 years 1 month ago

2 years 1 month ago

2 years 1 month ago

2 years 1 month ago

2 years 1 month ago

We're extremely excited to share with you some sneak peek photos of Audley Stanbridge Earls, Romsey, Hampshire. Ope… https://t.co/UIdcUIH3mE

2 years 1 month ago

A few photos from the latest exclusive event at Audley Ellerslie with special guest, double Olivier award-winning… https://t.co/teKK5c6qP7

2 years 1 month ago

Read Paul Morgan's latest interview with Care Home Professional. He discusses his transition from hospitality to th… https://t.co/B0Mkk09CxD

2 years 1 month ago

2 years 1 month ago

2 years 2 months ago

2 years 2 months ago

2 years 2 months ago

We're at Audley Binswood's Christmas Fair! Join us for mince pies and mulled wine. 🎄

2 years 2 months ago

The owners at Audley Ellerslie have now completed a basic first aid course. It's great to see owners who have never… https://t.co/BFCAqONjCv

2 years 2 months ago

2 years 2 months ago

2 years 2 months ago

2 years 2 months ago

It's your last chance to enter The Romney at Mote House's competition as the winner will be announced on Monday. Th… https://t.co/DtmEm1zXL1

2 years 2 months ago

2 years 2 months ago

2 years 2 months ago

2 years 2 months ago

What a fantastic day at The St Elphin's Park Christmas Fair last Saturday. Check out our latest blog post to find t… https://t.co/hgTR2iwDe6

2 years 2 months ago

2 years 2 months ago

2 years 2 months ago

2 years 2 months ago

2 years 2 months ago

2 years 2 months ago

2 years 2 months ago

2 years 2 months ago

2 years 2 months ago

2 years 2 months ago

Don't forget you can find the location and times of all our Audley Christmas fairs on our latest blog post...https://t.co/uiOed0IqLp

2 years 2 months ago

2 years 2 months ago

2 years 2 months ago

2 years 2 months ago

2 years 2 months ago

Happy Halloween from Audley Villages, a few of our village teams pumpkins... Which one is your favourite?… https://t.co/IQmBmssrRr

2 years 3 months ago

2 years 3 months ago

2 years 3 months ago

2 years 3 months ago

Today we held a cooking demonstration at the Neptune store in Winchester for our Stanbridge Earls owners. As the vi… https://t.co/Ug9ogCVnEi

2 years 3 months ago

2 years 3 months ago

2 years 3 months ago

2 years 3 months ago

2 years 3 months ago

"With an ageing population, the UK needs to invest in solutions that take the pressure off the social care system.… https://t.co/7aF9TfjiXL

2 years 3 months ago

2 years 3 months ago

2 years 3 months ago

Did you know that all of our restaurants can hold private events from sit down 3-course dinners, to corporate event… https://t.co/dJtuWQGpQU

2 years 3 months ago

2 years 3 months ago

We've got that Friday feeling and it's cocktail o'clock at The Orangery at St Elphin's Park, with delicious autumna… https://t.co/oklvmPIiZX

2 years 3 months ago

2 years 3 months ago

2 years 3 months ago

"Instead of funnelling money into a broken system, the government must focus on reducing the need for care in the f… https://t.co/LzRjNkrlg8

2 years 3 months ago

We're pleased to announce to we've won the award for 'Senior Living Larger Scheme award 2020' for Audley Redwood at… https://t.co/yUbRQXyulz

2 years 3 months ago

2 years 3 months ago

2 years 3 months ago

It's World Animal Day and we're reflecting on just one of the many ways animals add value to our everyday lives....… https://t.co/g9CFHX45lU

2 years 3 months ago

We are excited to launch our new sales office at our Audley Village in Scarcroft, West Yorkshire. We are looking fo… https://t.co/6lgr3qxv58

2 years 3 months ago

Head over to the Langton's at Cooper's Hill Facebook page to be in for a chance of winning afternoon tea for four p… https://t.co/djkwzQL71Z

2 years 3 months ago

2 years 4 months ago

2 years 4 months ago

2 years 4 months ago

2 years 4 months ago

2 years 4 months ago

2 years 4 months ago

2 years 4 months ago

2 years 4 months ago

2 years 4 months ago

We are looking for a Group Income Finance Manager, to manage a team of four. Audley is a fast growing company & thi… https://t.co/3VVgjczONv

2 years 4 months ago

2 years 4 months ago

The finishing touches are being added to Audley Cooper's Hill, Englefield Green by the very talented team at… https://t.co/4lRshiSlPc

2 years 4 months ago

Nick Edwards joins Audley Group as COO to support rapid growth phase across Audley and Mayfield brands. https://t.co/cmim7s7rll

2 years 4 months ago

2 years 4 months ago

2 years 4 months ago

2 years 4 months ago

A fantastic day had by all at The Romsey Show on Saturday, thank you to all those that popped by to see the Audley… https://t.co/hAEiseClFH

2 years 4 months ago

2 years 4 months ago

2 years 4 months ago

The sun is shining and we're getting set up for the Romsey Show tomorrow you'll find us next to the Presidents Ring… https://t.co/zCcrMxGsun

2 years 4 months ago

2 years 4 months ago

2 years 4 months ago

2 years 4 months ago

2 years 4 months ago

2 years 4 months ago

2 years 4 months ago

We are delighted to celebrate that our teams at Audley Care Binswood and Audley Care Edgbaston have been listed in… https://t.co/11Jety33PA

2 years 4 months ago

Did you know all our restaurants are open to the public? Our Villages offer afternoon tea, Sunday roasts, all day d… https://t.co/jcUfK3u0H3

2 years 4 months ago

2 years 5 months ago

2 years 5 months ago

2 years 5 months ago

2 years 5 months ago

2 years 5 months ago

2 years 5 months ago

2 years 5 months ago

Head over to The Romney at Mote House on Facebook to be in for a chance at winning afternoon tea for yourself and t… https://t.co/KAy7dqjQU1

2 years 5 months ago

2 years 5 months ago

We're excited to share with you that we're launching an Audley magazine called 'Luxury Retirement Lifestyle' and it… https://t.co/1ION0HW9AO

2 years 5 months ago

2 years 5 months ago

2 years 5 months ago

2 years 5 months ago

We are proud to announce, plans for our first carbon neutral development. The application is to extend our existing… https://t.co/a44D1Ttjcj

2 years 5 months ago

General Manager by day, pizza chef (in training) by night! Kevin Green, GM at Audley Redwood whipped up some delici… https://t.co/TlEtyPfnLa

2 years 5 months ago

2 years 5 months ago

2 years 5 months ago

2 years 5 months ago

2 years 5 months ago

2 years 5 months ago

2 years 5 months ago

2 years 6 months ago

2 years 6 months ago

2 years 6 months ago

2 years 6 months ago

The perfect excuse for an afternoon tea for you and something to keep the little ones quiet (for a while)!… https://t.co/guRoAPGZkA

2 years 6 months ago

It may be the hottest day of the year but our villages are still going the extra mile to raise money for… https://t.co/0zJiTT2CQJ

2 years 6 months ago

2 years 6 months ago

2 years 6 months ago

2 years 6 months ago

2 years 6 months ago

2 years 6 months ago

2 years 6 months ago

2 years 6 months ago

2 years 6 months ago

2 years 6 months ago

The last stop for the Audley Academy Roadshow is at our central support office in Egham. We've got the Dementia Ex… https://t.co/BXcU9lxJjD

2 years 6 months ago

2 years 6 months ago

Head over to 'The Fairmile at Willicombe Park' on Facebook to be in for a chance of winning afternoon tea for you a… https://t.co/cNOzWyD4Lm

2 years 6 months ago

The sun is shining so we're enjoying an iced tea and coffee on the terrace at Audley Ellerslie's restaurant, Aldwyn… https://t.co/uwbFZQJW2O

2 years 6 months ago

2 years 6 months ago

2 years 6 months ago

You've still got time to guarantee the sale of your home with our 100% part exchange offer, running until 31st Augu… https://t.co/7MWptpRwaB

2 years 7 months ago

Wildflowers blossoming at Audley Chalfont Dene. Did you know anyone can enjoy a coffee (or better yet a cocktail) o… https://t.co/WiotZgMKvZ

2 years 7 months ago

2 years 7 months ago

2 years 7 months ago

2 years 7 months ago

2 years 7 months ago

2 years 7 months ago

We're holding an open day at our central support office in Egham on Friday 28th June for our newest village, Audley… https://t.co/e21cHCnTty

2 years 7 months ago

2 years 7 months ago

We're holding an open day at our central support office in Egham on Thursday 28th June for our newest village, Audl… https://t.co/chU2m3tK3x

2 years 7 months ago

Strawberry gin fizz anyone? We know where we will be heading this weekend...The Orangery at St Elphin's Park… https://t.co/GgWvEWiZUY

2 years 7 months ago

2 years 7 months ago

2 years 7 months ago

2 years 7 months ago

2 years 7 months ago

2 years 7 months ago

2 years 7 months ago

2 years 7 months ago

2 years 7 months ago

2 years 7 months ago

We're hiring at Audley Care Tunbridge Wells. Come along to our open day at Willicombe Park on Tuesday 18th June, 9a… https://t.co/McAudgOTSj

2 years 7 months ago

2 years 7 months ago

2 years 7 months ago

2 years 7 months ago

@alzheimerssoc To be sure we taste tested a few, they most certainly are all delicious.

2 years 7 months ago

2 years 7 months ago

2 years 7 months ago

2 years 7 months ago

@Htimsnalced We're sorry for any inconvenience caused if you direct message us, we can make sure your details are removed from our database.

2 years 7 months ago

2 years 7 months ago

2 years 7 months ago

2 years 7 months ago

2 years 7 months ago

2 years 8 months ago

Another great talk from NatWest at Audley Redwood's owners Coffee Morning. Today's topic Digital Safety.… https://t.co/liqKCgGqkC

2 years 8 months ago

2 years 8 months ago

2 years 8 months ago

2 years 8 months ago

2 years 8 months ago

Congratulations to Audley Care Clevedon for winning the "End of life Expertise" award at the Homecare Awards today.… https://t.co/kZK03o5BBI

2 years 8 months ago

2 years 8 months ago

2 years 8 months ago

2 years 8 months ago

2 years 8 months ago

2 years 8 months ago

2 years 8 months ago

2 years 8 months ago

2 years 8 months ago

2 years 8 months ago

Stunning new CGIs for Audley Nightingale Place, Clapham. Audleys first luxury retirement village in London. Interi… https://t.co/JLuvJYe5bY

2 years 8 months ago

2 years 8 months ago

Two new CGI's for Audley Cooper's Hill. There are 50 new apartments in total in the two buildings, all two bedroom… https://t.co/B0Vt55zVwp

2 years 8 months ago

2 years 8 months ago

Think you can spot an Audley Village from a luxury hotel? Why not take our quiz and see if you can spot the differe… https://t.co/I7U0qKb8S4

2 years 9 months ago

2 years 9 months ago

2 years 9 months ago

2 years 9 months ago

2 years 9 months ago

2 years 9 months ago

2 years 9 months ago

2 years 9 months ago

2 years 9 months ago

2 years 9 months ago

Beautiful bluebells located within the 66 acres of the Magna Carta Park in Englefield Green where Audley Cooper's H… https://t.co/I2RZeWISW5

2 years 9 months ago

2 years 9 months ago

2 years 9 months ago

2 years 9 months ago

2 years 9 months ago

New drone footage of Audley Stanbridge Earls, Romsey. Looks like we have an owner moved in a little ahead of schedu… https://t.co/I2EmxFrcdp

2 years 9 months ago

2 years 9 months ago

2 years 9 months ago

2 years 9 months ago

2 years 9 months ago

2 years 9 months ago

2 years 9 months ago

2 years 9 months ago

2 years 10 months ago

2 years 10 months ago

2 years 10 months ago

2 years 10 months ago

2 years 10 months ago

Our new CGI's for Audley Cooper's Hill with stunning Interiors by the team at Bernard Interiors.… https://t.co/aIeeWjpWnq

2 years 10 months ago

2 years 10 months ago

We have raised an incredible £15,000 for The Dove Ward at The Great Western Hospitals NHS Foundation Trust. Since t… https://t.co/hobz1x72GP

2 years 10 months ago

2 years 10 months ago

2 years 10 months ago

2 years 10 months ago

2 years 10 months ago

2 years 10 months ago

2 years 10 months ago

2 years 10 months ago

2 years 10 months ago

2 years 10 months ago

2 years 10 months ago

2 years 11 months ago

2 years 11 months ago

2 years 11 months ago

2 years 11 months ago

2 years 11 months ago

2 years 11 months ago

2 years 11 months ago

This year we decided to change the way we celebrate Valentine's Day and instead celebrate the love we have for food… https://t.co/770ynbzEzy

2 years 11 months ago

It's time the Government stopped postponing publication & gave the sector more clarity. The green paper must provid… https://t.co/D25wQhKbjH

2 years 11 months ago

...and yet it desperately needs more recruits. But the campaign mustn't act in a vacuum – retention of great worker… https://t.co/PHvDMVc3Ha

2 years 11 months ago

2 years 11 months ago

2 years 11 months ago