A beginner's guide to online dating for the over 50s
As online dating has become commonplace in Britain, the former stigma of meeting romantic prospects online has all but disappeared.
The rise in online dating isn't just a phenomenon among millenials. According to a 2018 report by online dating giant Tinder, one in ten users are 55+ and that number is only set to grow with the rise of single people over 50 and as tech literacy continues to improve thanks to "silver surfers".
But that doesn't make taking the plunge any less daunting. If you're thinking of giving online dating a go, it's perfectly natural to feel a little overwhelmed by the process. But don't let that hold you back. Technology offers more opportunities than ever to meet that special someone.
Where to start
While there are major free dating apps which might work for you (whether that's Tinder, Bumble or OKCupid), we've also identified some sites that may cater a little better for single people over 50.
Most dating sites work on similar principles. Once you've registered, you'll need to fill out your online profile, talk about your interests and what you're looking for and attach your most flattering pictures. Then it's simply a case of browsing through different profiles until you like the look of someone.
If you and another profile indicate a mutual interest, your profiles will match and you can usually start talking to each other. At this point, there is no obligation to arrange a date or meet. So, there's no need to feel nervous about making that first match.
5 best dating sites for over 50s
1. Saga Dating
Website
https://www.sagadating.co.uk/s/
What is it?
One of the best-established online dating communities, specialising in dating exclusively for the over 50s.
Benefits
Free to join with more premium features involving a monthly subscription. Their membership of the Online Dating Association ensures that Saga Dating is required to keep to high standards and be prompt in replying to enquiries. The site also claims to have more than 100,000 matches to choose from.
2. Telegraph Dating
Website
https://dating.telegraph.co.uk/s/
What is it?
Meet people online who are likely to be right of centre in their politics. Ease yourself in by reading some accounts of happy customers.
Benefits
The site lets you browse through profiles, match with up to 1,000 profiles and add people you like particularly to a favourites list. You can also block people that you'd rather stop communicating with.
3. Guardian Soulmates
Website
https://soulmates.theguardian.com/
What is it?
A well-established dating site from the renowned Guardian Media Group. If you're feeling sceptical, why not read some of their success stories.
Benefits
Registration is free and the site claims to be adding 15,000 new faces every month. Paid subscription is available as and when you want to use more advanced features or as a monthly payment. Their blog also has a lot of tips, tricks and dating ideas.
4. Mature Dating
Website
https://www.maturelove.com/uk
What is it?
Dating site specifically for the over 40s age groups, with online support to help you along.
Benefits
Registration and searches are free on this active online community. Dating membership is also specifically broken up into over 40s, over 50s and over 60s so you can look for a partner within an age range you're comfortable with. The site also offers an online chatroom and arranges off-line meetings, so you needn't worry about arranging everything yourself.
5. Christian Connection
Website
https://www.christianconnection.com/
What is it?
Award-winning dating site for Christians. Set up in 2000, the site boasts thousands of successful matches and marriages.
Benefits
The site is free to use with premium features available on a subscription model. Christian Connection also runs regular meet ups where Christians can meet each other, which can include gatherings in restaurants, museums or on country walks.
These are just a sample of many online dating sites. Should you wish to sign up for another option you find online, be sure to do a little research to establish that the site is trustworthy – especially before parting with personal data or payment details. If unsure, consult the Online Dating Association for member websites.
Tips to help you get the most out of online dating
Remember to be yourself. It doesn't matter how sophisticated matching algorithms claim to be, being yourself is still the best way of meeting someone who's a good match for you.
Use good quality photos that show you in your best light. It'll vastly increase your chances of matching with people.
Don't give out too much personal information. Even on a well-regulated website, it's still best to play it safe.
Be specific about your interests and passions. List your favourite music, films and hobbies. It's often a shared interest that leads to a connection.
There's no age limit to romance
The most important thing is to enjoy the experience. After all, finding someone that gives you butterflies in your stomach doesn't get any less magical with age. Once you've got the hang of the basics, you'll soon find that online dating has made the search for a suitable partner much easier. So why not kick off 2019 by meeting new people and a potential new romance?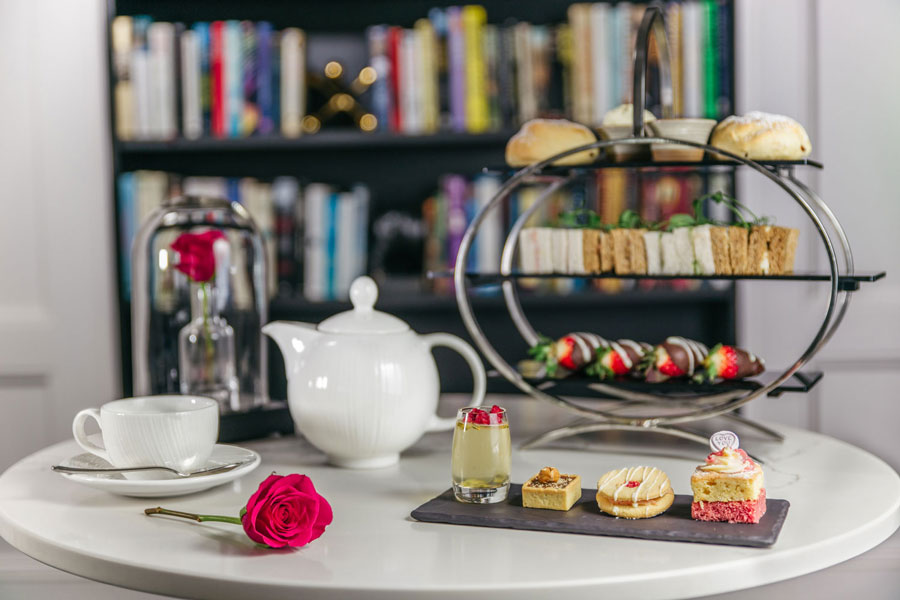 And remember, love is all around. Fall in love with food this Valentine's Day. It's the perfect excuse to enjoy a meal or afternoon tea with a friend, family, or loved one.