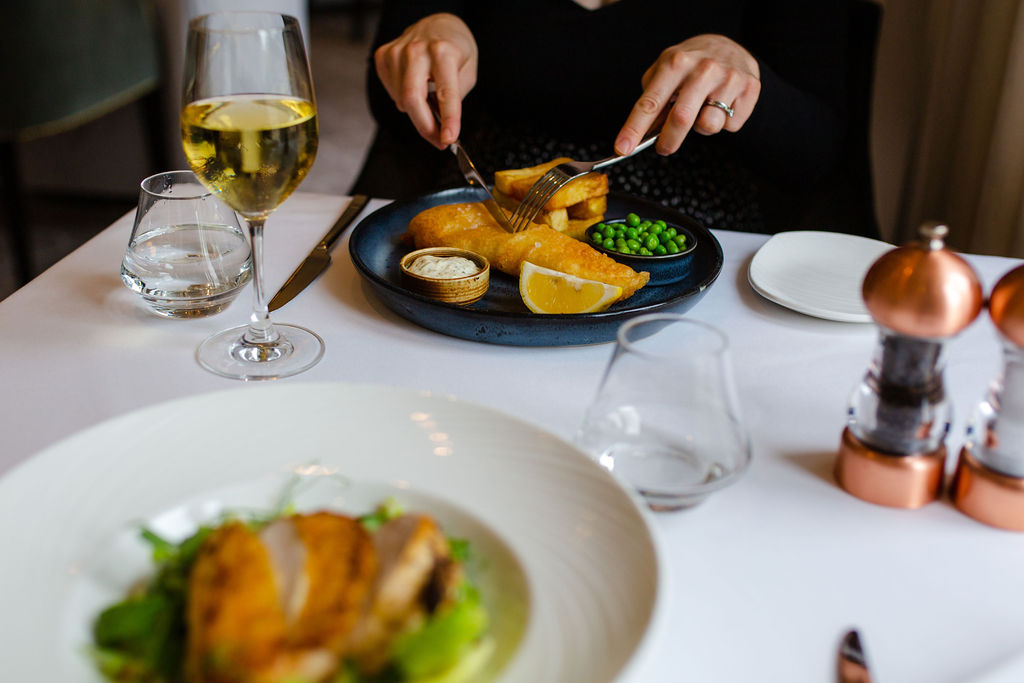 This British classic dish is best enjoyed washed down with a crisp Sauvignon Blanc or a citrussy white wine to balance with the tartare sauce. For more wine pairing tips read the story.
Equally a pint of pear cider or pale ale will go down a treat.
INGREDIENTS - Serves 4
4 x fresh haddock, local beer or ale batter, ½ burnt lemon, 400g crushed peas, 6 large potatoes, homemade tartare sauce
FOR THE BEER BATTER FLOUR MIX
FOR THE TARTARE SAUCE

300g flour
6g salt
7g cornflour
5g baking powder
10g sugar

80g lilliput capers
150g baby cornichons
1 finely diced banana shallot
1 bunch chives
½ bunch dill
300ml mayonnaise
GET YOUR INGREDIENTS READY
CHUNKY CHIPS – Cut the potatoes into rough 3" x ¾" chips, boil for ten minutes or until soft then dry on a kitchen towel. Chill and refrigerate until needed. Fry at 180°C in a deep fat fryer until crisp and golden brown.
TARTARE SAUCE – Finely chop the shallots, chives and dill. Blend the capers and cornichons in a food processor. Mix all the ingredients together and add mayonnaise. Refrigerate and keep until needed.
CRUSHED PEAS – Blanch the peas for one minute. In a small pan crush the peas with the back of a fork and add a little butter and seasoning.
BEER BATTER – Combine the beer batter flour mix with 350ml of local ale. Mix well and cover until needed.
BURNT LEMON - Top and tail the lemon, cut in half at an angle and chargrill until soft.
HOW TO COOK
Preheat the deep fat fryer to 180C. Flour the fish fillet, dip in the batter and cook in the fryer until crispy and brown. Season and serve straight away with chunky chips, crushed peas, lemon and tartare sauce.
Our Audley chefs' graceful creations can be found on many of our local restaurant menus. Visit your local restaurant soon.
From great British classics, to exquisite creations and delicious desserts. Follow more recipes from Audley, now added weekly.