Here, Jen Bernard of Bernard Interiors tells us about the challenges she faces and her passion for the newest Audley Village - Nightingale Place in Clapham.
Photo by ©Kristen McCluskie.
Nightingale Place, is Audley's first development in central London, a complete new build in an urban environment overlooking Clapham Common. The 94 apartment development (to be completed in May 2020) will, amongst other highlights, boast a luxury a la carte restaurant as well as a wellness spa and health club, which will also be open to non-resident members.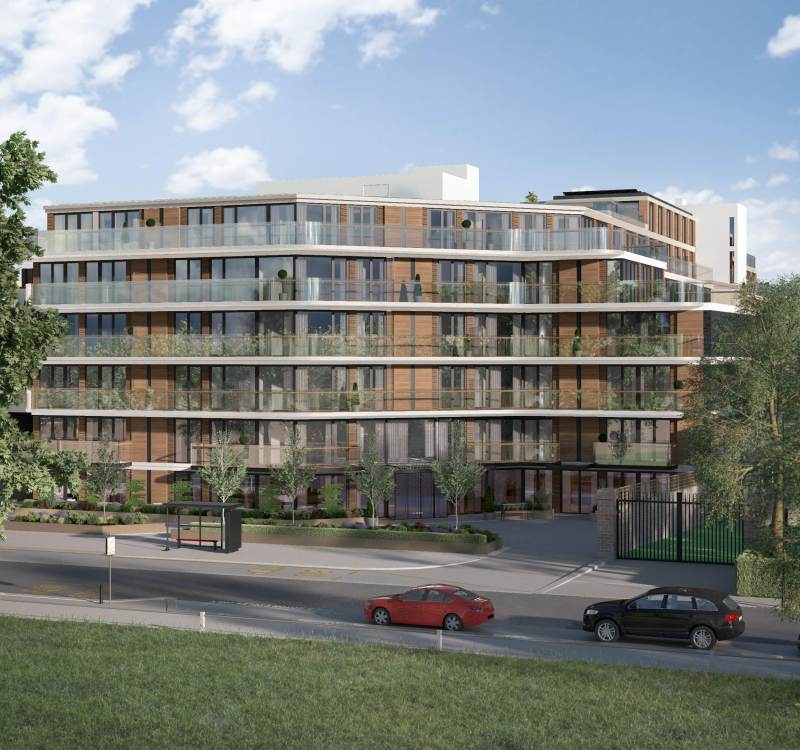 One of the biggest challenges for this project is to create the essential Audley 'look and feel', maintaining Audley's strong brand identity, across an entirely new and urban development.
Audley owners are a discerning client, invariably having lived in beautiful, often period properties.
Audley homeowners are cultured, well-travelled, well-read and design conscious.
Many of Audley's Villages are situated within the grounds of a grand heritage building, utilising the main house or building for the Audley Club and so each site has its own distinctive history to draw upon for design inspiration.
Our design inspiration was born from the adjacent Clapham Common, London life, popular culture and the experiences of the village's future owners.
Throughout, there is a mix of the classic and contemporary, making for a characterful environment which is also timeless, comfortable and sophisticated. This benefits both the Audley Club (with its intergenerational clientele), as well as owners within the principal accommodation, many already accustomed to living in similarly adorned properties.
Each part of the development has its own identity, with the overall linking theme of a luxurious urban retreat.
The wall colours are subtle, providing a blank canvas which is brought to life through the use of pattern and texture in fabrics, layering of objects, carefully designed lighting schemes, feature lighting and artwork.
Artwork is thoughtfully curated from a variety of genres - modern, classical, impressionist - to satisfy a broad church of artistic appreciation.
We choose objects and artwork not just for their decorative qualities but also because of their meaning to a generation.
These pieces catalyse discussion, encouraging introductions and bringing people together.
Our designs incorporate the use of natural, earthy tones in the reception area (reflecting those found on Clapham Common), alongside crafted, tactile finishes such as timber, marble and antique brass to add a contemporary edge. This is your "welcome" to the building, offering up a choice of seating areas in which to meet and linger en route to the bar-bistro or restaurant.
The bar-bistro itself has been fitted with timber decor and fluted panelling and intricate geometric patterned fabric.
There, one will discover framed vinyl record sleeves alongside subtle references to fashion and culture inspired by the iconic Vivienne Westwood.
The restaurant design is inspired by Joe Gilmore, the celebrated head barman at The Savoy Hotel's elegant American Bar from 1955 to 1976, bartender of choice to the bar's high society clientele.
Classic 1930's influences can be found in the lounge, including the distinctive London Underground fabric designed by Enid Marx.
The library is lined floor to ceiling with bookshelves to house the thousands of books to satisfy even the keenest of bibliophiles.
To the lower ground floor the spa is a calm oasis, benefitting from the use of neutral finishes, limed oak timbers and tiles, complemented with soft pastel tones.
Great retirement living combines elements of the best in hotel, residential and healthcare design seasoned with lifestyle experience. Good hotels provide inspiring environments to both explore and relax in, a place where guests might have the opportunity to socialise with similarly minded people.
Those aspects of 'home' we all seek - warmth, comfort, safety, time with family and friends - are the essentials of good residential design.
Consideration must also be given to the possibility of future healthcare support which may arise in later life, with the focus being on maintaining mobility and independence.
It is the job of the designer to seamlessly bring together knowledge and expertise required from the relevant sectors, and it is therefore also very satisfying to be a key contributor to the development team for Audley Villages, helping create new environments in which people choose to live their lives.
More stories and interviews with Jen Bernard will be coming soon, so watch this space. Subscribe to our Audley Villages email newsletters and we'll send you the latest stories.