Are you looking to spruce up a room or redecorate after all this time at home during lockdown?
You can now get paid a sum of £250 to restyle a part of your property with influences from these top holiday destinations.
With travel restrictions in place across the world, our own houses have become our holiday destinations this summer. However, sitting at home does not mean you can't feel like you're basking in the sun soaked mediterranean.
Audley Villages has collaborated with expert interior designers to recreate 10 of the most iconic holiday destinations in your home. You have the opportunity to add elements from these top locations in your home and win £250. From the sunny South of France to the captivating islands of Greece, we want to see how you affordably upcycle your space.
How to apply to become the DIY interior designer
Post a photo of a room in your home showing how you have added elements from your favourite holiday destination in the description
Share it with Audley Villages on social media by following and tagging @audleyvillages on Instagram, Facebook or Twitter using the hashtag

#dreamholidayshome
The successful applicant will be selected based on the photo of your interior styling at the end of the application period.
How to know if you've won
We'll contact you on social media at the end of the application period to let you know you've won! Between the both of us we'll coordinate how to receive your payment of £250 too. So get inspired and revamp your home now!
For the full set of interiors, see our blog post on the locations here.
Terms and conditions:
Each participant can only submit 1 photo of their DIY interior designing on social media.
All applications must be submitted by 20 October 2020. Any entries made after this date will not be counted.
The successful job applicant will be announced on 22 October 2020. There will be one winner. 
This is not an offer of full-time employment.
You will be paid £250.
If you do not respond upon winning, the job will be forfeited and given to another entrant.
Applications open to residents of all locations.
You may apply for this job by posting an interior photo on Facebook, Twitter, or Instagram, following and tagging Audley Villages (@audleyvillages) and using the hashtag #dreamholidayshome
By submitting photos for this job application, you are granting Audley Villages permission to use them on Audley Villages's own social media platforms and website.
The 10 Dream Holiday Locations
F R A N C E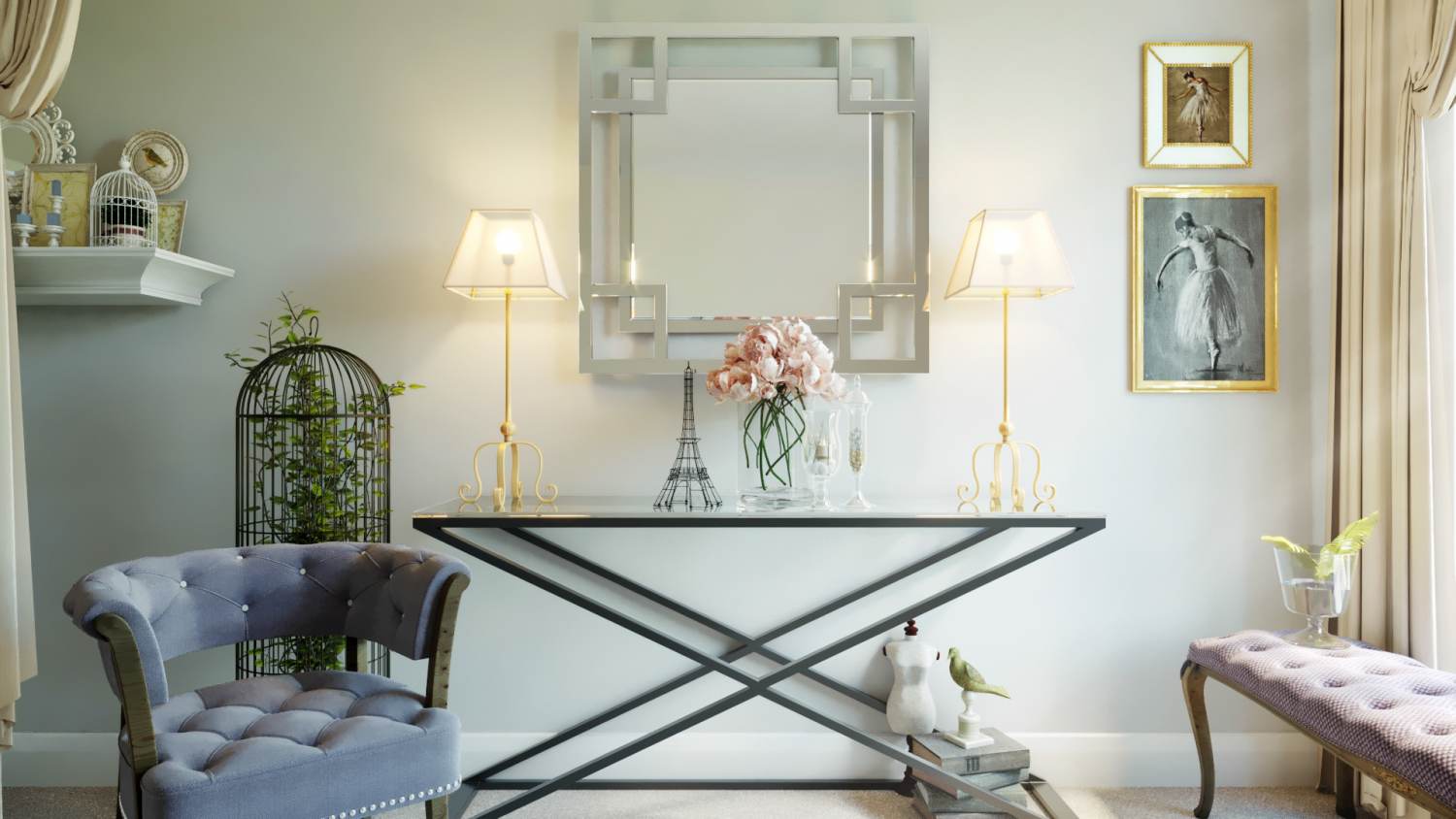 French style is synonymous with effortless chic and its combination of vintage pieces and soft colours are the epitome of timeless elegance. To replicate French style in your home, consider decorating with paintings of ballet dancers and feminine ornaments or an Eiffel tower to pay homage to Paris.
Using twin lights at each side of the mirror creates symmetry and balance in the room. The vintage bird cases are a nod to French gothic architecture and the curved design softens it. Yvonne Chua the co-founder of Pitch Your Concepts comments that
"in Paris, nature and outdoor gardens are always accessible on a daily basis. This is reflected in the designer's choice of earthy tones." 
S P A I N
Spanish interiors are filled with vibrant and rich Mediterranean colours. The bright yellow used on the walls and use of natural light in the space alludes to summer time.
The contrast of the terracotta reds and yellows against the blue bedspread transports you straight to the Spanish seaside as
"the blues in the ocean are reflected in the designer's choice of blue tones from light cyan to light steel blue"
Yvonne Chua comments. Incorporating the rustic woods, seashell decoration and warm tones of the furniture and ceramics is reminiscent of Spanish villas and the plants placed around the room brings a garden patio indoors.
U S A
American interiors are categorized by their open layouts, absence of doors and partitions as well as bright, vibrant colour schemes. Hanging vintage celebrity photographs such as Marilyn Monroe on the walls is reminiscent of old Hollywood glamour.
To replicate American style in the home, Elizabeth Ennis of Wolfe Interiors suggests
"the hints of hot pink and blue work beautifully against the deep grey and green to give a fun edge to a space. Mixing in some natural wood furniture, and quotation prints to complete the look. This would work perfectly in an open plan living space where there is plenty of room to bring in all the elements."
The suitcase style boxes are a nod to New York and the American dream while the cactus plants add a quintessential Californian flair.
C H I N A
China has been undergoing rapid transformation within the past twenty years. However, the oriental decor used in the design is reminiscent of the country's ancient history and culture. Yvonne Chua comments that
"the colour palette seems to reflect the old, traditional Chinese architecture such as temples and pagodas."
Adding gold accents to the wallpaper and furniture gives the room an opulent flair. Simply incorporating oriental decoration into the space gives the room an authentic Chinese feel.
The lampshade used reflects the typical style used in Chinese homes. China is known for its intricate details, dark wood finishes and rich colour schemes including deep reds and gold would work, which we can see in the chair and furniture.
I T A L Y
Italy has a great mix of grand architecture and cosy coastal villages.
"Similar to Spain, Italy being in the mediterranean also offers good access to the ocean and it is being reflected in the designer's choice of blue tones."
says Yvonne Chua.
In order to recreate Italian interior design in your home Elizabeth Ennis recommends
"lots of light blues against neutral grey and tan tones, this rustic and laid back style works particularly well in open plan areas to give a feeling of space and flow. Pairing soft textures with natural wood finishes help to keep things light and breezy".
Adding cultural decorations such as a masquerade mask on the wall pays homage to the carnival of Venice. The old paintings and candle decorations on the clean white cabinet mixes in traditional artisan design.
M E X I C O
Mexican design has an eclectic feel, mixing rustic wood and iron furnishings with over-the-top, bright, vivid colors. The wooden cabinet is typical of a Mexican home and is easy to pick up secondhand for an affordable price. Elizabeth Ennis suggests trying
"vibrant, rich colours on the walls with added pattern and colour from artwork, and accessories."
Mexico is famous for its beautiful embroidery and hand made weaving so the printed tapestry draped on the wall and the printed cushion are a simple way to incorporate Mexican design.
The colours are inspired by the red roof tiles to brown stones seen across homes in the country but don't be afraid to get playful and add even brighter tones such as vivid pinks and blues, all representative of Mexican culture. You can also add plants which are easy to maintain Such as succulents and cactus plants.
G E R M A N Y
Germany's urban architecture is a blend of its neutral colour palettes, modern design and symmetry. Adding two identical monochrome frames on the wall is an easy way to incorporate this symmetry. Yvonne Chua comments that the designer's colour palette
"is reminiscent of the brick gothic architecture present in many village churches in northern Germany."
Elizabeth Ennis recommends
"minimal and functional interiors which put quality at the forefront, using clean lines and cool greys and blues that can work well to create a fuss free, well considered space. Blocks of colour can be added through use of rugs and artwork to lift the space. This look works particularly well in the kitchen and bathroom areas where minimal style fittings can be used."
Ensure that you add lots of warm lighting to the room to keep the space from feeling cold and decorate with little ornaments like the car to give a homely feel.
T H A I L A N D
Thailand is a country that offers rich ornamentation and bright colours. Yvonne Chua suggests a
"colour palette which shows this through colours such as Peru and Sienna."
The red walls and plant style wainscotting are reminiscent of Thai villas and coastal houses.
To achieve an authentic Thai interior, Elizabeth Ennis suggests the
"airy and spacious feel can be achieved by choosing light natural wood finishes and pops of colour through accessories to reflect the colourful markets and fabrics traditional to Thailand."
Adding a woven straw chair and a variety of plants are an easy way to give a natural outdoorsy feel to the room. The intricate design hung on the wall, rounded lampshades and statues further reflect the oriental style of Thai interiors.
U K
Open plan space in the UK benefits from good planning and consideration to how the different areas of the space will be used. When replicating british design,
"think about lighting and how to create different levels of light for different times of the day and year to ensure a cosy and welcoming feel is achieved."
recommends Elizabeth Ennis.
The neutral tones and simple design give a calming and relaxing feel to the room. To compliment the natural colour scheme, add paintings to the space and a wide range of flora.
Hanging English ivy is reminiscent of an English country garden and the warm lighting compliments the variety of decorations. Adding candles and incense gives a homely feel to the room while exuding understated British luxury.
G R E E C E
When looking to recreate a traditional Greek-inspired style in your home, think about the clear blue skies and whitewashed walls which are synonymous with Greece. Greek style is categorized by simple symmetrical balance through shape, pattern and colour.
Adding similar paintings to the walls replicate this harmony, while blue textured ocean design draws the Greek oceans into the home. When using Greece as inspiration for your home, Elizabeth Ennis comments that
"simplicity is key! White washed walls and lots of sky and sea blues and turquoise colours mixed with neutral and natural textured fabrics."
Traditional Greek interior decor uses natural flooring and adding area rugs such as the purple stripe patterns gives a seaside rustic feel.
Jen Bernard, our expert interior designer, advises on the best way to revamp your home with holiday influences.
"There are many simple styling techniques that can dramatically change the look and feel of an interior space, without having to pick up a paintbrush or spend a small fortune. Coffee table styling is a great and affordable way to freshen up a room by sourcing different accessories from around the home. Due to the usually prominent position a coffee table holds within a room, it forms the perfect decorative platform for beautiful accessories to be showcased. With careful arrangement and a thoughtful balance of objects, a visually harmonious scene can be created, enhancing and complementing the rest of the space.
To bring your dream holiday into your home, include a stack of your favourite hardback books – stylish lifestyle and travel books work really well for this. I always like to include something living such as freshly cut flowers from the garden or a potted succulent to create a summery and vibrant look. Unusual objects picked up on previous travels also look great on coffee tables or styled on open shelves with books and family photographs. This type of styling is often a great conversation starter and brings personality to the room.
Travel inspired artwork is another fantastic way of bringing vibrancy and colour to create a summery look, evoking memories and nostalgic feelings of previous holidays. Starting with a beautiful print or piece of art will help to inform the rest of the room, allowing you to expand on your chosen theme using colours, textures and accessories that are reminiscent of your favourite worldwide destinations."
Our equity share scheme is a flexible and affordable way to live in an Audley Village without paying the full purchasing price. 
Properties available from £299,000*