There are lots of buzzwords appearing in newspapers and on social media related to retirement: Downsizing, upsizing, extra care housing, "care homes" versus "retirement villages."
When planning for retirement, it can be difficult to know where to start.
Whether retired or not, many people are confused about the choices available and what's right for them. That's why we've put together this guide to retirement living. We believe retirement should be a time looked forward to, not one filled with trepidation.
Downsizing
Downsizing doesn't necessarily mean moving to a considerably smaller property, although often that's exactly what happens. As homeowners get older, they find that they simply don't need as much space, or as much stuff!
Whilst it often means moving to a smaller one or two bedroom retirement property, for some people it's more about de-cluttering and moving on to somewhere new for a fresh start.
It also frees up some capital.
Providers sometimes offer help with downsizing. This can range from part exchange (our Home Buying Service) and support on selling your property to practical advice on de-cluttering your home before you move.
At Audley, our downsizing and moving service, in partnership with Senior Move, provides support and advise on how to tackle the de-clutter and transfer of furniture, furnishings, accessories and personal belongings from the old home to the new one.
Read Senior Move's top ten tips for downsizing.
Upsizing
This concept relates to the enhanced lifestyle many owners in modern retirement villages tend to enjoy. While you may be downsizing the size of the property you own, you are upsizing your lifestyle.
As an example at Audley, owners enjoy Audley Club facilities and classes, the restaurant, landscaped gardens, organised events and shopping trips.
Retirement Villages
Retirement villages are distinctly different from care homes. The advantage is that while care is available to homeowners, that's not the only reason for choosing to live in a luxury retirement village. With facilities including a swimming pool, health suite, therapy rooms, gym, fitness classes, restaurant, library and shared gardens,
the Audley retirement villages experience is profoundly different to a traditional care home.
A retirement village offers a variety of self-contained properties which may be bought on a leasehold basis. Set within a village community, the wide-ranging facilities and various care options means that homeowners can choose their own lifestyle, involvement and level of help with the peace of mind that support is close by should they need it in the future.
More about the Audley Club and restaurants 
Care Homes
Unlike the assisted living and extra care housing offered at a retirement village like Audley, residential care homes are designed for people who need help with everyday tasks and are unable to maintain their current home. Care homes typically offer you your own bedroom, some of which may have en suite bathrooms. Other areas are communal.
Residential care includes meals, help with personal care like bathing and dressing, 24-hour staff, physical and emotional care and care through short illnesses. Unfortunately, with a more communal style of living, many people miss simple, everyday things like preparing their meals or looking after a pet. Freedoms can feel restricted, you can't choose your company and you may experience others' discomfort or distress.
Although costs vary considerably, you can expect to pay an average of £28,000 per year for a residential care home, or even as much as £50,000. Trips out, hairdressing and some therapies are usually not included in fees.
Extra Care Housing
The term 'extra care' housing is used to describe developments that encompass self-contained properties with design features and support services available to enable independent living. It can be referred to by other names, such as Housing with Care, Sheltered Housing or Assisted Living. All are very similar.
If you don't require the level of care a nursing home provides but home care alone is not sufficient, assisted living or extra care housing may be the answer for some people. It's designed for anyone who needs assistance with daily tasks such as bathing, dressing, mobility and using the bathroom, with staff on hand to assist 24 hours a day. People living in extra care housing enjoy the freedom and independence of owning their own home, with the awareness that care staff are available if needed.
At Audley Villages, we offer round the clock care should you need it, but in the comfort of a home that you own, helping you to retain your independence for longer.
Management Fees
Retirement villages generally charge a monthly management fee which ensures the costs of running that village are met – such as maintaining the exterior of your home, maintenance of the grounds and any club membership. At Audley, average monthly management fees range from £400-£600 a month.
This includes unlimited access to the Audley Club – including a swimming pool, sauna or steam room, gym, therapy rooms and fitness classes all right at the heart of every Audley village. Owners enjoy a monthly credit in the restaurant too and a library and owners lounge.
Read more about how it works and our fees
Deferred Management Charge
Along with the monthly management fee, a deferred management charge is often in place, which involves contributing a small percentage of the sale price or value of your home upon selling or letting. This means that you should never be asked to pay for any unexpected costs when it comes to paying for expensive structural repairs or improvements.
Frequently Asked Questions:
Are retirement properties age exclusive?
Although traditionally known as over 55s 'retirement' villages, you don't actually have to be retired to move to one. While the exact age varies by company and village development, people can generally buy a property in a retirement village from 55 years upwards. At Audley Villages, we welcome owners from 55 years in some retirement villages, 60, 65 and 70 in others.
Many Audley owners are still leading very active lifestyles, both in and outside of work. Of course, once you do retire, that leaves more time to enjoy all the beauty of the Audley retirement village you love.
What type of retirement property can I buy?
Most retirement villages have a wide range of apartments, penthouses, cottages and houses to choose from. These can often range from restored heritage buildings to new-build properties, which are designed in keeping with the grounds and architecture of the setting.
Can pets move into the retirement village?
While this can vary per provider, all well-behaved pets are welcome at Audley Villages. In fact, we very much appreciate the feelings of happiness pets can bring to people's lives. If you're thinking about a new pet, consider some of the therapy dog pet names we discovered and how they have changed through the ages.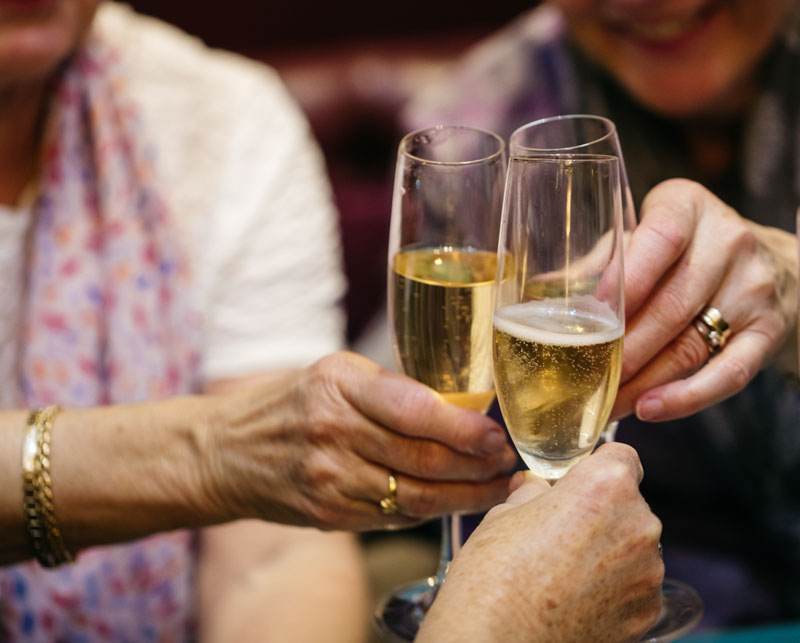 Can friends and family visit retirement villages?
It can often be a concern that, having downsized, there won't be room for guests. However, most retirement villages such as Audley have guest suites to hire for a day or two, which are always available. Many Audley owners buy a two-bedroom property to have that additional space for guests should they need it.
At Audley Villages, visitors can enjoy the facilities. There are exclusive swimming times in the pool for owners only and family swim times, so whether you're feeling sociable or looking for some quiet time, you have the option. Many owners love to invite friends and family for Sunday lunch at the restaurant, if they don't feel like cooking themselves.
Search for retiremement properties to buy in an Audley Village near you.