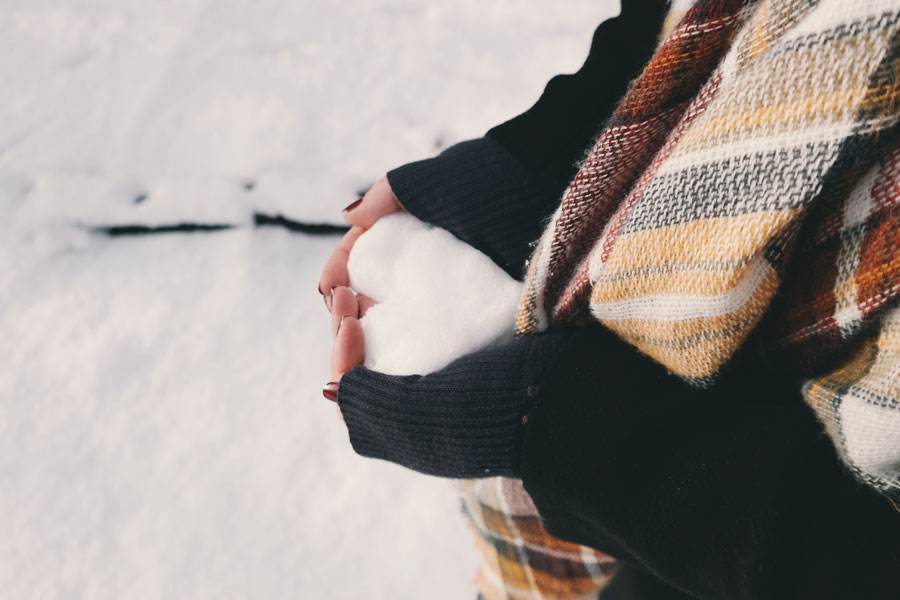 If you're always feeling cold, take extra care.
With the cold weather finally setting in and unlikely to relent until spring, it's vital that we all stay warm and well. Cold weather isn't only unpleasant, it can negatively impact your health. This is especially true if you have existing health issues or are over 65.
Once the temperature drops below 8 degrees centigrade (46 Fahrenheit), older people are more vulnerable to a number of risks: cold, flu, falls, pneumonia, stroke, hypothermia and pneumonia. Cold weather can also exacerbate mental health conditions like depression and dementia. It's vital to stay warm and take measures to ensure you're comfortable during the forthcoming cold spell. Which is why we've put together a handy guide to make sure all bases are covered.
Watch the weather
Don't be caught out when the cold weather comes in. The Met Office issue severe weather warnings on their website, via their Twitter feed or at the Weather Desk. You can also give them a ring on 0370 900 0100.
Staying well in cold weather
During cold and flu season, regular use of hand sanitiser will make you less susceptible to catching bugs. You can also book yourself a free NHS flu jab at the beginning of winter. If you're feeling unwell, be sure to consult a pharmacist or GP before it gets more serious. There are also some practical and easy things you can do to stay warm.
9 ways to keep the cold at bay
1. Wear several layers of cotton or wool instead of one thick garment. Layers help maintain body heat more efficiently.
2. Make sure you have an extra duvet or blankets on your bed.
3. Avoid remaining stationary for more than an hour at a time. If you can't take moderate exercise, even stretching in a chair will help. The NHS have put together suggestions for sitting exercises here.
4. If you do spend a lot of time in a chair, think about getting heated chair pads.
5. Make sure you are stocked up with food and medicine so there's no need to go outside when then weather is at its coldest. Supermarket home delivery is a great way to have everything you need delivered to your door.
6. If you're going outside, as the old saying goes, wrap up warm. Most body heat is lost through the head, so a hat is highly recommended. A scarf wrapped around your mouth means that the air will be warmed before you breathe it in.
7. Have either an electric blanket or hot water bottle with you in bed. For safety reasons, you're not advised to use both at once.
8. Regular meals and hot drinks help to keep you warm.
9. It's easy to get cold feet on bare floors, so be sure to wear slippers.
You can take all of these steps, but if your home isn't warm in the first place, it can be hard to keep cold at bay. That's why you should consult at our tips for keeping your home warm and draft-free. A lot of these you can achieve on your own, but for more major improvements it's a good idea to get in touch with a professional to help winter-proof your home.
9 ways to keep your home warm
1. Open your curtains if the sun is out during the day but draw your curtains at dusk and keep doors closed to keep drafts at bay. Keep your bedroom windows closed.
2. Further tackle drafts with draft-proofing rubber seals for door, windows and cracks in the floor. Sausage dog draft excluders are self-adhesive and easy to install.
3. Make sure the temperature in your house is at least 18 degrees centigrade – or 65 degrees Fahrenheit.
4. Get your heating system checked by a professional plumber.
5. Even if you're planning to not be at home for a short spell, put your heating on a timer for occasional bursts to prevent pipes from freezing.
6. If you're tech savvy, a smart thermostat can be controlled via your mobile, so you can turn on your heating on your way home.
7. Move your sofa away from your radiator or fire to allow the hot air to circulate freely.
8. Twenty five percent of household heat is lost through the roof. Have your loft and/or cavity walls insulated. Check with your energy supplier to see about cheap or free installation.
9. Radiator panels reflect heat, meaning that your rooms are being heated instead of your walls.
At Audley, we're ready for the winter weather. Our owners can rest easy knowing that their properties are maintained by our team and there's always care staff ready and waiting if needed. Because Audley Villages are a real community, it's real piece of mind to know that you have neighbours, friends and a dedicated team who are looking out for you.
To find out more about living independently in the midst of a caring community, why not discover what we have to offer.
Useful contact info:
If you have an urgent medical concern, call the NHS on 111.
For more later life advice and information, call Age UK on 0800 169 65 65.
Check with the Met Office for weather updates on 0370 900 0100.
Useful links:
If you're concerned about the cost of bills or energy waste, the Energy Savings Trust provides a lot of useful information and details of support and available schemes.
The NHS website provides information and advice about NHS services and healthy living.