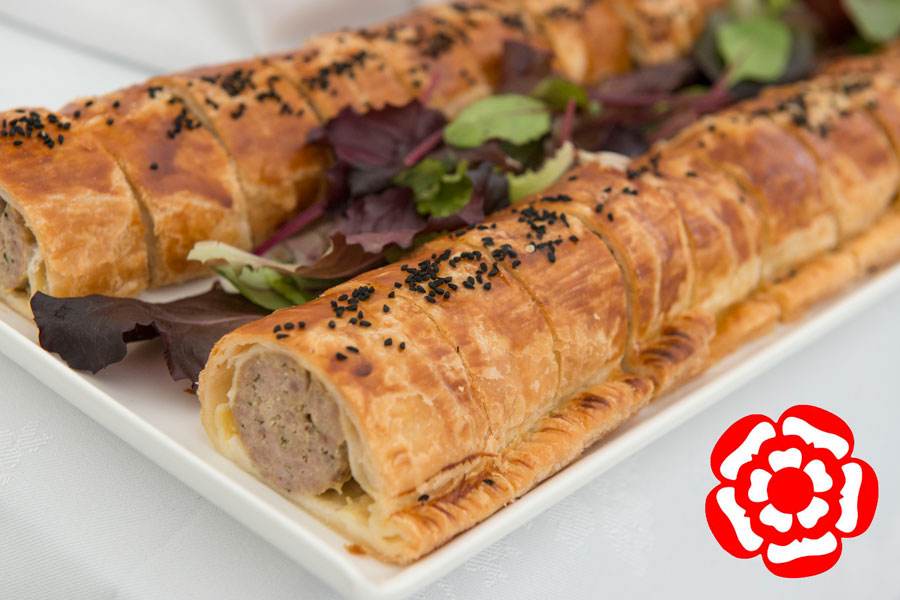 As Head Chef at Audley Inglewood, it was recently voted by the Audley Villages team that I share a recipe or two. So here it is... the recipe for my festive sausage rolls, a popular favourite and ideal for the festive season.
When it comes to cooking, I take a little inspiration from many people. There are too many great chefs to choose from. It's all about enjoying what you're creating.
"Taking pure locally-sourced produce, and turning it into something completely new and delicous. That's why I love to cook."
Festive Sausage Rolls
Preparation time: 4.5 hours
Baking time: 12-14 minutes
Serves: 4 large or 12 canape size
Short crust pastry:
250g plain flour
250g diced cold butter
5g salt
83g iced water
Method:
In a food processor blitz the flour, salt and butter until it's a fine crumb.
Then, add the iced water until combined.
On a floured surface, knead the pastry until smooth. Don't over work the pastry at this stage.
Shape into a 1" thick block.
Wrap in cling film and rest in the fridge for 4 hours.
Sausage filling:
500g good quality sausage meat
100g dried cranberries
20g fresh chopped rosemary
Method:
Mix all the ingredient together (Use the paddle attachment of a Kitchen Aid if you have one).
Tightly roll the sausage meat into 2 equal sized sausages, to your desired thickness.
Slowly poach the sausage meat in a pan without boiling the water. It should take around 12-15 minutes.
Remove from the pan and leave to cool in the fridge.
Assembly:
Remove the sausage meat from the cling film.
Cut the pastry in half and roll it out onto a floured surface. Aim to roll it nice and thin so that you can wrap it around the sausage meat.
Egg wash the "inside" of the pastry, warp it around the sausage, crimp the edges with a fork and trim off any extra pastry.
Egg wash the outside of the pastry and refrigerate.
Repeat the process a second time, and refrigerate.
Repeat the process a third time.
On the third time, sprinkle the pastry with the poppy seeds and coarse salt.
Bake at 200ºC for 12-14 minutes.
Remove from the oven and cut each sausage roll in half or into smaller slices for canapes.
Is there a wine I'd recommend to complement this dish? At this time of year, I'd say any! I hope you enjoy making this as much as I do, and that you'll be sharing it with loved ones this Christmas and New Year.
Author notes:
Gert Pienaar has been at Audley Inglewood for six years, working with an incredibly talented and passionate team. Operations Director, The Blandy's at Inglewood team were delighted to receive culinary recognition last week, as the restaurant was awarded the prestigious AA award 'The Rosette Award for Culinary Excellence 2018-19'. Audley Group Managing Director, Paul Morgan said
"Well deserved and a great first step in the culinary recognition for Audley Villages"
Gert's passion and enthusiasm for cooking is infectious, It's clear to see how he loves coming up with new and appetising meals for our seasonal menus, and the variation that comes with it. Whether it's brunch, evening meals, afternoon tea or bespoke canapes for private events, owners and guests at Blandy's at Inglewood restaurant are never short of praise for their Chef.
Gert recently ran some Culinary Masterclasses for owners at Audley Inglewood. More about that coming soon...!