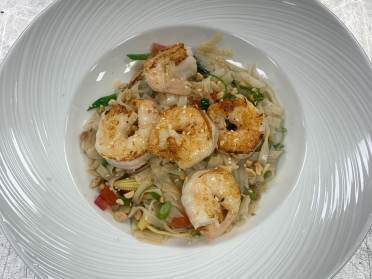 Ingredients:
Raw large king prawns ( Peeled & deveined) - 5 per person
Rice noodles - 70g per person
Uncooked Julienne of ginger, mangetout, cucumber, baby sweetcorn, Pak choi, spring onion - 15g each
5g chopped garlic
2g palm sugar
6g sliced red chillies
15ml vegetable stock infused with fresh lime
4ml Thai fish sauce
4ml light soy sauce
5ml sesame oil
Toasted sesame seeds, squeeze of lime & sprinkle of roasted peanuts
Finish with coarsely chopped coriander and Thai basil.
Method:
Cook the rice noodles first
Sauté the seasoned king prawns, garlic, and palm sugar in a hot pan
Then add the julienne of vegetables and quickly sauté
Add the cooked rice noodles together with the liquid ingredients, sauté further for a minute or so, ensuring the prawns are fully cooked ( internal temperature of 72C or above )
Transfer into a bowl and scatter with the chopped herbs, sesame seeds, and nuts. I recommend a splash of lime juice to finish
Bon Appetite.