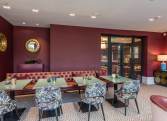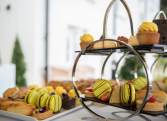 1. What inspired you to pursue a career in hospitality?
I think that we were made for each other. Like a lot of people it started as a bit of extra cash, but I soon found that I loved the social aspect and I find it hard to sit still! Other than a few years in a Solicitors office I have always worked within this industry.
2. How long have you worked in the industry?
I started in 1995 with a part-time waitressing job in a lovely country pub before going full-time after college a few years later.
3. How did you get your role at Audley Ellerslie? What attracted you to Audley?
I came across the position by chance and it interested me. About 30 minutes later a recruiter called me about the same position, it felt like fate and so I applied.
4. What do you love most about your job?
No two days are the same. Each day brings new challenges but more importantly different people. People work incredibly hard and eating out is a luxury, it's our job to ensure that our guests have a pleasurable time with us.
5. How would your friends and colleagues describe you in three words?
Organised, chatty, friendly.
6. Describe Aldwyn's Restaurant in three words.
Contemporary, beautiful and welcoming.
7. What's the nicest thing a customer has said to you?
While working at a well-known pizza restaurant, a family came to eat who hadn't eaten out together since the diagnosis of a gluten and other intolerances for their youngest child. A friend had recommended us, and they decided to come out. Understandably they were nervous, but we spent time showing the child the whole process we go through to keep people safe. To be told at the end, that they could now feel confident going out for meals was a very satisfying experience.
8. What's the most memorable thing one of your team has said to you?
That as a manager I was fair with the team.
9. What's your favourite thing about dining out?
Deciding what to eat! Though the whole experience of spending quality time with friends or my family over a meal with a nice wine, really can't be beaten.
10. Is there anything that frustrates you when dining out?
Being rushed or being called 'guys'.
11. Who would be at your ideal dinner party?
Gordon Ramsey, Cary Grant, Bruno Tonioli, Michelle Obama, Ellen DeGeneres.
12. Do you like to cook?
I love to cook, I find it really relaxing.
13. What is your favourite dish to cook (for someone else)?
My favourite meal to cook is Christmas Lunch, deciding which recipe to use that year, which vegetables, which wines. I've tried others but Gordon Ramsey is my go to. His recipe for Spiced Goose is amazing, and then you get the nicest roast potatoes in the weeks afterwards.
14. What do you love to cook for you? 
I love to cook Asian dishes. Some take hours making pastes and spice mixes, and others are really speedy and very tasty.
15. If you could be anything other than Aldwyn's Restaurant Manager, what would you be?
A meercat keeper.
16. What's your favourite time of year, and why?
Spring, I love the colours in the beautiful Herefordshire countryside. In Spring, the days are getting longer and everything is starting to come to life again.
17. Who inspires you?
My parents and grandparents, who instilled a strong work ethic in us all.