Kevin, Club Manager at St George's Place shares his top tips for staying healthy this Christmas.
"Some may think that it's not possible to eat, drink and be merry alongside being healthy at Christmas, but I think differently and would like to challenge the theory that Christmas Day has to be unhealthy for you to have a wonderful time with your loved ones."
I recently read that on average we consume 5,373 calories on Christmas Day. That's a huge amount when you consider that an average man needs 2,500 calories per day. Of course, Christmas is just one day of the year and yes why not enjoy yourself, but do we need to indulge this much?
I wanted to share some tips that will help you to control your portion sizes, reduce some of the not-so-good foods and help you feel more energised on Christmas Day!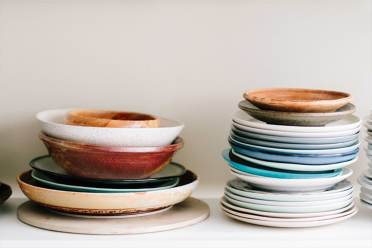 Get to know your dinner plate
The average dinner plate can allow us to go overboard on the portion sizes... Think a volcano-sized mound of food with an overflow of gravy! But we can buy smaller plates that will help to keep us on track and not tempt us to pile on a few extra roasties. Trust me, I experienced this first-hand when a few Christmases ago I stumbled across some modestly sized plates. What these smaller plates allowed me to do was plate up smaller portions but still give the appearance of a bulging meal fit for Christmas.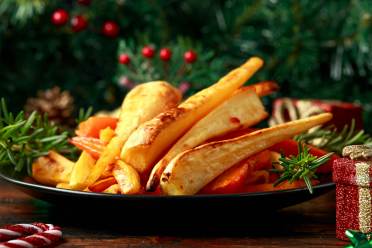 Can you reduce carbs and replace with some festive veggies?
Oh those troublesome carbs! If there's one thing that will fill you up quickly, it's a double dose of roasted or mashed potatoes. While they may taste good, you can have tastier and healthier options. Still go for the roast potatoes (I like to roast mine with rosemary) but perhaps swap the mashed potatoes for a carrot and swede mash.
Now for the glorious veg. Try roasting your parsnips with a little honey and while we're talking about roasting, have you ever tried roasted Brussel sprouts with garlic? They are enough to turn the staunchest sprout critic into a fan. Pickled red cabbage is also a great addition and works very well with homemade nut roasts (another one of my favourites). If you're going to pile up those plates, pile it up with veg!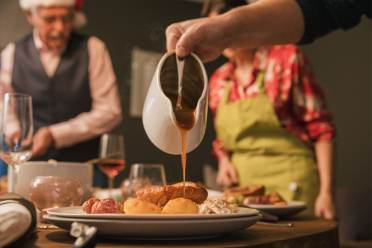 Don't let your dinner swim in gravy!
It's easy to get carried away when pouring that lovely gravy onto your plate, but try using it sparingly and as a way to add moisture to your meal while adding a little extra flavour. This way we can control the salt content of the meal.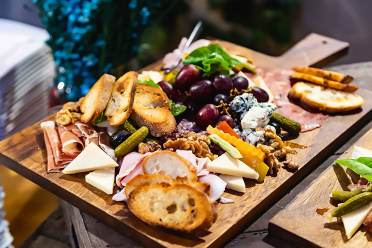 Can your starter be a sharer instead?
Now don't shout at me if you think this is a controversial one for Christmas Day! Starters can be a great ice breaker around the table so why not play on this a little bit more and proudly place a delicious sharing platter at the heart of the table? This again will help to ensure that we don't overflow our plates, while also adding some conversation to the table. I like to make a sharing platter when cooking for friends as it's social, tactile and provides an opportunity to nibble on some flavoursome foods.
The dreaded post-Christmas meal lull…
There's no getting away from the fact that after a Christmas dinner and pudding combo, you're likely to feel rather full and lethargic. So why not go for a post-meal walk to help aid digestion, bring out a classic board game to stimulate your brain or put on some classic Christmas songs and have a good old dance! Or why not do all three?
Christmas Day is a day to be enjoyed and an occasion to be celebrated with those close to you. So go on and enjoy yourself and use these simple tips to keep the food you love healthier and tastier.
Merry Christmas to everyone from Audley Health Clubs and have a wonderful New Year!