Easy Chocolate Mousse
This is a recipe requiring minimal preparation and only 4 ingredients. Light but indulgent, it's the perfect dinner party dessert.
Ingredients:
360g dark chocolate, chopped up
250g milk
400g double cream
1.5 leaves gelatine
Method:
Soak the gelatine in cold water for 5-10 minutes until soft.
Warm the milk to a temperature high enough to melt the chocolate shortly.
Squeeze the water out of the gelatine leaves and dissolve it in the milk, stirring occasionally until it sets. This should take only a few minutes.
Pour milk onto the broken up chocolate pieces and leave it for a few minutes to melt the chocolate. 
Whisk the chocolate to emulsify with the milk and let it cool slightly. It should be smooth.
Whisk the cream to a firm ribbon stage where you can see the laces/ribbons of cream when you drip a spoonful across the bowl.
When the chocolate is cool enough fold through the cream.
Pour into a bowl (or a few small bowls to create individual puddings) and set in the fridge for an hour or two. Less if the mousse portions are smaller. 
Remember, if you are layering your mousse, let each layer set for at least 15-30 minutes before adding the next.
Chefs tip: Presentation is key!
A touch of colour complements a mousse. Add a few berries to the top, add flowers, or decorate the rim of the serving glass.

Crushed biscuits, flaked chocolate or even coffee beans make for a welcome contrast in texture and exquisite presentation.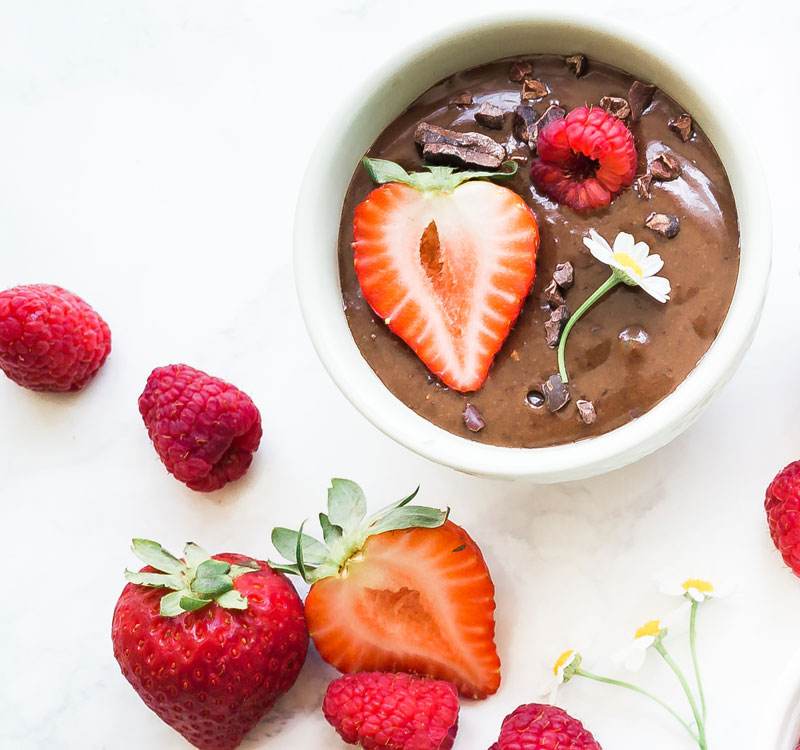 A foam favourite!
Far more than just a delectable 21st century pudding, the origin of the chocolate mousse dates back to the 17th century when French chefs first started cooking with chocolate. In the 18th century they had created the first new 'airy' mousses of a savoury variety, but it wasn't until some 50+ years later that chefs discovered the excellence in combining the foamy mousse texture with chocolate. 'Mousse' means 'foam' in French.
The result was devine and Mousse Au Chocolat remains a 'foam' favourite on menus worldwide today.
Gert's graceful creations can be found on many of our unique restaurant menus. Visit a restaurant close to you today.