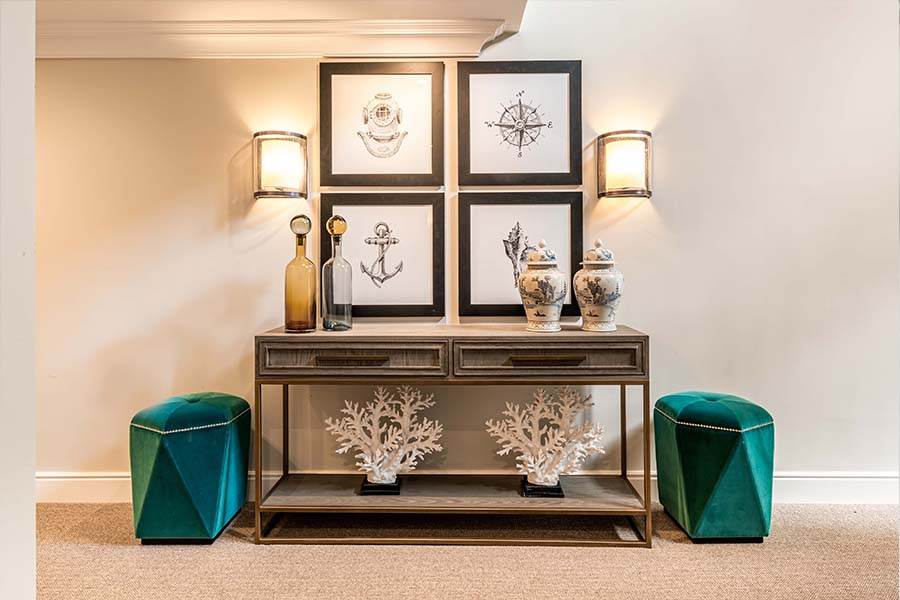 During the months of lockdown, homeowners started to reassess their properties and the way they live. As a result the residential interior design sector is thriving as many look to make significant changes to their homes and lifestyles.
It doesn't have to be a case of re-designing your whole property though - there are many simple ways you can change the look and feel of your home without breaking the bank. Little changes here and there can make a big difference!
COFFEE TABLE STYLING
The term 'tablescape' was first used by mid-century interior designer David Hicks in 1968. Hicks describes this concept as "objects arranged as landscapes on a horizontal surface into an art form." His eclectic displays mixed the finest antiques with modern pieces, always ensuring a variation of height, size and colour to create carefully curated compositions.
On the type of accessories used, Hicks said
"what is important is not how valuable or inexpensive your objects are, but the care and feeling with which you arrange them."
Hicks predominantly used the idea of tablescaping for side tables, desks and console tables, however the concept has been refined over the years and we now see echoes of this type of styling all throughout modern interior design.
One of the most popular forms of modern day tablescaping can be found on an item of furniture almost everyone has in their home – the coffee table. Due to the usually prominent position a coffee table holds within a room, it forms the perfect decorative platform for beautiful accessories to be showcased.
One of the keys to successful coffee table styling is to create little vignettes, using items that tie together as a whole either through shape, colour or theme. Include a stack of your favourite hardback books – vibrant and stylish lifestyle, travel or design books work really well.
In our Audley projects we like to source books that relate to the history of the property or surrounding area as they bring authenticity and a sense of place to the interior. Trays are excellent for containing smaller items such as coasters and objet d'art and can also be used as a canvas to build on.
Scent is very important and can be introduced through candles, reed diffusers or pot pourri. For Audley Villages, we use pot pourri developed in a historic Florence perfumery dating back to the 16th century to provide a subtle and elegant fragrance.
Always try to include something living within the vignette. This could be freshly cut flowers to soften the space or a potted succulent to bring a more contemporary edge.
SHELF STYLING
A set of beautifully styled open shelves add instant appeal to any room. As well as providing storage, open shelves are a fantastic way to bring colour, personality and life to an interior and have become increasingly popular over the years.
The most important thing to consider is a balance between function and style. Shelves are perfect for storage but make sure you use the open shelves as an accent rather than as a main storage solution. Be selective about what's on show.
When re-styling the shelves, it's really helpful to take everything off and start completely fresh allowing you to focus on one shelf at a time.
Seeing the shelves empty helps you to consider their true proportion and what will work well in the different spaces.
Removing and grouping all of your existing accessories also gives you the perfect opportunity to see everything you have together – almost as if you are creating an inventory.
Open shelves should give visitors an idea of who you are as a person or family. Unusual objects picked up on travels, treasured possessions or family photographs are perfect conversation starters and bring personality to the room.
Repetition creates cohesion throughout the scheme. This can be achieved by using the same object in two's and three's or by repeating the material, shape or texture on a different shelf. Stone or wooden elements work well used in this way. Colour can also be repeated – try bringing a colour already featured within the room to create flow and to complement the rest of the interior.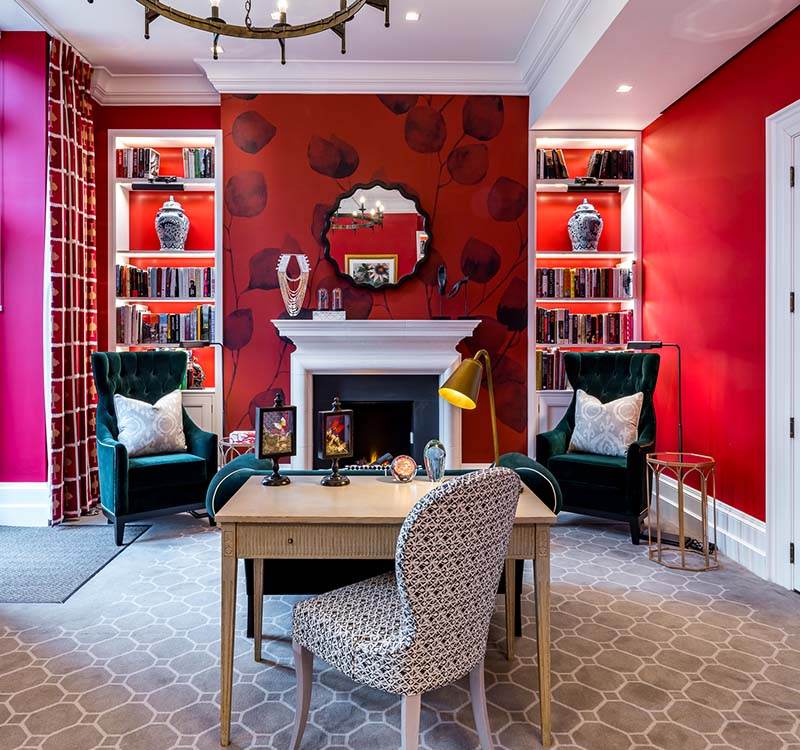 If you're using your shelves for book storage, as well as arranging the books in genre think about height and colour too to make things neater. Leaving some space for decorative accessories will also help to break up the monotony.
Don't be tempted to overfill the shelves and consider the negative space as an accessory in itself. It's not necessary to style every single spot on each shelf and some space above the items will help to aid the overall balance of the shelves. Even just updating one item per shelf can make a big difference. The same principles can be applied to side boards, mantle pieces or console tables.
ARTWORK
New artwork can make a dramatic difference to any room.
Starting with a beautiful print or piece of art will help to inform the rest of the room, allowing you to expand on your chosen theme through colours, textures and decorative accessories on coffee tables, console tables or shelves.
Even just re-framing existing artwork can make a big difference to a space!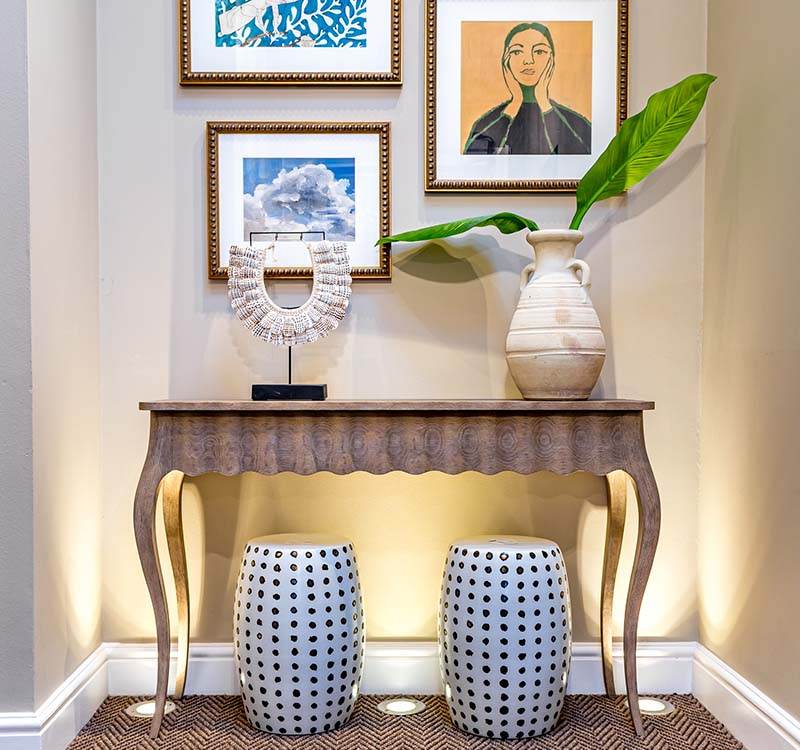 Artwork looks great above console tables or sideboards – either as a singular piece or in a grouping. Decorative accessories that tie in with the artwork can then be used to dress the table. To achieve a composition like this, it can even just be a case of rearranging items that are already in the home rather than buying anything new.
A gallery wall is the perfect way to make a bold statement. Using a single shelf or set of shelves is a quick and easy way to create this look.
By mixing different sized pieces of artwork or photography, a set of shelves can quickly form a homemade and flexible art gallery. One of the great things about this is you don't need to hang any of the frames as they can simply lean on the shelves. Select a mixture of different sized frames and gently overlap them to create a laidback feel.
Sometimes change can be daunting, however none of these suggestions are permanent in the way that knocking down walls or changing internal finishes can be. I would always suggest living with the changes for at least a week before deciding to put anything back to how it was.
The great thing about these simple styling techniques is that they can be achieved so easily. Existing accessories can be sourced from around the home, flowers and greenery can be changed to reflect the current season and special touches could be added at Christmas or Easter – it's the perfect and affordable way of getting creative in the home!
Get more interior design tips and advice from Jen Bernard on Audley Stories