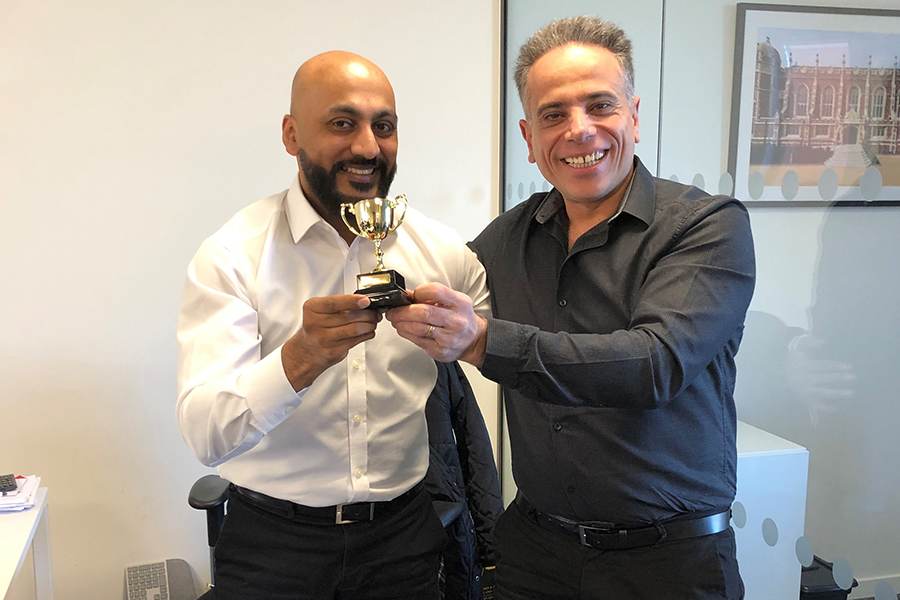 They say the world of finance can be hard-hitting, but Audley Villages Operations Financial Controller Kam took this to another level when he decided to attempt a boxing match challenge in aid of Cancer Research UK. He may have had no boxing experience at the start of his journey, but Kam is no stranger to putting himself through fitness ordeals for Audley fundraising efforts, having previously raised £1100 for the RNIB while cycling 100 miles across London.
He trained for eight weeks in the build-up to his match, which took place on Saturday 23rd March in Windsor with Ultra White Collar Boxing (UWCB). Ultra White Collar Boxing is a unique opportunity for people with no boxing background to experience the wonderful world of boxing, in a safe and enjoyable environment.
At his pre-match weigh-in, the nerves were well and truly kicking in, but we're delighted to say that with the support of the many Audley staff who attended the match to support him, Kam came away with a win! Huge congratulations.
Paul Morgan (Operations Director) summarised the match:
"Kam was awesome! Strategic, and as ever, a gentleman. Though he does think he broke the other guy's nose…"
He has raised an incredible £2,065 so far, putting him 2nd on the leader board for Windsor UWCB fundraisers, which is a wonderful achievement.
Audley fundraising is a big part of our culture and we see a number of our team members getting involved in charity events throughout the year. Kam's involvement in this boxing match is another fantastic showcase of the efforts of our team members will make to raise money for worthy causes.
We hope Kam can now put his feet (and gloves) up and relax. We will also need to find Group Procurement Manager Elias Ajaka (pictured above) something else to do now he is no longer on Number 1 Promoter duties!
Kam has already raised a fantastic £2,065 for Cancer Research UK, which is such an achievement. If you would like to help him with his final fundraising push, every penny will be most welcome.