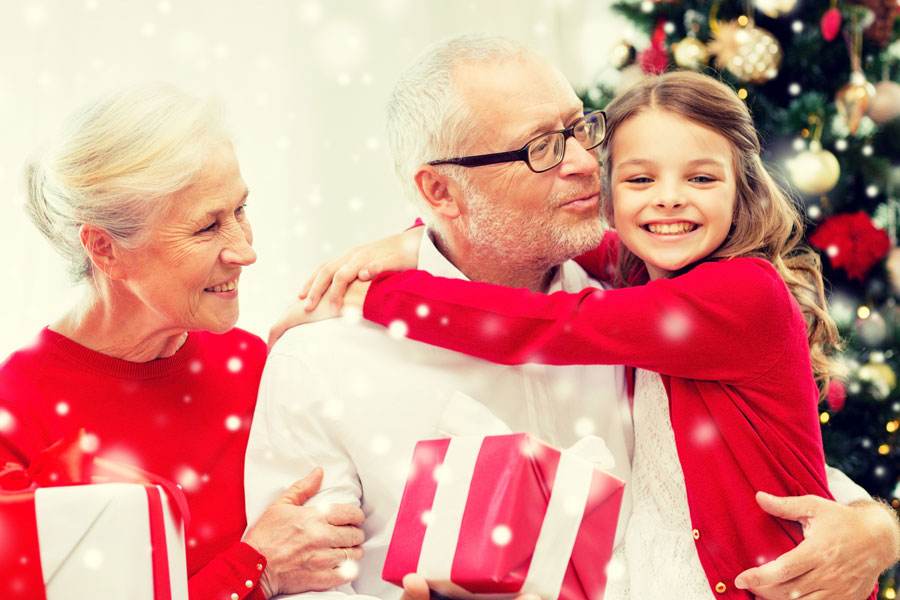 Still trying to work out what to buy your grandchildren for Christmas? You're not alone. As a nation, we're leaving it later to pick up Christmas gifts, with a 2017 study showing that one third of us leave their shopping to just one week before Christmas.
When buying for grandchildren, it can also be difficult to keep track of tastes and trends, but why try and get them things they'll quickly grow out of? Think beyond the fads and get them something truly meaningful. Here are 9 Christmas gift ideas your grandchildren will love...
Days out
With almost 60 million unwanted gifts predicted this year, according to Money Saving Expert, why not choose an experience instead? Time spent together in a stimulating setting provides something to look forward to after the Christmas decorations come down.
Museums
In an age of interactivity, a trip to the museum doesn't have to mean peering into dusty display cases. There are plenty of stimulating experiences to suit all tastes.
Top 5 Children's Museums
1. Science Museum - interactive exhibits perfect for curious minds.
2. The Roald Dahl Museum and Story Centre – hands-on fun for story lovers.
3. V&A Museum of Childhood – toy lover's paradise with daily activities.
4. Yorkshire Sculpture Park – 500 acres of parkland ideal for budding artists.
5. National Space Centre – take a trip through a wormhole and witness The Big Bang.
Festivals
Festivals are increasingly becoming spaces welcoming to all generations. Festivals like The Green Gathering provide a day of crafts, music and activities suitable for all ages.
Theme parks
While you could take your grandchildren on a series of increasingly terrifying rollercoasters, there are alternatives that are just as engaging. Younger children will be mesmerised by Diggerland, whilst puzzlers can throw themselves into the treasure hunt challenge at Hidden Valley Discovery Park.
Things to read
Book tokens for a tech age
Times may change, but it doesn't mean that stories are any less popular. Classic novels and chart-topping paperbacks can be enjoyed in a number of formats – whether that's as a downloaded e-book or in audio form through online services like Audible. Simply follow the instructions at their Holiday Gift Centre.
Popular book sets
There's nothing quite like owning a beautiful collection of books, which will take pride of place in any bedroom.
Top 5 Box Set Books
1. Harry Potter - the adventures of a schoolboy wizard are a global phenomenon.
2. Horrible Histories – kicks off a love of history with gruesome detail and irresistible hilarity.
3. His Dark Materials – a modern fantasy classic adventure through haunted otherworlds.
4. Jacqueline Wilson Collection – hugely popular books full of wit and wisdom.
5. The World of David Walliams – hilarious and heartfelt reads from this comedian and author.
Things to make
They may spend more time in front of screens, but all children love getting hands on. Not only are you gifting them countless hours of absorbing play, but they have something to be proud of at the end of it.
Animation kits
The continuing popularity of Aardman films, such as Wallace & Gromit and Early Man, shows that old-fashioned model making is here to stay in a digital age. Animation kits come with clay and film sets and are compatible with modern technology – bringing Hollywood to the bedroom.
Meccano
This firm favourite has spurred on young engineers for over 100 years, but don't think that Meccano hasn't moved with the times. Latest versions include open source computer programming, so now they can make their creations move and even speak!
Hobbies to inspire
Hobbies and interests can be a huge source of satisfaction and fulfilment and could set your grandchild off on an exciting new path.
Instrument
Playing an instrument has all kinds of benefits. Whether you blow the budget on a cello or pick out a more modestly-priced ukulele, taking up an instrument can be the beginning of a lifelong passion.
Telescope
While we spend more time staring at screens, the most impressive light emitting display is still above us. Thanks to social media, it's never been easier to keep up-to-date with spectacular astronomical events.
In the Christmas spirit yet? Why not try our recipe for festive sausage rolls or find out how we celebrate Christmas at Audley.