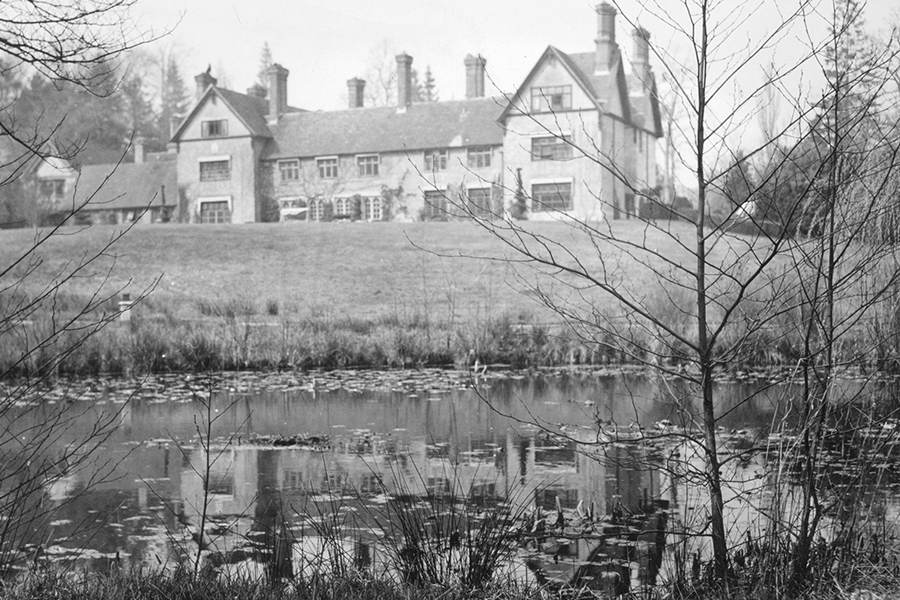 Audley has been developing retirement villages for over 20 years. In fact our first village, Willicombe Park in Tunbridge Wells, celebrated it's 20th anniversary last week. Many of these beautiful sites require the conversion of heritage buildings, carefully restoring, repurposing and bringing these pieces of history back to life.
"The buildings are often statutorily listed so they must be preserved in any redevelopment and this is fraught with risk and unknown costs – the reason why most developers prefer to demolish and rebuild or develop greenfield sites.

Audley is one of the few developers with such an extensive track record in this respect, most of the opportunities that involve the repurposing of a heritage building come directly to us through our network of property agents and developers across the UK."
Tom Bagnall, Senior Land Manager, Audley Group
What does it mean to be listed?
'Listed' is the term applied when something of significance is identified and needs protecting, ensuring that any change that may happen in the future does not remove it of its significance. Buildings, monuments, parks, gardens, battlefields and shipwreck sites can all be given listed statuses.
For buildings, being assigned a 'listed' status protects it as a place with special architectural and historic interest and consent must be applied for to make any changes which might affect this.
It is not known exactly how many listed buildings there are in the UK, but it is suggested to be around 500,000.
When historic buildings are left vacant, they are at a greatly increased risk of damage and decay as well as being a potential blight on their locality. The best way to protect a building is to keep it occupied, even if the use is on a temporary or partial basis. It is inevitable that some historic buildings will struggle to find any use, especially in areas where the property market is weak and the opportunities for sale or re-use are limited.

However, such buildings may become centerpieces of future regeneration and safeguarding will allow them to fulfill their social, cultural and economic potential.
Audley restorations
Across Audley's 20 years developing, building and maintaining retirement villages, many of our more established retirement villages have been restorations of historic buildings. Often these developments were occupied by former institutional uses such as boarding schools, charities and hotels that have closed.
Audley St George's Place in Edgbaston, Binswood in Royal Leamington Spa, St Elphin's Park in Derbyshire, Ellerslie in Malvern and Clevedon in Ilkley were all originally schools. Audley Redwood was a hotel and country club.
Audley Mote House, Inglewood, Willicombe Park, and Stanbridge Earls were all listed mansions before being restored and converted into luxury retirement villages by Audley.
There is more information about each of our retirement villages on this website and in our brochure.
"We see these sites as opportunities and because Audley, being long-term owners and operators, will be providing a new lease of life to historic buildings that, in many cases, have suffered years' of neglect and underinvestment, we tend to win the hearts and minds of the local community and importantly the planners and Historic England." 
Tom Bagnall, Senior Land Manager, Audley Group
The restoration process
The restoration of a listed building is a thorough and often lengthy process.
Depending on whether the building is statutorily listed (i.e. Grade I, Grade II or Grade II*) or locally listed (or be of significant local historical importance), approval is sought from Historic England and/or the Conservation Officer at the Local Planning Authority before any restoration project can begin.
"Of course the fun of dealing with historic buildings is that you never know what you're going to find when you start the works. Carrying out intrusive surveys give these types of site a different risk profile to new build schemes. You may find asbestos, dry rot, lead paint, or even the foundations of a previously unknown Roman Villa! All of which can lead to increased costs and a delayed programme." 
Tom Bagnall, Senior Land Manager, Audley Group
Even once Audley owns the site and has developed the scheme, there is still a legal obligation to comply with Historic England's guidance on maintaining a listed building.
This will continue to affect any future development plans Audley may have to further develop the village after opening to create new retirement homes and expand facilities for owners.
"Although it is complex, planning is getting easier as more local authorities understand the differences between general housing, care homes, and housing with care (retirement villages like Audley).
"We start our customer engagement before the planning stage in order to understand if the local market suits our product. This engagement and communication continue through the planning process with our potential customers, local residents near our potential site, councillors and planning department. Communication is key."
Kevin Shaw, Managing Director - Development, Audley Group
Read our interview with Kevin Shaw on Audley Stories
The final stage: Interior design
All Audley villages, regardless of age and whether a restoration or a new build, are finished to a very high luxury standard, with the interior reflecting current trends while also maintaining a link to the site's history.
"Our designs consider the needs of both owners and staff as well as reflecting Audley's timeless brand.
"We aim for a timeless look and feel – high quality new fixtures and fittings complement restored historic features. A harmonious mix of styles creates a warm and comfortable environment filled with character."
Jen Bernard, Founder and Managing Director, Bernard Interiors (designers for Audley's Surrey, London and Romsey retirement villages)
Take a look at the beautifully built one, two and three bedroom apartments, penthouses and cottages available to own.
Discover more about land and planning or talk to Tom and the team about land for sale.