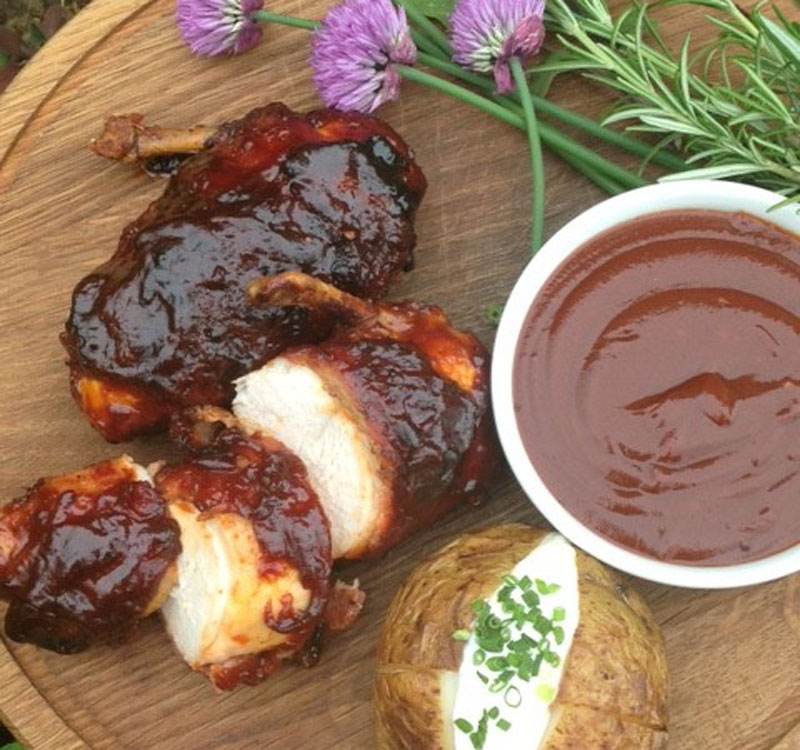 It's National BBQ Week
Try our BBQ recipe
This recipe is a twist on classic barbecue chicken, where we wrap the chicken breast in smoked bacon for extra richness and smoke. Blended with the sweet and tangy BBQ sauce you have a great dish.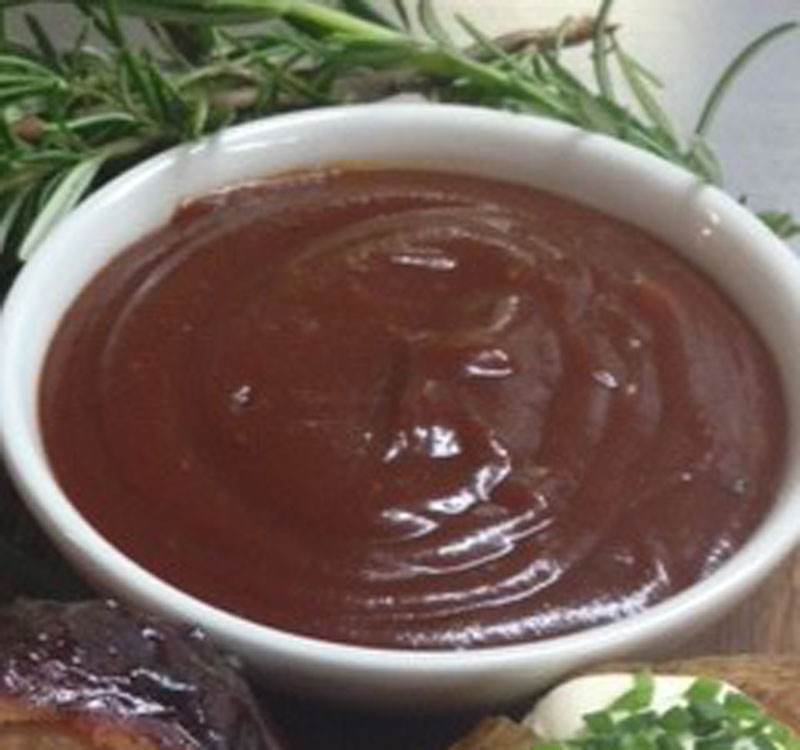 BBQ sauce
Sweet, sour, and tangy
The BBQ sauce is a classic Texas style BBQ sauce with a wonderful balance of sweet and sour flavours. It can be made in advance and stored in the fridge for up to a week. All ingredients can be purchased at your local supermarket and below are some cooking and ingredient substitutions to tailor the recipe.
This BBQ recipe gives you weights for the ingredients but feel free to get creative and use as much or as little of something as you like, and remember to have fun!
INGREDIENTS:
For the sauce:
100ml malt vinegar
100ml water
50ml Worcestershire sauce
100g soft brown sugar (dark or light)
1tbsp garlic powder
1tbsp onion powder
1tbsp salt
1tbsp smoked paprika
1/2tbsp black pepper
300ml tomato ketchup
1/2tbsp Dijon mustard
For the chicken:
2 chicken breasts
6 strips smoked streaky bacon
Salt and pepper for seasoning
METHOD:
For the sauce:
In a heavy bottommed pot, over a medium/high heat, add the water, vinegar, Worcestershire sauce, and brown sugar. Bring to boil, stirring until the sugar is dissolved.
Turn the heat down to a medium and gently simmer for 15 to 20 minutes (or until it is reduced by half)
Once reduced, add the mustard and ketchup and continue simmering for another 10 minutes, stirring frequently to keep from sticking or burning. Turn the heat down if you find it is simmering too fast or starting to stick.
Mix in the onion & garlic powder along with the salt, pepper, and smoked paprika and cook for another 5 minutes.
Take off the heat and let the sauce cool until ready to use.
For the chicken:
Individually wrap 3 strips of the bacon around each of the chicken breasts, slightly overlapping each slice.
Season each breast with a pinch of salt and black pepper. Then cover and place in the fridge for 30 minutes to firm up the bacon.
Remove chicken from the fridge, lightly rub with vegetable oil and place on a hot grill, turning every few minutes.
With a basting brush or spoon lightly coat each breast with BBQ sauce and continue to cook, turning every few minutes and basting the chicken with BBQ sauce every time you turn.
Cook the chicken to an internal temperature of 75C and until the BBQ sauce has nicely gone all sticky and coated the breast.
COOKING NOTES AND INGREDIENT SUBSTITUTIONS:
Worcestershire sauce can be substituted with Henderson's relish.
Malt vinegar can be substituted with cider, red or white vinegar.
Brown sugar can be substituted with granulated or caster sugar. If using granulated add a few minutes longer in the first step of the BBQ sauce recipe to ensure the sugar has dissolved.
Dried or fresh chillies can be added for extra heat or more sugar can be added if you prefer a sweeter BBQ sauce.
The key to this recipe is low and slow for the sauce and the flavour will be more intense.
Remember to stir your sauce often to prevent burning, especially as it starts to thicken, and turn down your heat if needed.
Make sure the chicken is fully cooked throughout. The best way to check is to make a cut into the thickest part of the breast and make sure the meat is not pink or still raw, or check with a cooking thermometer (75 degrees in the centre)
Browse more recipes from our master Audley chefs.