The team at St Elphin's Park were delighted to prepare a beautiful party for the lovely Mrs C, as she celebrated her 100th birthday this week. Mrs C has lived with her daughter at St Elphin's Park for 4 years, making some cherished friendships along the way.
Family, friends and guests joined the birthday girl for lunch to celebrate a very special birthday. There was champagne, dancing 'on the tables', tea, delicious lunch and not one, but TWO birthday cakes.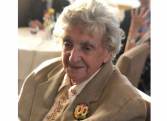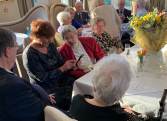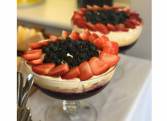 Born in Portsmouth into a family of eight, four girls and three boys, Anne worked for M&S before joining the Wrens in August 1939 before the war broke out. At the age of 21, Anne married her first husband John Finlay in the summer of 1940. Very sadly, they were married only 6 weeks before John was sent abroad with the RAF, when Anne then joined the WRAF.
"I never saw my husband again as he died as a Japanese Prisoner of War and was buried in Ambon cemetery, Maluku, Indonesia - a place I have never been able to visit."
Years later, Anne went to a dance at the Corn Hall in Cirencester to act as a chaperone to her younger sister Barbara, who is still living in Cirencester today. It was at that dance that Anne met George, the man who was to become her second husband and life partner. After some gentle persuasion from her mother-in-law, Anne and George married and enjoyed many holidays together, both in the UK and abroad.
"We enjoyed 60 happy years of marriage."
Mrs C and her husband lived in Gloucestershire initially, Cirencester then Nailsworth with George running an electronic manufacturing business which Anne helped run. Moving around the country and eventually settling in Darley Dale, they welcomed their daughter Susan and enjoyed many family holidays.
Anne and her family have visited many places in the US, New Zealand, Singapore, Hong Kong and much of Europe. In the UK they have visited many counties and also enjoyed hotel boating on the English and Welsh canals.
"We also enjoyed traveling by train on private charter trips travelling on some unusual routes and visiting many interesting places."
Susan and Anne have been living at Audley St Elphin's Park in Darley Dale for 4 years and are very happy there.
"I am now happily settled at St Elphin's Park with my daughter. It is lovely to be amongst so many friendly people who provide so much help and company."
Ann and her daughter have made some wonderful friendships during their four years with Audley Villages. At a recent Sunday Social, a friend - Mr W - said
"Anne, if you make it to your 100th, we'll dance on the tables!"
So at one particularly touching moment from the day, the team laid out the wooden tap board from the fitness studio and Mrs C and Mr W did exactly that. They danced on the table (on the floor of course).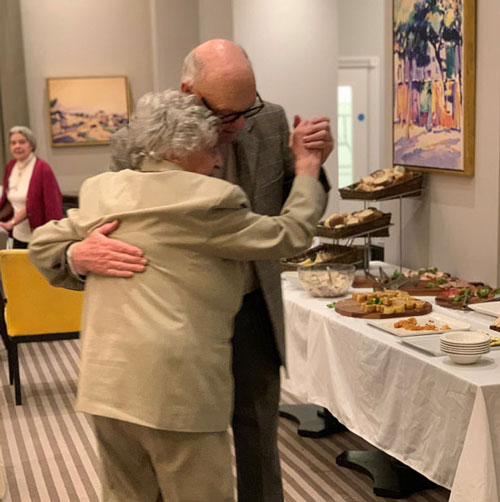 Mrs C, I for one hope that I am loving life as much as you are at 100 years young. Happy birthday!