By Mrs Anne Foster, Owner at Audley Chalfont Dene
During the celebration after my graduation, countless years ago, my father gave me this guide to living with happiness:
"You will need to aim for only three goals... Something to do; somewhere to live; someone to love."
A comparatively simple rule to follow at the age of 21, but a reliable course for a lifetime; by keeping these ideals always in mind, I have managed to remain happy even though changes have been made as life passes. For what is appropriate at 20 is less suitable at 50, 60....
By my middle years, I had changed my career and my accommodation a couple of times, but my love remained at my side. At 70, after 50 years together, he died and I was faced with the problem of being happy on my own.
We had lived a life of joy and fulfilment, but things were going to be different now. We had raised our 3 children in a large, Victorian house set in considerable grounds. They moved out to forge their own ways in the world and that left me to work out my own path.
And the hedge decided me!
Around our garden grew a thriving privet hedge. Every year, to the accompaniment of much grunting, my husband trimmed the monster. After all, is that not what husbands are for? In my altered circumstances, I was forced to seek help with the task.
Imagine my surprise to receive quotations of around £1.000 for this. With 7 gorgeous, growing grand-children, could not this money be better spent?
I had to admit that our home needed a family to enjoy it fully and I set about looking for more suitable accommodation for me, as a singleton. My friends immediately fell into 2 differing groups: those who commended me on my bravery and those who feared that I was losing the plot. This latter faction were full of pessimism about the process of right-sizing (they called it downsizing, but I never use that word because of its negative associations).
I admit that this was not a simple process. I found myself the proud owner of 82 cups and saucers (we had entertained often and in large numbers); I offered these to my children, and found no takers... they used mugs. So, off to charity shops went my prized china, batched up in sets of 6. As a family, we had spent many happy times around my beautiful Cuban mahogany table; seating 16, it was perfect for family celebrations. But... it was far too big even to fit inside my children's homes; so, off to auction with it, swiftly followed by my cut glass and crystal (considered to have no appeal as none of it could be put in the dishwasher).
Concerned friends asked whether parting with such beautiful possessions, carefully and proudly collected over decades, was heart-breaking.
No. All it was was stuff, and nothing could ever erase the memories I had accumulated with its use: they will remain forever.
I looked around for what was available for me. Choice does exist, but the options must be carefully researched; above all else, any decision must be made by the person involved, and definitely not at the suggestion (or worse... pushing) by friends and relatives, however well-intentioned they may be.
I was seeking the freedom to lead an independent life for as long as possible
but at the same time I was realistically aware that at any time my health could deteriorate, so care should be easily available when necessary.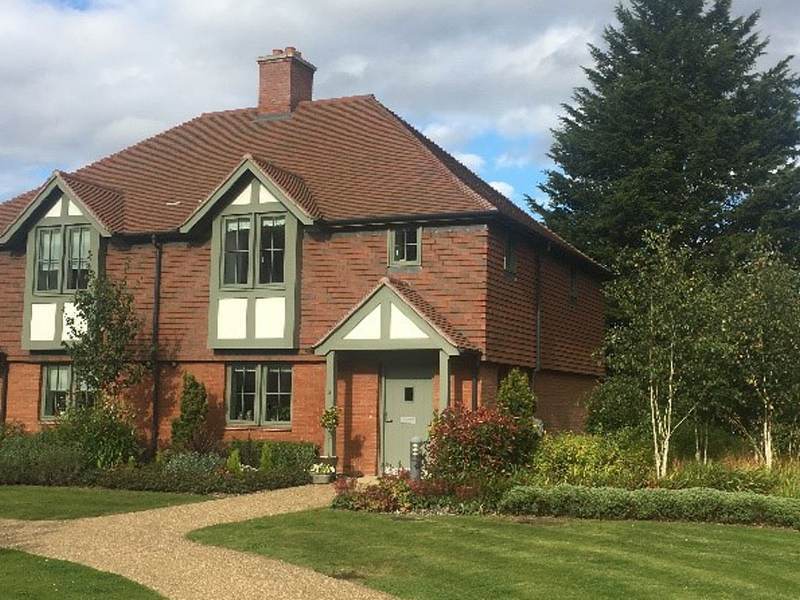 I found exactly what I wanted and for the past 4 years have been happily settled in an Audley retirement village; Chalfont Dene.
Remembering my father's words, today I have somewhere appropriate to live, now and later; someone to love as my 3 children and 7 grand-children continue to offer interest and support, added to which there are so many chances to make new friends in the village; and something to do... there is plenty going on in the village and if it is not provided, it will come on request.
Regrets? Oh no.
I made the decision to move by myself; I researched the possibilities very carefully before taking the plunge; I right-sized successfully and with thought. The death of my husband was devastating, but I have now found happiness in my altered circumstances.
With a positive approach, right-sizing can work. Be not afraid.
To discover whether right-sizing is for you, the very best way is to arrange a visit to your nearest village where you can explore the surroundings and find out everything you need to know about how it works.