If our experiences over the last 16 months have taught us anything, it's to cherish what we have and make the most of being able to live our own lives, our way.
We spoke to three couples about their personal experiences of moving to a luxury retirement property and living at an Audley village during the pandemic.
244 new owners moved to an Audley village in 2020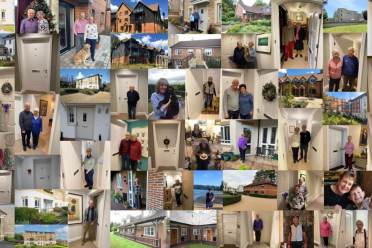 What is a luxury retirement village?
Will my Audley property retain it's value?

Audley's model means we not only build and develop our villages, we also run them. This includes all the facilities that our owners and members of the local community are able to enjoy such as the Audley Club, and it's this approach which sets our villages apart from the market. We are in full control of all aspects of the property, which is different to many other providers, who merely develop the villages or offer far fewer services to owners.

Are Audley retirement villages age exclusive?

Yes, as a general rule if you're under 55, you'll have to wait to move into an Audley retirement village.

How long does it take to buy a retirement property?

A new property purchase can be very quick and straightforward if you are ready to move out of your existing property. Owners have moved in to a brand new Audley property in as little as 2 weeks, as long as they are not in a chain holding up the process.

Do I own my own home?

Yes. Each property in an Audley retirement village is sold on a long-leasehold basis, of up to 250 years. It is your home, held as your own asset - and, of course, you are free to sell at any stage, on the open market. So you are able to enjoy the benefits of a continued investment in a property of your own.

Can I make improvements or changes to my apartment?

Yes, but we do ask that you to discuss the proposed changes with the Village Manager of the village and agree what it is you plan to do.