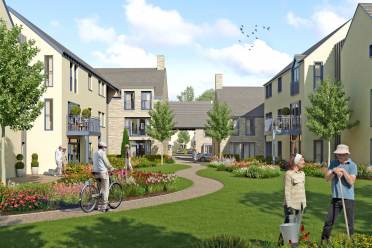 With the current government it feels like every day comes with yet another U-turn. Most recently it's the scrapping of the 300,000 homes target, announced by the new Housing Minister at the party conference.
But, and bear with me here, in this case that's not necessarily a bad thing. I am not arguing that there isn't a shortage of housing supply. Clearly, we have a problem in this country and we need a plan to get it resolved.
Putting large targets and promises on housebuilding might be a vote winner (although I suspect the Housing Minister turbulence of the last decade has left many doubtful of any pledges), but the focus is too narrow.
We don't need lots of new build homes on greenfield sites targeted at first time buyers. Those houses, and houses for families, already exist. They are just being occupied by the wrong people; those who would love to move and can't find appropriate housing to move into.

Free up all those houses, and you bring fluidity to the market.
Chronic lack of supply
A report this week from BNP Paris Real Estate focused on the shortfall of senior living housing units – nearly half a million are needed to account for the lack of supply as it stands. And that doesn't take into account the expected 31% increase in over-65s over the next 15 years.
A focus on specialist housing would meet that demand as well as flooding the market with hundreds of thousands of larger homes for families, which in turn would free up first-time buyer properties.
This chronic lack of supply is due to years of under-recognition for the offering and the role it can play in the wider housing and social care mix, as well as misconceptions within the consumer market of what retirement living is and provides.
Integrated retirement community living comes with a myriad of wider societal benefits.
From my perspective, being given the ability, via planning changes and government support, to provide more age-appropriate housing, with care and wellbeing facilities on-site, will definitively lighten the pressure on not only the housing crisis, but the social care system.
Unplugging the market
It's been proven time and time again that people who live in communities like the ones we and our sector deliver need fewer stays in hospital and are less likely to end up in a care home. They have access to everything they need to lead better lives for longer and maintain a sense of community.
Villages such as Audley's are also complementary to the wider local population, who have access to the fantastic facilities. In addition, there is the added bonus of older people being more incentivised to downsize as they have attractive options available to them, unplugging the market and freeing up the much-needed housing stock that will address our housing crisis.
Our current political environment makes it near on impossible to keep on top of what policies will be floated (via leaks to the media to gauge reaction), proposed formally and, heaven forbid, actually taken forward.
Image above is a CGI of Audley Scarcroft Park, Audley's upcoming development in Yorkshire.
All that I can ask is that the powers that be at least consider an easy solution that is staring them in the face. It requires no funding, just an understanding of the benefits that levelling the playing field – to allow developers of integrated retirement communities to do what they do best, unfettered by the current constraints – will in the long term support the wider housing and social care issues our country is currently facing.