scroll-to-10064
100% Part Exchange
Exclusively at Audley Binswood
For a limited time at Audley Binswood in Royal Leamington Spa, you can receive a part exchange offer of up to 100% of the market value of your home*.
This means no estate agent fees or chain to worry about and you do not lose anything on the value of your existing property.
You can even enjoy up to two weeks in your existing home after completion while you move into your beautiful new Audley property.
scroll-to-10080
Plus expert moving package included
When you exchange contracts and complete on your property purchase in 2021, you can also benefit from our moving package consisting of a contribution towards your moving costs* including:
Solicitor fees for the purchase of your Audley property
Removal fees, and help packing and unpacking your possessions
A specialised downsizing package with guidance from our downsizing and decluttering experts
Four hours of support from our facilities team who will help you set up your new home
Six hours of housekeeping services
scroll-to-10065
Why choose to part exchange
For Mrs Goldsack, part exchanging was the right decision. After a difficult experience trying to sell their old property three times, they couldn't face going through the process again and didn't want to risk missing out on the new retirement home they had chosen. Working with Silverbridge removed the hassle and enabled them to move sooner to the home they love.
"It was very convenient. It took away all the stress of worrying whether the sale was going to go through!"
Mrs Goldsack, Audley owner
scroll-to-10078
scroll-to-10079
scroll-to-10066
5 step process
If you would like to move quickly and easily, our home buying service is the right choice for you, giving you the peace of mind of a guaranteed sale and a seamless, stress-free move into your beautiful new Audley retirement property.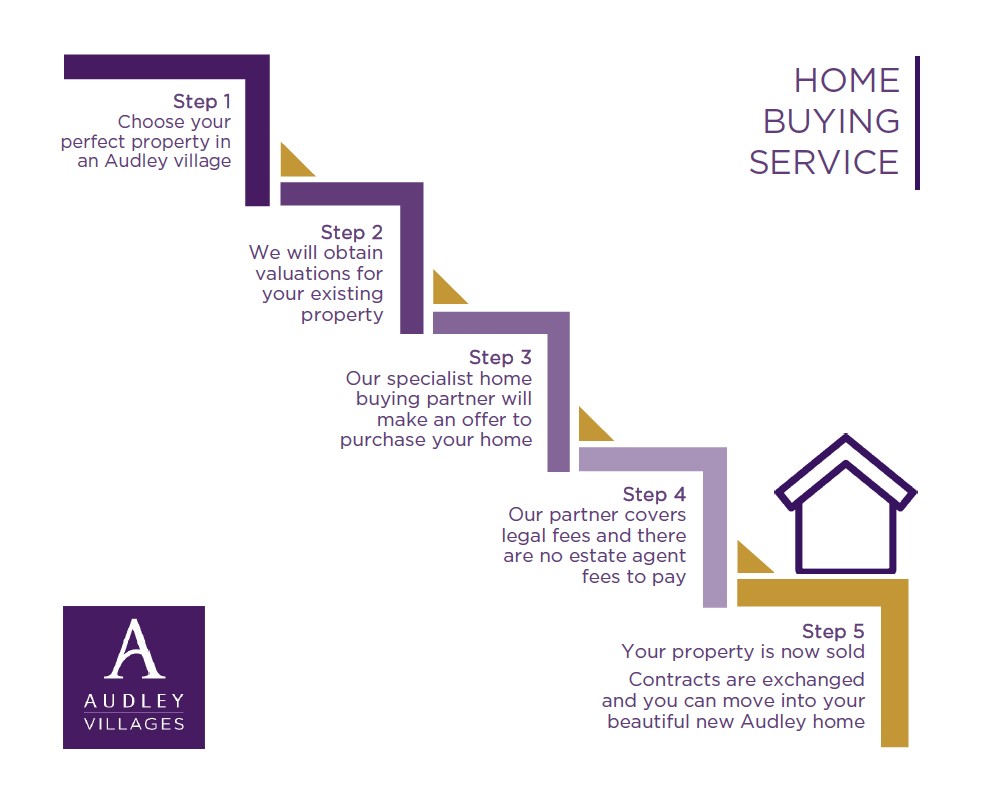 scroll-to-10081
scroll-to-10068
Terms and conditions
For new reservations from 7th June 2021
Contract completion must take place in 2021
Offer available on new build properties at Audley Binswood
100% market value price based on local valuations for properties up to £500,000
Offer must be quoted on paperwork
Excludes pre-owned properties
Offer will be applied when the exchange fee is paid
If the property sale is cancelled for any reason, the offer will no longer apply
Cannot be exchanged for cash
Offer can be withdrawn at any time
Offer cannot be used in conjunction with any other offer, promotion or discount. Please speak to a sales team member for more information
Audley Villages panel solicitors and partners must be used
Offer is in association with Silverbridge Properties, Audley's Part Exchange partner
Four hours of facilities time and six hours of housekeeping services must be redeemed within a month of moving to Audley Binswood. Subject to availability. Not available on moving day.
Audley panel solicitors and recommended removal service partners must be used
Contribution towards solicitors fees are for the property purchase only
Important information about part exchange and the home buying service
If an offer is reduced following an unfavourable survey you are under no obligation to accept it
A higher value may be achieved for your property by selling independently of part-exchange
Buyers are advised to take their own advice to ensure the part-exchange scheme is suitable for their needs
A commission may be paid to Audley sales staff by our partners in the event of a part-exchange sale