scroll-to-9120
Part exchange
Move sooner with our home buying service
If you part exchange your existing property for a new home at a luxury Audley retirement village you are ensured a seamless and stress-free buying and selling process. The main benefits to part exchange are no chain, the certainty of a guaranteed sale of your existing property, no estate agent fees, and a flexible moving date. Plus, moving sooner also means taking advantage of the currently reduced Stamp Duty rates.
scroll-to-9867
Why choose to part exchange
For Mrs Goldsack, part exchanging was the right decision. After a difficult experience trying to sell their old property three times, they couldn't face going through the process again and didn't want to risk missing out on the new retirement home they had chosen. Working with Silverbridge removed the hassle and enabled them to move sooner to the home they love.
"It was very convenient. It took away all the stress of worrying whether the sale was going to go through!"
Mrs Goldsack, Audley owner
scroll-to-9175
5 step process
If you would like to move quickly and easily, our home buying service is the right choice for you, giving you the peace of mind of a guaranteed sale and a seamless, stress-free move into your beautiful new Audley retirement property.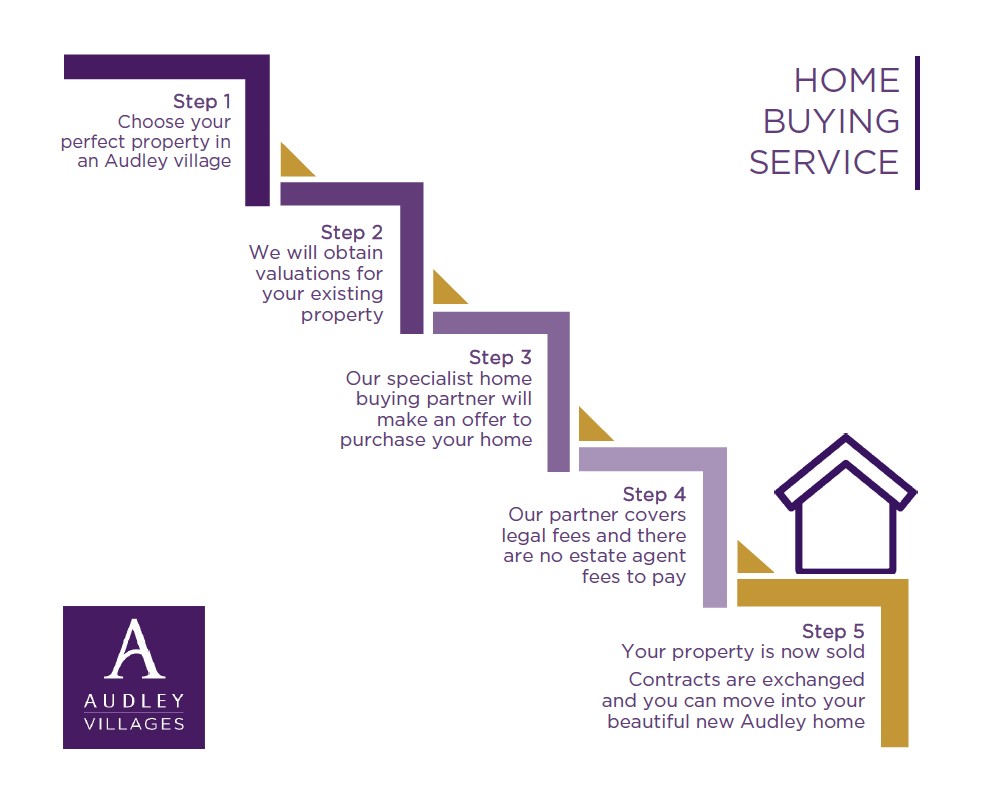 scroll-to-10082
scroll-to-9129
How does the home buying service work?
5 simple steps
If you would like to move quickly and easily, our home buying service is the right choice for you. You can part exchange your existing property for a property at an Audley village through our specialist partners, which means no fees and no chain to worry about. Our partners act as cash buyers and will purchase your existing property, giving you the peace of mind of a guaranteed sale and a seamless, stress-free 5 step process.
Step 1
Our sales team will assist you to find your perfect Audley property. Once you have chosen you simply need to provide details of your current home to us.
Step 2
We will obtain valuations from our network of trusted local estate agents and a survey from the Royal Chartered Institute of Surveyors to value your property.
Step 3
Our specialist home buying partner will then make an offer to purchase your home. If you accept the offer then a survey will be arranged and we will then confirm our offer.
Step 4
Our partner will pay £1,800 towards your legal fees if you use one of our panel solicitors. This will ensure a smooth exchange and completion process. You also don't pay estate agency fees, as you are not selling your current home on the open market.
Step 5
Your property is now sold, your Audley property can be reserved and solicitors are instructed to proceed to exchange within 6 weeks. You can move in when your property is ready, or up to two weeks after the completion date if you need some extra time to make the move.
scroll-to-9657
Part exchange: important information
If an offer is reduced following an unfavourable survey you are under no obligation to accept it.
A higher value may be achieved for your property by selling independently of part-exchange.
Buyers are advised to take their own advice to ensure the part-exchange scheme is suitable for their needs.
A commission may be paid to Audley sales staff by our partners in the event of a part-exchange sale.
scroll-to-9166
scroll-to-9171
Flexibility and no obligation
scroll-to-9176
Stamp Duty Paid
Exchange contracts before 30th September 2021
The Government's Stamp Duty scheme, for customers who complete their property purchase before 30th June 2021, only has a short amount of time remaining. At Audley we will extend this offer so you can still save on the purchase of your new home.
Exchange contracts on your new Audley property before 30th September 2021 and we will pay up to £15,000 in Stamp Duty.*