About the village
Near the village of Bearsted in Kent and situated in 450-acre Mote Park, Audley Mote House retirement village has 101 cottages and apartments. At the heart of the village is a beautifully restored Grade II* listed Georgian mansion.
Audley Mote House, Bearsted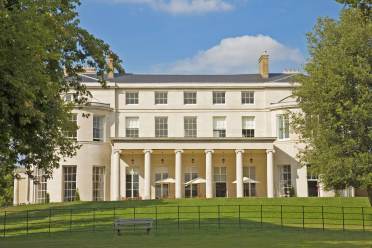 At the centre of Audley Mote House retirement village is Mote House itself – a stunning Grade II* listed Georgian mansion that has been beautifully restored and converted into exquisite apartments, The Romney restaurant and bistro, a lounge/library, swimming pool and health & wellbeing club.
Set within the grounds surrounding the centrepiece building lies the rest of the retirement village, made up of approximately 100 apartments and cottages. Nestled among Mote Park, these include the Walled Garden, Gate House Lodge and the beautifully restored The Brewhouse.
Mote Park is Maidstone's largest park, an impressive 450 acres which previously formed part of a country estate until it was converted at the end of the 18th century into landscaped parkland. The name itself derives from 'moot' or 'mote' in Old English, meaning 'a place of assembly'.
Mote House, the mansion at the heart of the park was built originally for the Earl of Romney between 1793 and 1801 by architect Daniel Alexander. By the Second World War it was commandeered by the  armed forces, who used the kitchen garden as a headquarters and training facility.
Before becoming a luxury retirement village, Mote House was subsequently used as offices for the Ministry of Agriculture, Fisheries and Food before becoming a Cheshire Homes care home for the disabled. 
Nowadays, Mote Park includes Mote House together with a miniature railway, pitch-and-putt course and a 30-acre boating lake. It is within walking distance of Maidstone town centre.