scroll-to-8490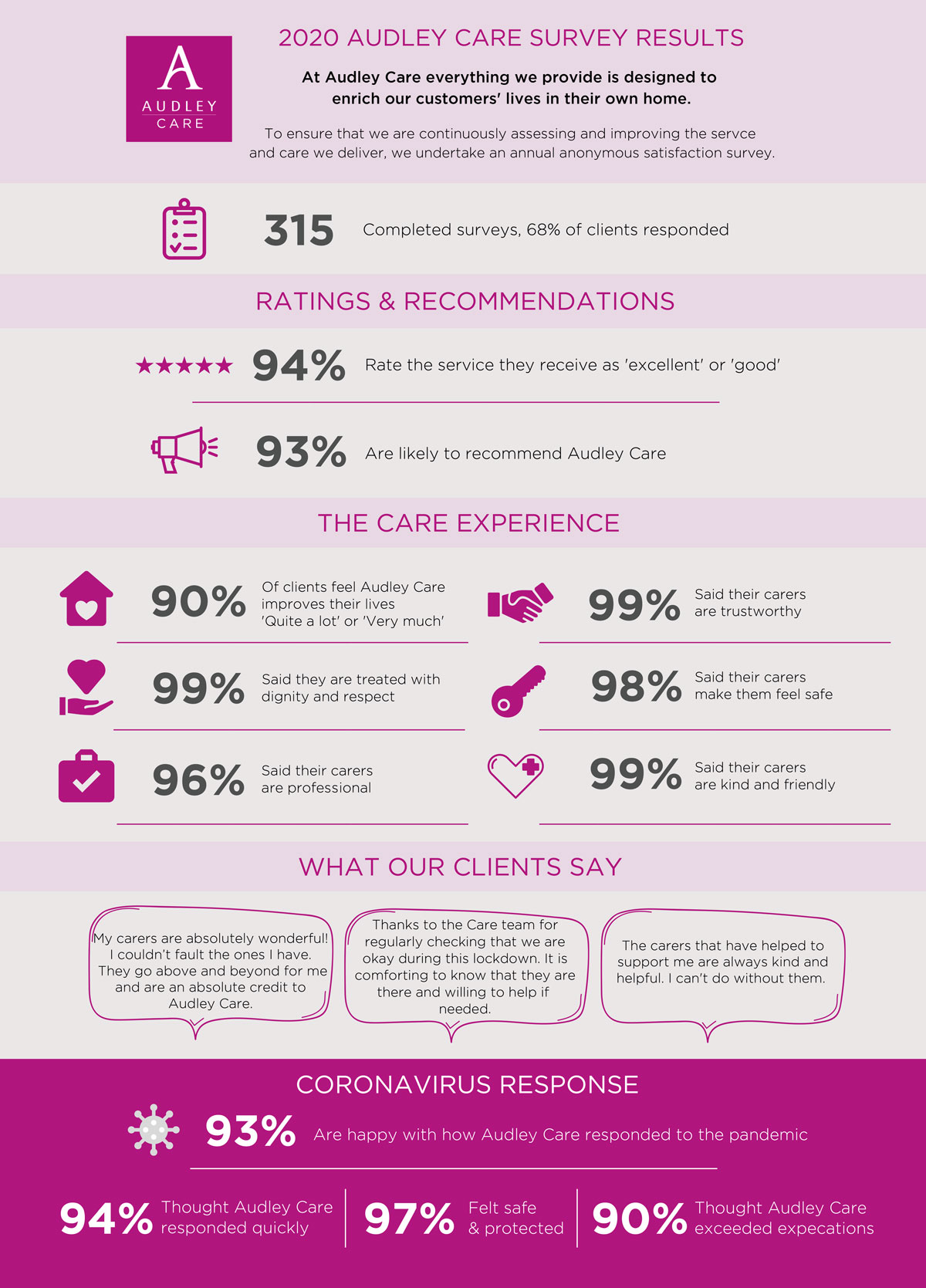 2020 Audley Care Survey Results
At Audley Care everything we provide is designed to enrich our customers' lives in their own home.
To ensure that we are continuously assessing and improving the service and care we deliver, we undertake an annual anonymous satisfaction survey. 315 surveys completed (68% of clients responded)
Ratings and recommendations:
94% rate the service they receive as 'excellent' or 'good'
93% are likely to recommend Audley Care
The Care Experience:
90% of care clients feel Audley Care improves their lives 'Quite a lot' or 'Very much'
99% said they are treated with dignity and respect
96% said their carers are professional
99% said their carers are trustworthy
98% said their carers make them feel safe
99% said their carers are kind and friendly
What our clients say:
"My carers are absolutely wonderful. I couldn't fault the ones I have. They go above and beyond for me and are an absolute credit to Audley Care."
Coronavirus response:
93% are happy with how Audley Care responded to the pandemic
94% thought Audley Care responded quickly
97% felt safe and protected
90% thought Audley Care exceeded expectations
2020 Audley Care Survey Results
When asked about the 2020 Audley Care Annual Survey results, Paul Morgan, Managing Director - Operations said
"Having the opportunity to care for others is a privilege. And with that comes a responsibility – to listen to feedback and deliver a first class service."
We undertake an annual survey with Audley property owners, and those that use our care services in the local community, who tell us what it's like to receive care from Audley, the areas we need to further improve and ideas on how we can continually better our services.
This insight has perhaps never been more important, in light of the pandemic. The care teams across our Audley Care branches have done an exceptional job and I can't tell you how proud this makes me.
We have stories of carers becoming hairdressers, arranging times for owners to wave to each other, and going for walks with our owners around the villages in their spare time. Adhering to government guidelines, wearing PPE, and adapting the way they work, our carers have kept our owners and community customers looked after.
"This shines through in the results. 97% of care customers said our carers helped them feel safe and protected through the pandemic and 90% told us Audley Care exceeded expectations."
The more we can do to help people stay in their own homes with access to a range of care needs, the better. It alleviates pressure on the NHS and the social care system and it's proven that people are happier and healthier in their own home, within their own community.
Audley home care services in and around our 13 UK villages
Audley Care provides domiciliary home care services to older people living in or close to London, Edgbaston, Bristol, Malvern, Runnymede, Surrey, Romsey, Clapham, Berkshire, Derbyshire, Royal Leamington Spa, Tunbridge Wells, Ilkley Yorkshire, and Kent.