scroll-to-8517
scroll-to-9352
Regulated by the CQC
All our branches are regulated and inspected by the Care Quality Commission (CQC) and we are proud of our CQC inspection scores.
Most recently, Audley Care at Ellerslie was CQC rated Good overall and Outstandingly well-led, and the Audley Care team at Clevedon proudly won the National Award for End-Of-Life Expertise at the Home Care Awards.
All Audley Care branches are regulated by the CQC and what that means is;
We have to comply with the latest regulations which describe the essential quality and safety that people who use our services have the right to expect
Our quality assurance processes allow us to make an honest appraisal of how we're doing and measure performance against national standards
We monitor our service through formal review meetings, spot checks to observe our workers and regular contact with you and your family to ensure you are happy with our services
All our homecare staff undergo a thorough DBS (Disclosure and Barring Service) check and receive regular training
Our Care branches score good, very good, or excellent. For detailed CQC home care scores, find our local care branch near you.
scroll-to-8516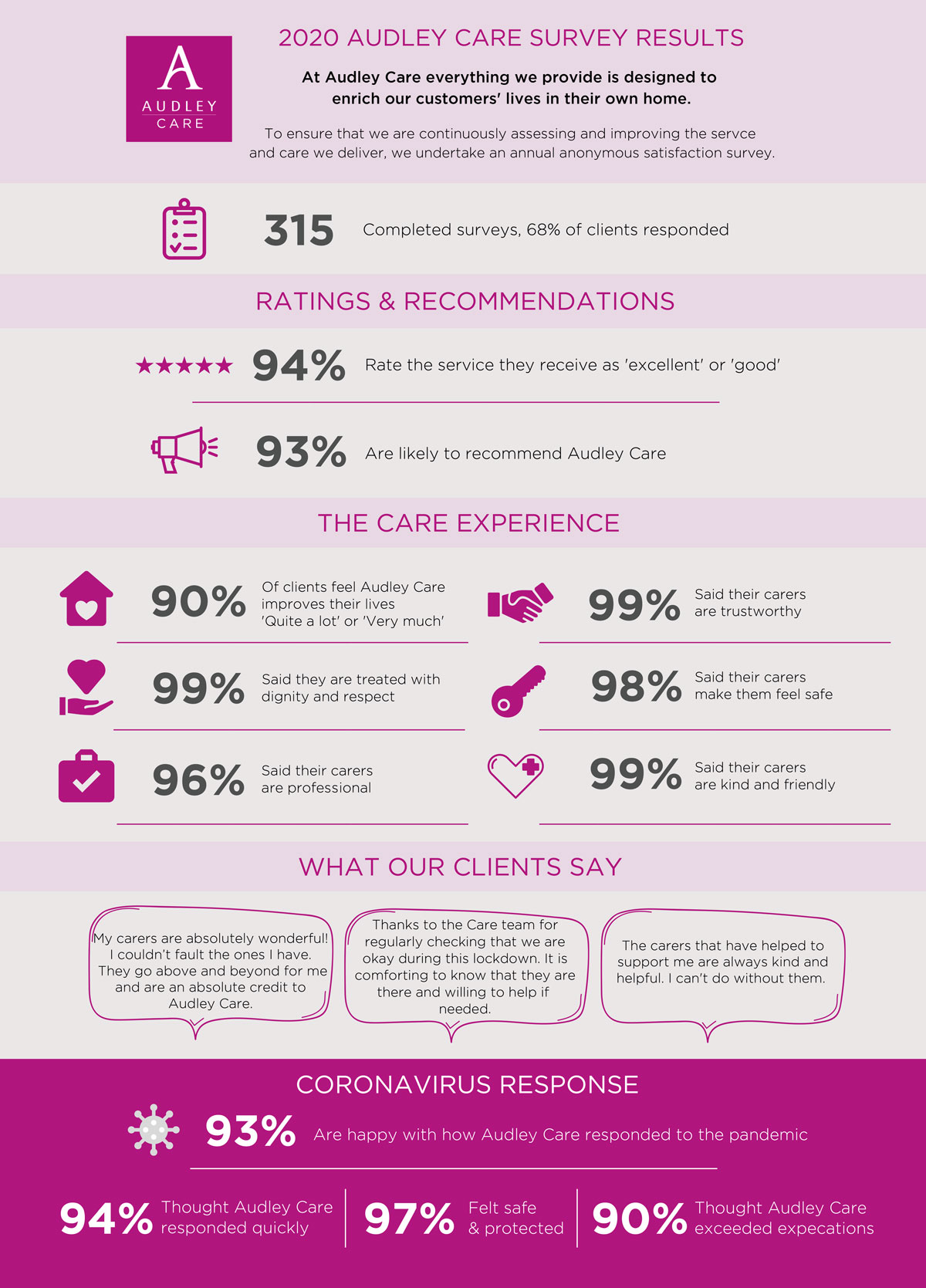 Home care services in and around 13 UK villages
Audley Care provides domicilliary home care services to older people living in or close to London, Edgbaston, Bristol, Malvern, Egham, Surrey, Romsey, Clapham, Berkshire, Derbyshire, Royal Leamington Spa, Tunbridge Wells, Ilkley, Yorkshire, and Kent.
Audley home care services operate within a 5-10 mile radius of each Audley village.
At Audley Care, we believe that older people should be happy and comfortable in their own home for as long as possible, keeping their independence and alleviating the concern of their loved ones who worry about how to support their beloved mum, dad or grandparent.
Home care services available
Our dedicated community carers are there when you can't be. Our local home carers will arrive - rain, snow or blow - with a friendly smile and a helping hand. Home care not only helps elderly people to remain independent, but also provides companionship essential for their wellbeing, particularly at a time when many older people are struggling with isolation and mental health. And either care in a retirement village or local home care in your existing home certainly provides a welcome alternative to moving to a care home.
Care services can involve anything from companionship, to more frequent home care and support, to palliative care at home. We don't have a price list of pre-packaged care programmes. You only pay for the community care services you use, including:
Cleaning, ironing and preparing meals
Washing, dressing or shaving
Shopping, collecting prescriptions or walking the dog
Medication assistance
Company and help whilst recovering from illness
Live-in, sleep-in or night care or holiday cover
Assistance with getting up and going to bed, whatever the time
Accompanying you to appointments or social activities
2020 Audley Care Survey Results
When asked about the 2020 Audley Care Annual Survey results, Paul Morgan, Managing Director - Operations said
"Having the opportunity to care for others is a privilege. And with that comes a responsibility – to listen to feedback and deliver a first class service."
We undertake an annual survey with Audley property owners, and those that use our care services in the local community, who tell us what it's like to receive care from Audley, the areas we need to further improve and ideas on how we can continually better our services.
This insight has perhaps never been more important, in light of the pandemic. The care teams across our Audley Care branches have done an exceptional job and I can't tell you how proud this makes me.
We have stories of carers becoming hairdressers, arranging times for owners to wave to each other, and going for walks with our owners around the villages in their spare time. Adhering to government guidelines, wearing PPE, and adapting the way they work, our carers have kept our owners and community customers looked after.
"This shines through in the results. 97% of care customers said our carers helped them feel safe and protected through the pandemic and 90% told us Audley Care exceeded expectations."
The more we can do to help people stay in their own homes with access to a range of care needs, the better. It alleviates pressure on the NHS and the social care system and it's proven that people are happier and healthier in their own home, within their own community.